NBA Draft 2012: Why Bradley Beal Will Be a Flop in the NBA
July 2, 2012
Doug Pensinger/Getty Images
With the third pick in the draft, the lowly Washington Wizards picked Bradley Beal out of the University of Florida. He is supposed to be a sharp shooting guard with an above average ability to drive.
However, throughout his collegiate career, he was a very inconsistent shooter, who struggled to score at times. He shot only 33.9 percent from behind the arc, 76.9 percent from the free-throw line and averaged only 14.8 points per game.
The fact that the media has been comparing this guy to the best shooter in history, Ray Allen, is ludicrous.
Though Beal has a great looking shot, with picture perfect balance, form and release point, he still struggled throughout his freshman year with the Gators—especially against top competition. If anything, Beal will end up becoming a decent role player in the NBA, not the premiere scorer the Wizards were hoping for with the third pick in the draft.
Despite his obvious skills, Beal seems to be easily thrown off his game and, consequently, his production has yet to match his potential. He shot very poorly on the road as well as in closely contested games, and never truly dominated like so many middle-of-the-road guards in the NBA now, did in college.
He rebounds very well for how short he is, and has decent size for a guard at 6'3", 207 pounds, which allows him to get to the rim. However, the supplementary parts of his game are totally reliant on his jump shot.
He struggles to find his shot if he is unable to force defenders to overextend themselves covering his perimeter shot, and struggles to finish at times when he is shooting poorly. If his jumper is not falling, he is not a good enough passer, averaging only 2.2 assists per game, does not play well enough in pick-and-roll situations—averaging 2.1 turnovers per game—and is not strong enough a defender to make an impact on a game.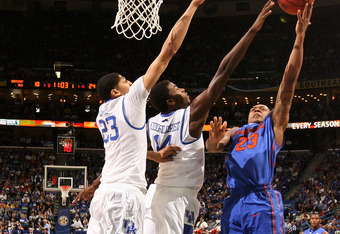 Chris Graythen/Getty Images
In addition, Beal was never able to win big games at Florida, though the Gators were certainly not the best team in 2012. Florida lost all three times to Kentucky, twice to Tennessee, got crushed by Vanderbilt twice, lost to Ohio State and Syracuse at home,  Georgia and Rutgers on the road, and to Louisville in the tournament.
In fact, the only big games he was able to win in college was beating a weak Arizona team in Florida, defeating Florida State in Gainesville, edging out Alabama in the SEC tournament and beating an average Marquette in the second round of NCAA Tournament. In short, he struggled scoring when his team needed it most.
When Beal played well, Florida found themselves in close games. He shot 8-for-15, including 4-for-7 from long range, in the Gators' last game against Kentucky, and only lost by three points. However, this was a rarity for Beal.
In the team's first two games against Kentucky, Beal shot a combined 6-for-25 from the floor and 2-for-12 from three-point land—they were beaten by at least 15 points in each game. This inconsistency will, in all likelihood, follow him into the NBA, especially playing for a rebuilding team like the Wizards.
Beal will benefit playing alongside John Wall, who will provide Beal with opportunities to get into a rhythm shooting open jumpers in transition as well as off of Wall's penetration. However, in order to be effective, Beal must drastically improve the consistency of his shot and find other ways to produce offensively.
It will not be easy playing for the Wizards, as he will struggle to find his confidence playing for a team with so few offensive threats and will likely be asked to keep them in games with the three ball. In addition, wing players are usually the most athletic players in the NBA and Beal will struggle against bigger and more experienced defenders.
Though he did play much better at the end of his freshman season, boosting his draft status, there is really no reason to believe he has what it takes to be a superstar in the NBA. He reminds me of Eric Gordon, a player with all of the skills and physical attributes to be great who never lived up to his high potential for a number of unforeseen reasons.
Beal attributed his poor shooting performance in college to, "mainly my focus. I faced a lot of adversity, and it really hit me." (via DraftExpress.com). There will always be adversity in the NBA and in order to be a good scorer, and especially a jump shooter, one must have a more levelheaded demeanor.
Beal would have been a good late first-round pick for a team who only needed a solid bench player, which could have allowed Beal time to further develop his game.
However, for a team like the Wizards who are missing so many pieces, and must rely on Beal early on in his career for immediate scoring, it will greatly hurt his longevity as it will diminish his confidence in the long run.