NBA Free Agency: Deron Williams to Dallas Mavericks Would Be Career Killer
July 2, 2012
Chris Chambers/Getty Images
And then there were two.
Deron Williams is spending his Monday with the Dallas Mavericks and the Brooklyn Nets. From those meetings, he'll announce whether he stays in Brooklyn or plays for his hometown team.
He and his agent have a lot of numbers to crunch, but there's one they shouldn't overlook: 28.
Williams celebrated his 28th birthday last week. He's getting to that age where he has to start thinking about the future. If he thinks of himself as a top-tier point guard, the next team he goes to should be the team that retires his jersey.
Which has a brighter future? In three years, will the Dallas Mavericks be an NBA contender even with Williams running the point? Or are the Brooklyn Nets on the rise?
The answer is clear. We all know that as good as the Mavericks are, or have been, their domination is almost entirely contingent upon the success of Dirk Nowitzki, who just turned 34 years old. He's arguably the greatest European player ever, but will he still take over a game in three years from now?
Unless Williams can see the Mavericks winning it all in the next two seasons, he's got to have some pause about the reality that the Mavericks are not going to compete for an NBA Championship for years to come, let alone get out of the Western Conference for a while.
Best case scenario, Williams and Dirk click like peanut butter and jelly and win one championship together, only to then find themselves doomed for early playoff exits while the Thunder, Clippers and even the Hornets win with youth and athleticism.
Brooklyn, meanwhile, has promise written all over them. With $41 million at their disposal, the Nets have more money to spend than any other team this off-season and look poised to sign Dwight Howard and/or Joe Johnson.
Will he have to take a pay cut if he wants to stay in Brooklyn and play alongside a few All-Stars? Most definitely. But ask LeBron how that worked out for him.
The Mavericks can offer Williams a max contract, but they'd have to amnesty either Brendan Haywood or Shawn Marion. Is Williams foolish enough to sacrifice the greater team for his own wallet? Just ask Carmelo Anthony how that worked out when he made New York give up the farm.
The Nets have been in ongoing talks with the Hawks to send a bunch of expiring contracts—Jordan Farmar, Johan Petro and Anthony Morrow—to Atlanta for Joe Johnson. According to Marc Stein and Chad Ford of ESPN.com, the snag in the trade is the Hawks' insistence on also acquiring the young and talented MarShon Brooks, who the Nets don't want to give up. Personally, I think if push comes to shove, the Nets will part ways with Brooks if it means getting Johnson in return.
The Nets also have a deal in place to sign Gerald Wallace to a four-year deal worth a reported $40 million, but as Moke Hamilton of SheridanHoops writes, Wallace, Brook Lopez and Kris Humphries could be on their way out if the Nets and Hawks advance their talks to bring Johnson to Brooklyn.
The best case scenario for Williams in Brooklyn is to play alongside Joe Johnson and Dwight Howard, a "big three" that would most definitely hang with Miami, especially since Miami doesn't have a reliable big man to check D12.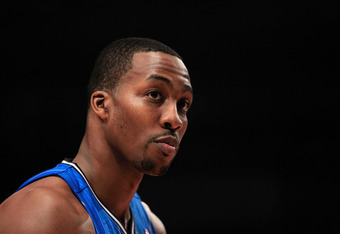 Chris Trotman/Getty Images
The operative word here is reliable. Bosh can't contain Dwight Howard in a seven-game series and who knows if he'll suffer another series-long injury next season? LeBron can't be relied upon to do everything and also guard the teams center each and every game, which leaves you with, well, Joel Anthony and Eddy Curry.
As a free agent, you have to make an educated guess; nothing is certain. But for a free agent approaching 30 and looking at signing with his third NBA team, you have to think about which team will give you the chance to win multiple championships sooner than later. I'm sure Williams understands this and knows that going to Dallas would kill his career, while the Nets will give him the best shot at possibly being considered for the Hall of Fame.
There's not much promise left in the Mavs. And for the Nets, you don't have to look far down the road to see the kind of seasons they're capable of putting together. If the Nets pull off Dwight Howard and Deron Williams, which seems to be the likeliest scenario, not to mention sign Joe Johnson, look for the team to make a playoff splash in their inaugural season in Brooklyn.
And when the NBA releases its schedule, circle the dates when the Nets play the Mavericks and the Magic. For NBA junkies, the starting line-up announcements will be must-see TV.