UFC 148: Mike Easton Prepares to Unleash the Beast
July 2, 2012

When the cage door closes, Mike Easton wants to smash.
Much like the gamma ray-affected comic book hero he takes his nickname from, this bantamweight "Hulk" unleashes his power in the hopes of destroying anything in his path.
While Easton may have more self-control than his fictional counterpart, make no mistake about it—once the switch is flipped, he's not stopping until the opposition is reduced to rubble.
This Saturday night at UFC 148 in Las Vegas, the object standing in his way will be Ivan Menjivar. While Easton will show respect and good will towards his opponent, once it is time to show and prove, Menjivar will become the next obstruction between Easton and his dreams of becoming a UFC champion.
Easton's road began on the hard-knock streets of a Washington D.C. neighborhood. If Easton's vision of destiny is correct, that road will end with championship gold around his waist.
"I grew up in a rough area and you come to understand people are people," Easton told Bleacher Report in an exclusive interview. "You show respect and you get respect back. That's just how it is. In my last fight with Jared Papazian, He stepped over the line. All that mean mugging and trash talk doesn't work for me and I let him know it. All it did was fire me up and I took it out on him."
"For me this journey is a spoken word. I've talked about being in the UFC since I was 17. I've said it from day one I was going to be a champion in the UFC. I believe my words have power and this is destiny. I spoke this into existence. I spoke it into my life and it's happening. Nothing is going to stop me."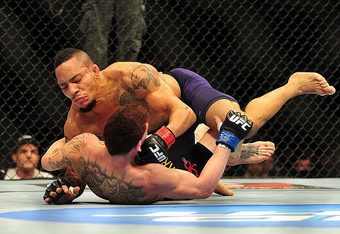 At UFC 148 Easton will bring his momentum and energy into battle against an opponent who is experiencing a career resurgence. Menjivar has faced his fair share of struggles, but over the last three fights has found his rhythm. The "Pride of El Salvador" has notched three consecutive victories inside the Octagon.
But Easton believes that run will come to an end in devastating fashion.
"I think the fight with Ivan Menjivar is a perfect matchup for me," Easton said. "Right now I feel my stand up is on another level and flat out better than his. I'm the hardest-hitting fighter in the 135-pound division. I hit harder than anybody else - period.
"I know he' s experienced, but I'm very experienced as well. I started mixed martial arts when I was 17. I turned pro in 2002. It's one of those things where people want to talk about his experience, but what about mine? What about the guys I train with or the guys I've fought?
"I know he's tough but I'm going in to fight. Ivan is an incredible fighter but he's never fought Mike Easton. He's never faced anyone who has my style. He's never seen my look before. I'm a completely different fighter than anything he's ever stepped in against and he's about to find out what that means.
"I'm looking to finish him. I'm going to put the pressure on him and that's it. All he needs to know is I'm coming to fight and I'm coming to put it on him. Hopefully he's ready."
A victory over Menjivar at UFC 148 has the potential to propel Easton from touted prospect to contender status. After the injury suffered by champion Dominick Cruz, the bantamweight divisional doors have been opened. Easton sees this as the perfect opportunity to make his name and show fans what he brings to the table.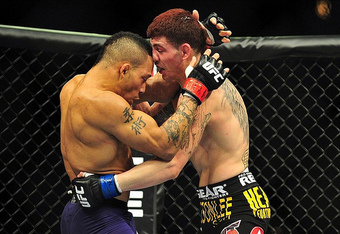 "The bantamweight division is one of the best in the UFC," Easton said. "My boy Dominick Cruz is hurt right now and somebody has to pick up the slack. I believe that's my job. I can't wait to get that belt around my waist and no one is going to stop me. I'm ready to show the world what I can do.
"I'm an exciting fighter and I bring power into the cage. I have devastating power. If people have watched my fights they will see any time my opponents get hit, they start running. People come into these fights with a game plan, thinking they can handle it. But once I land on them, it changes everything.
"I'm bringing that devastation to the bantamweight division. I'm a finisher and that's what I love to do. I want to show the fans that a 135 pound fighter can be a finisher and that's what they are going to see out of Mike Easton."
The "Hulk" smashes and that is what Mike Easton plans to do. All the way to a world title.