Brooklyn Nets: A Deron Williams and Joe Johnson Duo Worst Case Scenario
October 14, 2016
Chris Chambers/Getty Images
The Brooklyn Nets may stop at nothing to bring free agent Deron Williams to sign a long-term contract with the organization—even if that means crippling the team's long-term prospects through a rash, expensive player acquisition.
According to Ken Berger at CBS Sports, the Nets—who currently boast the most active trade rumor mill in the NBA—are potentially 48 hours away from assuming the burden of the remaining four years of Atlanta Hawk Joe Johnson's enormous six-year, $120 million contract.
The desired acquisition would be to provide Deron Williams a "big name" teammate in Brooklyn.
The True Value of Joe Johnson
The 31-year-old Johnson's hefty contract is by and large a product of the massive salary inflation caused by the LeBron James free-agent frenzy of 2010.  All objective indices of value show that he is perhaps the most overpaid player in the NBA
The Hawks have been in the top five squads of the Eastern Conference the last two years; however, that is more due to the team's well-rounded cast led by another Hawks player, Josh Smith.
Since 2010, Joe Johnson's productivity has been on the decline. The 2-guard's scoring average over the last two years has dropped by three points, from 21 PPG to 18.  Johnson's rebounding and assists have also decreased.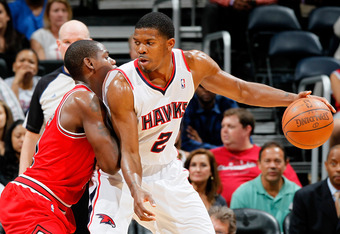 Kevin C. Cox/Getty Images
The NBA average for "player efficiency," a statistical measure of overall quality of play, is a 15.0.  A top-10 NBA player usually has a player efficiency of around 23. 
According to Basketball-Reference.com, Johnson's average over the last two years is only a 17, and in the 2011-'12 playoffs, it was a subpar 11.8. 
Yes, Johnson is a household name in the NBA.  He has been an All-Star selection for the last six seasons.  This "All-Star" status, however, has some dubious merits.
The NBA is currently suffering a dearth of scoring 2-guards. Johnson's value, then, is based to some considerable degree on comparison to a relatively weak field of scorers at his position.
It's also noteworthy that more 2-guards are being assigned as defensive stoppers, leaving scoring responsibility to an influx of score-first point guards. 
If one were to compare Johnson to the best prolific scoring point guards in the league such as Derrick Rose, Russell Westbrook, Chris Paul, Tony Parker, Brandon Jennings, Deron Williams and Stephen Curry, his value would markedly drop. 
The Looming Disaster Behind a Joe Johnson, Deron Williams Duo
These considerations conclude that the Nets' acquisition of a Williams-Johnson duo would be a severe mistake in over-valuation that would leave them suspended as a slightly above average team for the next several years.
Johnson's game is in decline. It is true that Johnson and Williams may make a fine backcourt, but it would not be one that has a glaring edge over others in the Eastern Conference. 
More importantly, after a Johnson-Williams acquisition, the Nets frontcourt and bench would be so anemic due to salary cap space considerations, that the Nets would not thrive. 
If Johnson were picked up by the Nets, the following vicious cycle could occur:
As it stands, the Nets reportedly have $52 million in cap room below the NBA collective bargaining agreement $70 million tax threshold, according to HoopsHype. If the Nets exceed $70 million in salaries, they will have to start to pay luxury taxes.   
According to Marc Stein of ESPN, the Nets have already made an oral agreement to sign athletic swingman Gerald Wallace to a four-year, $40 million contract extension, which will go into effect on July 11th. 
Leaving the Nets with $42 million in cap room, they will then have to assume an additional $8 million in 2012-'13 to retain Johnson's services.
The dead-weight, final-year contracts the Nets want to send to Atlanta covers about $11 million of Johnson's contract. The Nets would have to make up the remainder of Johnson's current $19 million quote. 
Even worse, the Nets would have to shoulder almost all of Johnson's $19 million contract the following year.  As a result, the Nets would be unable to make any further acquisitions in 2013-'14. They would also be in danger of paying less forgiving luxury-tax penalties that kick in next year.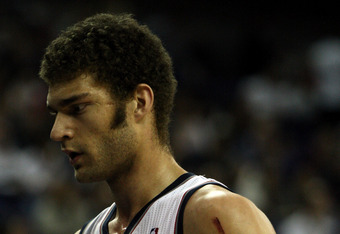 Warren Little/Getty Images
Presuming the Nets sign Johnson, they will also sign Deron Williams to a contract that will pay Williams $18 million this upcoming season.  The Nets will then only have around $20 million to spend on a supporting cast this year, and even less the year after that.
Who knows what kind of acrimony would erupt if Williams is locked into a lucrative long-term contract on a mediocre squad?
Another foreseeable consequence of a Johnson acquisition would be that the Nets would not be able to sign center Brook Lopez to a max offer of $57 million over four years. 
Lopez, who will be 26 years old next year, still has the potential to be one of the most dominant big men in the league.
In Lopez's first three seasons, he had pristine health.  He averaged 20.2 PPG and 1.4 blocked shots a game in 2010-'11.  Lopez's rebounding, low-post game and defensive footwork still need improvement; however, he's still young and his game has room for upside.
You just can't say the same for the aging Joe Johnson. 
Could a Nets "Moneyball" Strategy be the Best Alternative?
Patience is a virtue that is not heavily sought after in the NBA. Big All-Star names sell tickets and keep fans' appetites sated. But assume, for a moment, that the Nets refuse to sign Joe Johnson, and Deron Williams opts to sign with another squad. 
The Nets could take a "moneyball" (i.e., spending less on skill set players) approach that could prove to be their best option.
First, the Nets would sign Lopez to a max offer and pair him off with Wallace in the frontcourt. 
With the remaining $28 million in contract space (a number which would increase next year when the Nets can release their dead- weight contracts), they can then acquire promising young point guard Goran Dragic.
The 26-year-old Dragic averaged 18 points, eight assists and 1.5 steals over 28 games as a starter for the Houston Rockets last year.  Dragic should demand a very reasonable $6 million to $8 million a year for his services (last year, Dragic only made $2.2 million)
The Nets could then surround a Dragic-Wallace-Lopez triangle with a big frontcourt and a reasonably deep bench. According to Nets Daily, the Nets are currently in the running for Bosnian stretch forward Mirza Teletovic. 
The Nets prospects could be brighter with this "Moneyball" approach.  If Lopez develops and is surrounded by top-shelf skill players, that would yield a more promising outcome than a Williams-Johnson duo on an otherwise shallow Nets squad. 
The Nets may wind up being a good team on their own stead and will have the potential to set up a trade for a big-name player in the future. 
Of course, another alternative would be for Williams to realize that playing with Joe Johnson would impede his career and the Nets franchise's long-term prospects.  
Williams could be patient with the Nets organization (to the tune of an additional $27 million to his contract if he re-signs with the Nets instead of elsewhere) and decide to play in Brooklyn anyway.
Only time will tell. The more patient the Nets are, the better.