NBA Draft 2012 Results: Underrated Picks Who Will Fill Vital Roles
July 2, 2012

Ronald Martinez/Getty Images
The NBA draft featured a handful of "safe" picks, but NBA teams also took their chances on under-the-radar prospects. These players won't be superstars, but professional teams have other important roles.
Sharpshooters, defensive specialists and space-eating rebounders are all vital to the success of NBA squads, but they aren't usually the most sought-after draft entrants. 
Let's take a look at a few of this year's most underrated players and the role they will fill on their new teams.
Jeffery Taylor, Charlotte Bobcats

This pick made me shake my head—initially. After selecting Michael Kidd-Gilchrist with the No. 2 selection, why would Michael Jordan and the Bobcats take a very similar player in the second round?
The answer is simple: Elite defenders don't grow on trees. If you have a chance to grab more than one, you do it (especially if you are coming off a seven-win season). 
Taylor isn't an elite offensive player, but he is an elite athlete. He plays tenacious perimeter defense, and his length allows him to defend more than one position. His presence will allow Kidd-Gilchrist to rest and Charlotte's defense to maintain itself.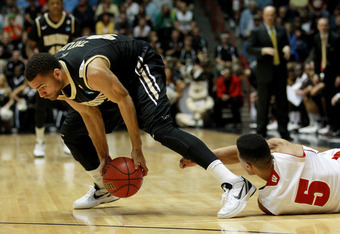 Ronald Martinez/Getty Images
Defense is Taylor's strength, but his experience and leadership will be an added bonus. He plays an unselfish game, and his shutdown defense will be a welcome addition to the Bobcats' rotation.
Doron Lamb, Milwaukee Bucks

Lamb is going to be a vital component of an NBA bench for years to come. He's one of the best shooters to come out of this draft, and his pure stroke will translate seamlessly.
The Bucks needed a capable backup for Monta Ellis in the backcourt. Lamb doesn't have Ellis's all-around skill set, but his perimeter presence will provide instant offense. 
Lamb's small stature and limited penetration ability will keep him from being an elite NBA scorer, but players have made a living behind the arc.
Don't rule out a Jason Terry-type career for this Kentucky product. 
Draymond Green, Golden State Warriors

This stat-sheet stuffer is the ultimate under-the-radar prospect. He doesn't excel at anything in particular, but he is very good at everything. 
The only real question about Green is his size. At 6'7'', who will he guard? What position will he play on offense? Those are both logical questions, but I think Green will answer them rather quickly.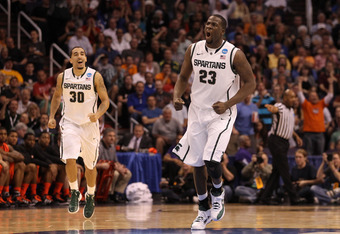 Christian Petersen/Getty Images
He isn't ever going to take over a game, but he will be an extremely important part of the Warrior bench. He will fill holes at power forward and small forward and provide immediate leadership on a young team. 
Green's a capable shooter who "buys" in on both ends of the floor. He works as hard as anyone and checks his ego at the door. Mark Jackson can simply call on him to play; He knows what he will get from Green.
Taking Green at No. 35 overall was a steal to say the least. He adds immediate value to the Golden State rotation.