NBA Free Agency: Why Steve Nash Should Stay Away from Toronto Raptors Offer
July 2, 2012

Christian Petersen/Getty Images
The Toronto Raptors have offered free agent Steve Nash a three-year, $36 million contract, according to ESPN. However, Nash would be wise to stay away from the Raptors' lucrative offer.
After suffering through last season playing for a team that went 33-33, yet did not feature a 20-point scorer in Phoenix, Nash should not finish his career on another poor team.
Nonetheless, the contract would appeal to Nash, who said he wants a three-year deal, according to ESPN. But, unless he wants to suffer through three more seasons of mediocrity, Nash should look for greener pastures.
As NBA Championship rings have seemingly become more important in the overall landscape of a player's career, Nash finds himself without any. He has more potential suitors, as the Mavericks, Nets and Knicks have all shown interest.
He should look for the best opportunity to win quickly, and that is not in Toronto.
The Raptors finished the season at 23-43 and it seems Nash would be regressing if he chose to play for the Raptors.
He would be better off playing for the lowly Suns than returning to Canada. He would find himself alongside Demar Derozan and Andrea Bargnani, the two best players the Raptors have to offer.
Derozan is an upgrade over Jared Dudley, but they are not the playmakers necessary for Nash to capture his first ring.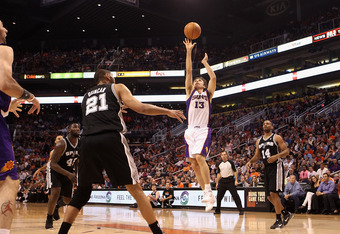 Christian Petersen/Getty Images
Although a Canadian homecoming may be a nice storyline, Nash would be better off looking elsewhere before playing in Toronto.
If the Mavericks can acquire Deron Williams and team him with Dirk Nowitzki for the tail end of his career, the Mavs could be contenders in the short time. That would be a logical spot for Nash, who played six seasons in Dallas towards the beginning of his career.
His best chance for a ring would be in New York, where he can reunite with Amar'e Stoudemire.
Stoudemire and Nash were quite the tandem while in Phoenix and although STAT may not be the same player he once was, Nash can certainly help the team.
If they bring back Jeremy Lin, Nash could aid Lin's development and hopefully push New York back into championship contention.
With Carmelo Anthony and Tyson Chandler already in place, Nash may be the key to getting all those separate pieces to coexist. He is a dynamic, pass-first point guard who excels at getting his teammates the rock.
Nash should forget about Toronto and set his eyes on the Big Apple.