2012 Home Run Derby: Breaking Down the National League Participants
July 2, 2012

Jonathan Daniel/Getty Images
Matt Kemp, captain of the National League in the 2012 Home Run Derby, has selected a team of newcomers with lots of power.
In addition to Kemp, the NL team will feature Carlos Gonzalez, Carlos Beltran and Giancarlo Stanton.  
Kemp has been out since May 30 with a strained left hamstring, but says he will participate in the Derby: [via MLB.com]
"I'm going to participate in it," Kemp said before the Dodgers' game Sunday night against the Mets. "It's just like batting practice. I've been doing that the past three weeks, so I'm ready for that."
Even if Kemp's injury limits his performance, the NL team has plenty of firepower. We'll break down the NL participants.
CARLOS GONZALEZ
Carlos Gonzalez, the Colorado Rockies outfielder, has hit 17 home runs in 71 games this season. He has driven in 58 runs. 
Gonzalez has participated in Home Run competitions before in his native Venezuela, where he lost to Miguel Cabrera and Bobby Abreu.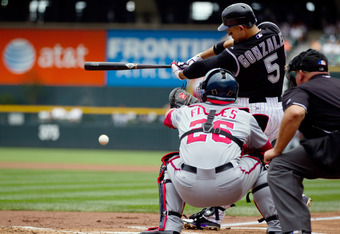 Justin Edmonds/Getty Images
Gonzalez, in his first All-Star appearance, is excited for the Derby: [via The Denver Post]
"I am going to swing hard for the streets," Gonzalez told The Post, when confirming his entrance in the derby. "I am excited to get out there."
According to the Post, Gonzalez always puts on a show in batting practice.
Gonzalez has the power and fun-loving nature to succeed in the event. His experience in derbies in Venezuela will give him a huge leg up. He's a sleeper pick to win it all.
CARLOS BELTRAN
Carlos Beltran is experiencing a career renaissance for the St. Louis Cardinals. The 35-year-old is batting .310 with 20 home runs and 61 RBI. 
Beltran has been to the All-Star game seven times, but this will be his first appearance in the Derby.
Beltran, the most experienced of the NL team, has 322 career home runs. He also has hit 61 home runs in Kauffman Stadium, where the Derby will be held.
Beltran is returning to Kansas City where he spent the first six-and-a-half years of his career. His familiarity, as well as his success, at the ballpark is a huge advantage for him and the NL team.
Beltran will provide the veteran leadership on the team. He's the only member over 30. 
With Beltran second in the National League in homers, he's a serious contender for the crown.
GIANCARLO STANTON
Giancarlo Stanton has a lot of power. After hitting 34 home runs in his first full season last year, Stanton has hit 19 through 77 games this season for the Miami Marlins. 
At 6'5", 233 pounds, Stanton has the build to last in the grueling competition. 
Stanton is one of the most talented youngsters in the game, and his batting practice pitcher thinks he'll put on a show: [via Miami Herald]
"I love his chances," said Marlins coach Joe Espada, who throws batting practice to Stanton before every game. "This guy has the best chance to win the Home Run Derby because he can mishit the ball and it's going to go over the fence."

"Everybody's waiting to see this kid on that kind of stage," Espada said. "Everybody's talking about it. I'm waiting for it. He'll play to the crowd, the oohs and ahhs. He'll get it going. It'll be fun."
With that kind of power and talent, Stanton will provide plenty of entertainment. Stanton has hit 75 home runs in 327 career games. 
Stanton has played in the least amount of games among his NL teammates, but that might work to his advantage. He has a fun-loving nature and will enjoy the competition tremendously. He might not put too much pressure on himself; he'll just have fun.
MATT KEMP
Kemp, the NL captain, is currently on the disabled list, but that won't prevent him from participating in the Derby.
He won't play in the All-Star game itself, but will take a few hacks in the competition.
Kemp has been out since May 30, so it's hard to gauge how effective he will be.
Before the injury, Kemp was sizzling. He was batting .355 with 12 home runs and 28 RBI through 36 games.
Kemp certainly has a lot of power—he hit 39 home runs last season. 
The big question is whether Kemp can perform to his normal standards. While he has been taking batting practice, he hasn't played in a game in a month. It won't be shocking if he is a little rusty. 
Still, with his talent and power, expect Kemp to hit at least a few out of the park.
FINAL WORD
Matt Kemp has assembled a talented team. Each player has had great seasons and possess the requisite power to hit it out of the park consistently.
Of the NL participants, the person with the best chance to win is Giancarlo Stanton. Not only does he have the most natural power, he has the build to hold up in the draining competition.