Philadelphia Eagles: How Can Brandon Graham Avoid Becoming a Bust in 2012?
July 2, 2012

Andy Lyons/Getty Images
Brandon Graham says he already is a bust.
That's what the No. 13 overall pick of the 2010 NFL draft told the media in May. Per The Philadelphia Inquirer, Graham said:
Right now, I'm a bust, so I'm going to deal with that. I'm a bust, and I'm going to keep being a bust. Even when I make plays, I'm going to still act like I'm a bust. You know what I'm saying?
The key, obviously, is that Graham's implying that he can still restore his image and live up to expectations with hard work and a constant chip on his shoulder.
Here's a look at what the 24-year-old former Michigan stud has to have happen in 2012 if he wants to dodge the bust label for at least one year.
Stay Healthy
Fair or not, being a bust is often related to injuries, which means it's often beyond a player's control. But it's now been 19 months since Graham tore his ACL as a rookie, and so this has to be a healthy season. 
Remember: It's not as though he was terrible as a rookie. Graham had three sacks and two forced fumbles in 13 games before blowing out his knee in December 2010. Prior to that, he was lauded for having a fantastic training camp and was a preseason Defensive Rookie of the Year favorite.
If Graham can play 13 or more games this year, he'll have taken a massive step in the right direction.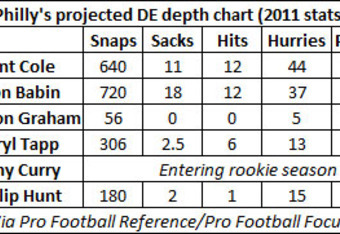 Earn/Luck into Chances in the Rotation
Graham's other big problem is that he now finds himself among a deep crowd of quality pass-rushers residing in the the City of Brotherly Love.
The Eagles already have superstar starting defensive ends in Trent Cole and Jason Babin, and then there's reliable veteran Darryl Tapp and rookie second-rounder Vinny Curry. Considering that rookie Fletcher Cox joins the party inside as well, the line is deeper than ever, right across the board. 
So Graham can't just simply turn it on and produce in his third season.
First, he'll have to earn the right to prove he can do so in practice. The good news is that the Eagles are fully expected to give him those chances, and defensive line coach Jim Washburn will use a healthy rotation all season. 
Still, Graham might need some luck. If everyone ahead of him or surrounding him on the depth chart stays healthy and produces, he'll have a tough time gaining enough reps to defeat the bust label.
Record at Least Six Sacks and Make at Least Two Impact Plays
Of course, when he is on the field, Graham will have to deliver. In this case, the bar isn't overwhelmingly high because there's some understanding that Graham won't be an every-down player in 2012.
But he still has to quiet the critics by putting up decent numbers when he is on the field. 
In this case, I'm defining an impact play as a takeaway or something that has a major impact on the outcome of the game. Top-tier pass-rushers should be able to produce about half a dozen plays like these over the course of a season, but I'm giving Graham a break since he'll be on the field less often.
This, however, will change a lot in 2013 and beyond.
Pick up six sacks and make a couple of big plays, and Graham won't be looked at as a bust next offseason. But if he doesn't improve on those numbers going forward, the label will return. 
It seems as though Graham is rejuvenated. There's a chance he's never the same again after microfracture surgery, but he's got a healthier mentality now.
He's lost 20 pounds (per The Inquirer) and has had a full offseason to prepare. His confidence has returned too (via The Philly Post), which is very important for a defensive lineman.
Now we'll find out if he can put it all together.