The Most Patriotic Pictures in Sports History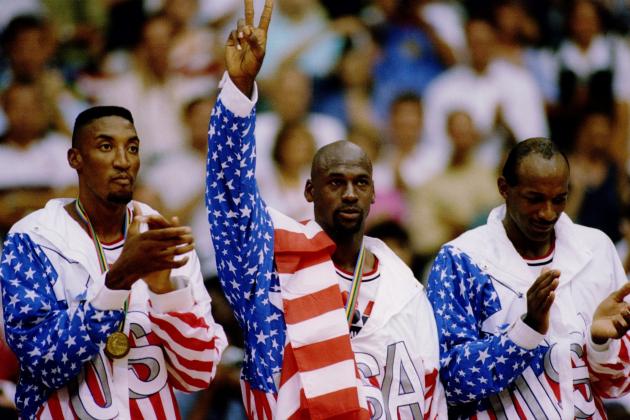 Mike Powell/Getty Images

It's that time of year when flags sway, fireworks crackle in the distance and fans roar for freedom. The fourth of July is upon us.
It was July 4, 1776 when the Declaration of Independence was adopted by Congress. Thomas Jefferson's groundwork would lay the foundation for a new future, and a separation from the Kingdom of Great Britain.
Breathtaking stuff.
Almost 300 years later and we have yet to stop thanking our forefathers. And only in the passionate world of sports can we truly appreciate the American dream.
As we prepare for another festive and colorful Independence Day, let's enjoy 25 shots of sports and patriotism at its best.
An epic collision to say the least.
Begin Slideshow

»
Image via nbcolympics.com
Coached by his fencing father, Greg Massialas, the young Alexander always gives his audience a breathtaking performance.
His mysteriously star-spangled mask makes every bout memorable.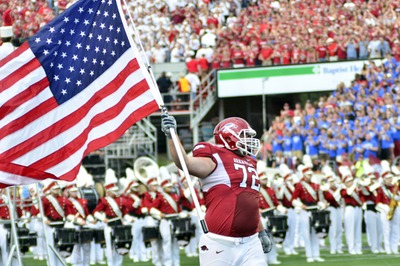 Image via 247sports.com
Guard Grant Cook led his Razorbacks into battle with this brilliant display in remembrance of September 11th.
Just a slight raise of the flag really gets the crowd going.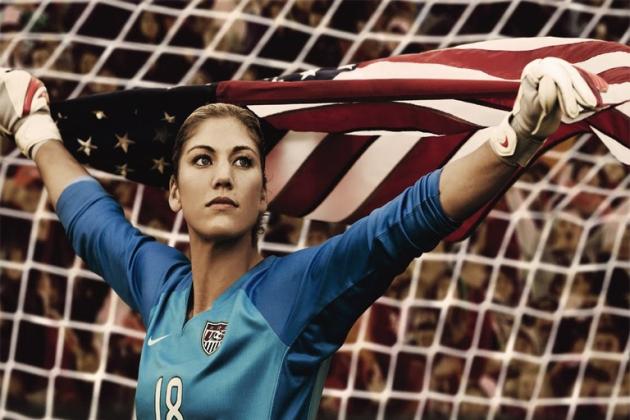 Image via inquisitr.com
The heart and soul of American sports fans, national team goalie Hope Solo rarely reeks of anything but pride and patriotism.
She keeps her country's blood pumping with ferocious saves and intriguing Dancing with the Stars performances.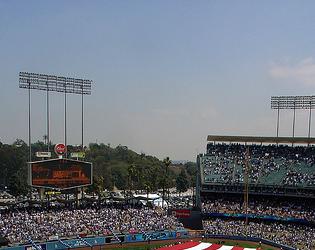 Image via sodahead.com
Flags gracing America's pastime is like mustard on a hot dog.
The ideal pre-first pitch presentation.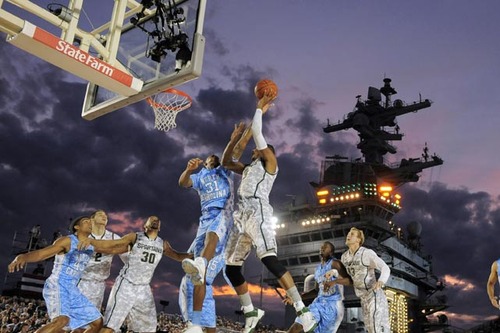 Image via nbcsports.com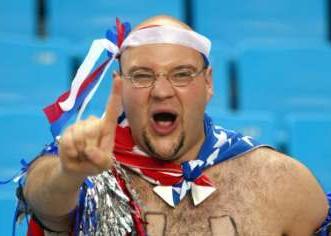 Image via thechive.com
With a vibrant cape, epic headband and fearless nature, this diehard fan seems ready to protect the neighborhood from lower-tier bad guys.
Reading too much Captain Underpants, it seems.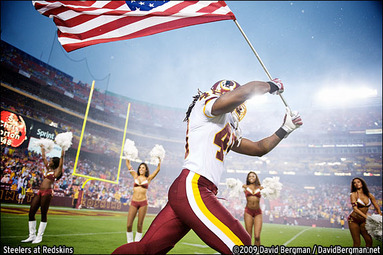 Image via davidbergman.net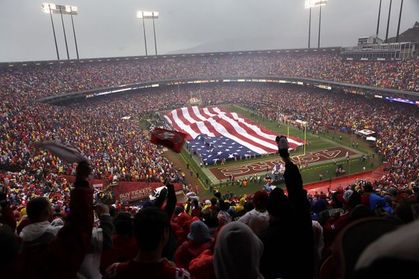 Image via sfgate.com
Despite cloudy skies and vicious mists, these San Francisco-ans are in high spirits.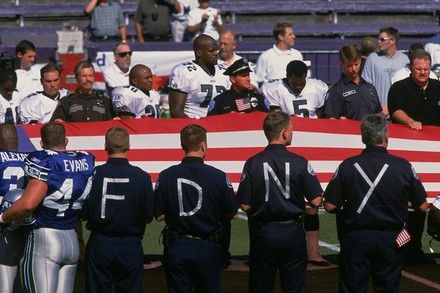 Image via yahoo.com
It was a day that tightened our country's closeness. Millions of strangers suddenly became one.
September 11th, 2001, a day that changed a nation.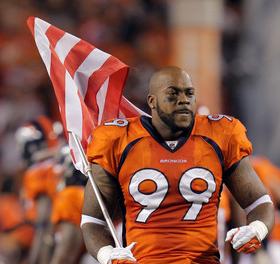 Image via jordansdaily.com
The flag salute was obviously spine-tingling, but it was Kevin Vickerson's shoe debut that really had the crowd roaring.
PE Air Jordan 3 cleats—fresh.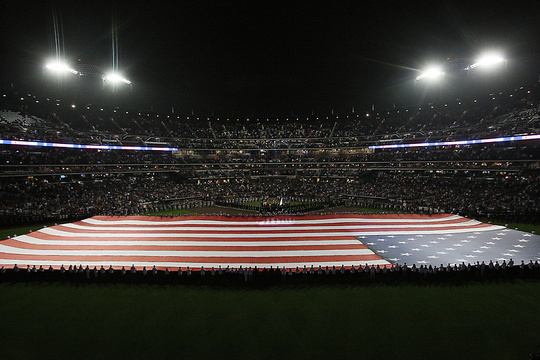 Image via cbslocal.com
As stars, stripes and hearts collide, the only feelings that arise are those of awe.
Perfect contrasts.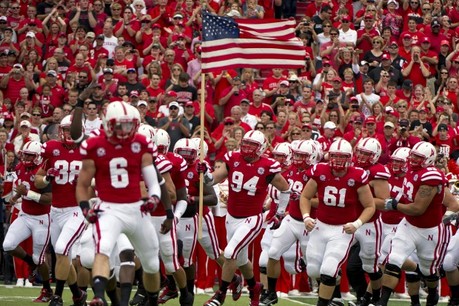 Image via huskerextra.com
Thanks to an inspirational speech from Navy SEAL Jack Riggins, the Nebraska Cornhuskers football team decided to add some stars and stripes to their tunnel walk.
Newly minted Houston Texan Jared Crick (No. 94) leads his fiery pack to greatness.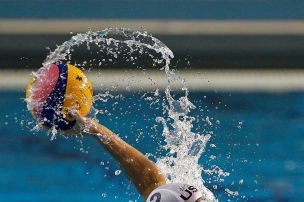 Image via newsday.com
This magnificent moment captures the art of water polo and the importance of patriotism at their peaks.
Peter Varellas is simply carrying the team on his back.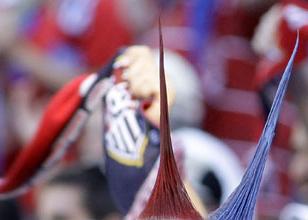 Image via sfgate.com
The United States hosted the 2009 Concacaf Gold Cup.
This was the masterful result.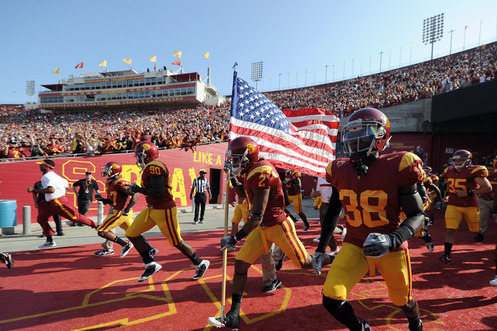 Image via trojandynasty.com
Moments often seem far more intense with flags in hand.
The USC club is ready to carry the country on its back.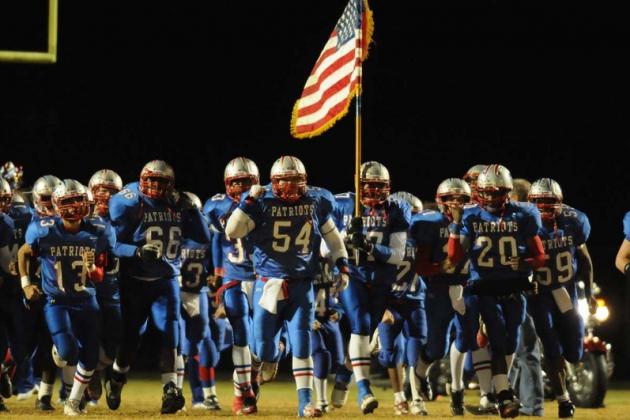 Image via starnewsonline.com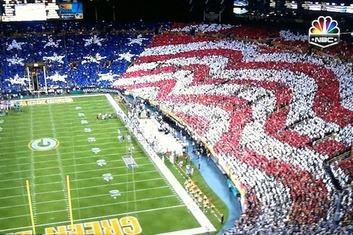 Image via wordpress.com
This Packers crowd is all about enthusiasm, and rarely does it disappoint.
The wavy flow is a necessary touch.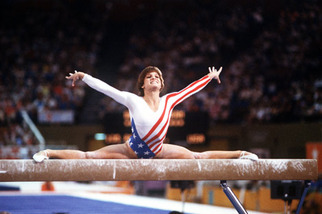 Image via nationalgeographic.com
Sure, she became the first American woman to take gold in the individual all-around gymnastics competition with a miraculous perfect 10 on her final vault, but that's not what has us inspired.
Mary Lou Retton was also the first female spokesman for Wheaties and looked quite delighted on the front.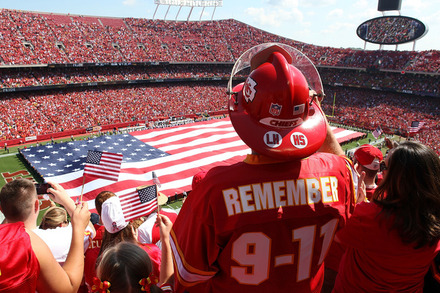 Image via debzchiefspage.com
While this is easily the most patriotic jersey we have ever laid eyes upon, it's the reddish aura of Arrowhead Stadium that has us truly enamored.
Just brilliant.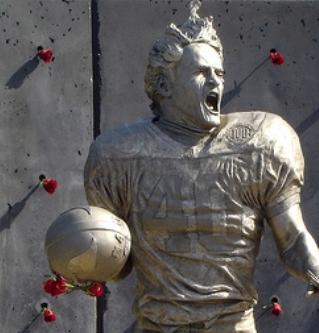 Image via theworldoffootball.com
Leaving a promising career on the professional gridiron to join the Army following the September 11 attacks was all Pat Tillman needed to do to show fans he was no average human being.
The true definition of a warrior.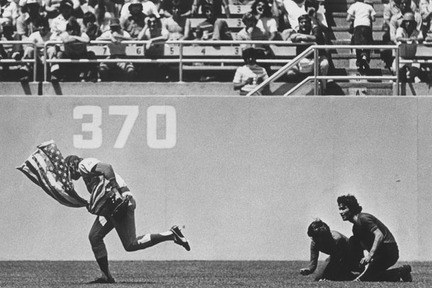 Image via throughthefencebaseball.com
Rick Monday played 19 seasons in the majors, securing two All-Star nods and a World Series ring. But it was his heroics on April 25, 1976 that earned him a solid carving in sports history.
As two protesters (William Thomas and his 11-year-old son) ran onto the field and prepared to burn a flag they had brought with them, Monday sprinted over and took the flag before flames could be sparked.
"If you're going to burn the flag, don't do it around me. I've been to too many veterans' hospitals and seen too many broken bodies of guys who tried to protect it," said Monday.
Let's relive the moment here.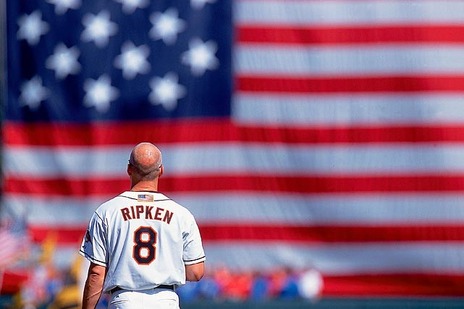 Image via sportsillustrated.cnn.com
The Iron Man himself. 2,632 straight games, generations of inspired fans.
A euphoric display of patriotism.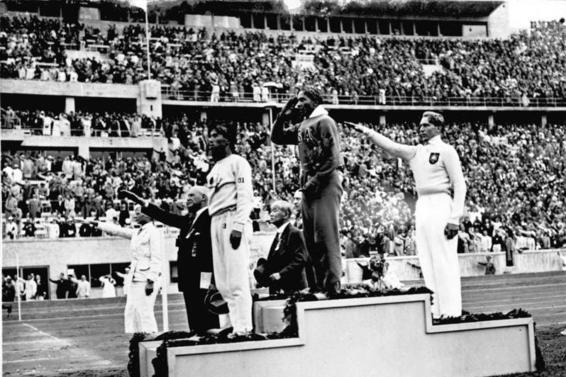 Image via ahtheblog.blogspot.com
To say that Jesse Owens won four gold medals at the 1936 Berlin Olympics does not tell the full story.
He stood up against Adolf Hitler when the dictator was attempting to perpetuate Aryan dominance.
A true sports legend.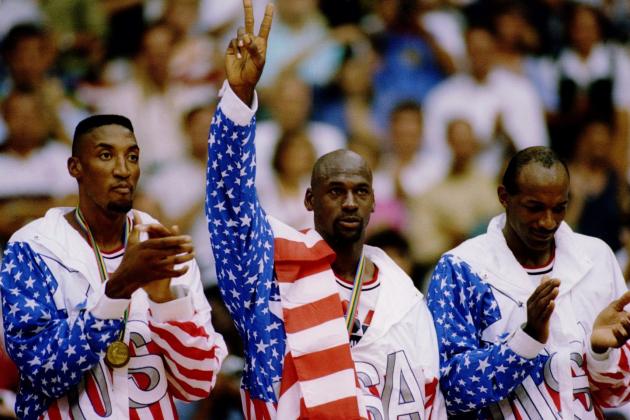 Mike Powell/Getty Images

With names like Jordan, Bird and Magic on their squad, the 1992 Olympic men's basketball team wasn't only the first American Olympic team to feature active NBA players, but it was the first American team to display complete and utter dominance.
After defeating opponents by an average of almost 44 points and securing the gold medal against Croatia, the Dream Team cemented itself as perhaps the greatest athletic team ever constructed.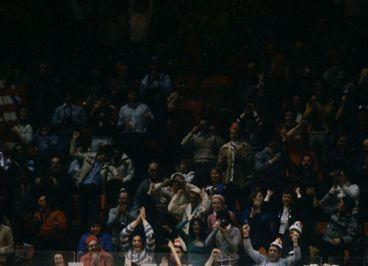 Image via sports.espn.go.com
As 8,500 fans exited the Olympic Center the night of February 22, 1980, few could believe what they had just seen.
The youthful American squad had just defeated the impregnable Soviet team who had not failed to win gold since 1964.
With a final score of 4-3, greatness was achieved. "Do you believe in miracles?"