NBA Rumors: Why Omer Asik's Contract Will Backfire For Houston Rockets
July 2, 2012

Jonathan Daniel/Getty Images
Former Chicago Bulls center Omer Asik has verbally agreed on a three-year, $25.1 million deal with the Houston Rockets, according to ESPN's Marc Stein. For a player who has only started two games in the NBA, Asik got a great contract. As for the Rockets, not so much.
Houston GM Daryl Morey shelled out millions for an under-performing big man, and the poor business decision will come back to bite the franchise.
Asik—a Portland Trailblazers second-round draft pick in 2008—has played in 148 regular-season games with the Bulls. That said, he has averaged a mere 13.2 minutes and 2.9 career points per game.
The Rockets became enamored with the 7-foot, 255-pound Turkish native because the team is still trying to fill the void left by Yao Ming.
Houston threw their hat into the ring in attempt to acquire disgruntled Orlando Magic center Dwight Howard, cites Yahoo.com's Adrian Wojnarowski. Nonetheless, the Howard sweepstakes is another issue in itself.
For the time being, the Asik agreement acts as some sort of security blanket. Which is ironic because his production-to-cost ratio is actually quite risky.
Currently, the only centers on the Rockets roster are youngsters Patrick Patterson and Greg Smith. That paint presence is very thin, and consequently, Asik seemed like the only answer early on in free agency.
The organization sees a 25-year-old who hasn't reached his prime. Although, it's hard to argue that Asik's abilities warranted such a lucrative pay day.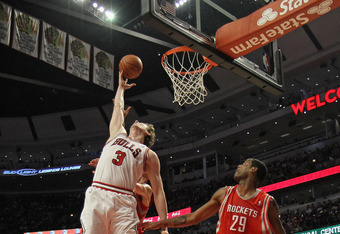 Jonathan Daniel/Getty Images
Raw offensively, Asik has shot 52 percent from the field, but just 48 percent from the charity stripe. He must establish himself as an option in the paint, otherwise defenders will cheat off of him.
Taking the bad with the good, Asik has averaged .8 blocks and 4.4 rebounds per contest. He's capable but unspectacular doing the dirty work and that's his strongest asset—besides height.
Asik's new contract won't be signed until at least July 11. Once the papers are inked, Chicago will have three days to match it. However, that wouldn't be logical from a financial standpoint.
Yahoo.com's Wojnarowski assessed the dynamics of Asik's prospective offer sheet:
The Rockets have tried to acquire Asik in a trade for over a year, but finally forced the Bulls to have to commit to more than $8 million annually to keep him. The contract is back-loaded, and Asik's salary in the third season of the deal would hit Chicago's books at $15 million.
Logging roughly one quarter of available minutes per game does not translate to $25 million. But apparently, the Rockets thought it did.
If Asik is going to be paid top starter money, he must be prepared to play like one. If not, this move will ricochet on the Rockets and Daryl Morey.