USA vs. Australia Softball Finals: Start Time, Date, Live Stream, Preview & More
July 2, 2012

Mike Ehrmann/Getty Images
After one of the wildest World Cup of Softballs in recent history, Team USA squares off with Team Australia in the final game of the tournament.
While Australia is going for their first win in history, the American women are looking to take the trophy home for sixth straight season. With an undefeated record in the tourney, USA will give Australia all they can handle.
Even if you aren't a fan of the sport, it will be worth it to tune into this great meeting of two of the sports best teams. This night is bound to start the Fourth of July fireworks early in the USA.
Where: Oklahoma City
When: Monday, July 2 at 8 p.m. ET
Watch: ESPN 2
Live Stream: ESPN3
For more info on Team USA's fight for a World Cup of Softball, check out the official website.
Players to Watch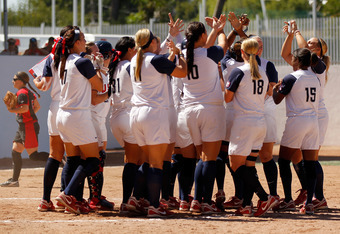 Mike Ehrmann/Getty Images
Valerie Arioto
If there was any question about who Team USA's star is, that has been answered emphatically by first basewoman Valerie Arioto.
In just five games during this tournament, Arioto has five hits, six runs, three home runs, seven RBI and a .600 batting average; not too shabby for being on the biggest stage the sport has to offer.
If the American women want to walk out of Oklahoma City with the world title, they must go to the well once more and ride Arioto's bat to the trophy. When they win, she will be the deserving tourney MVP.
Michelle Moultrie
While outfielder Michelle Moultrie hasn't been the most consistent hitter this tournament, she may be moving back toward the top of the lineup where she is most comfortable.
That means Moultrie better get consistent fast.
Whether it's getting hits or walks, Moultrie's on-base percentage will be one of the biggest factors in Team USA's success Monday. Valerie Arioto can't get the big RBI if there is no one on base.
Prediction: USA 7, Australia 4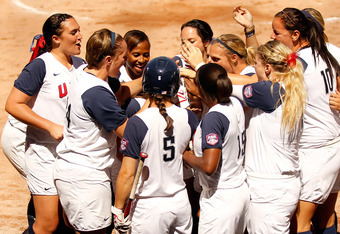 Mike Ehrmann/Getty Images
After playing each other earlier in the tournament (Team USA won 3-1), the United States team and the Australians are very familiar with each other.
While the American women beat every team handily, the only close game they really had was against the team they will have to face in the finals.
This couldn't have been scripted any better.
There was no doubt coming into this tournament that Australia and America were the two best teams in the World Cup, and the fans will finally get the matchup they have wanted all along.