New York Giants: Why Hakeem Nicks Is a Bad Fantasy Football Option in 2012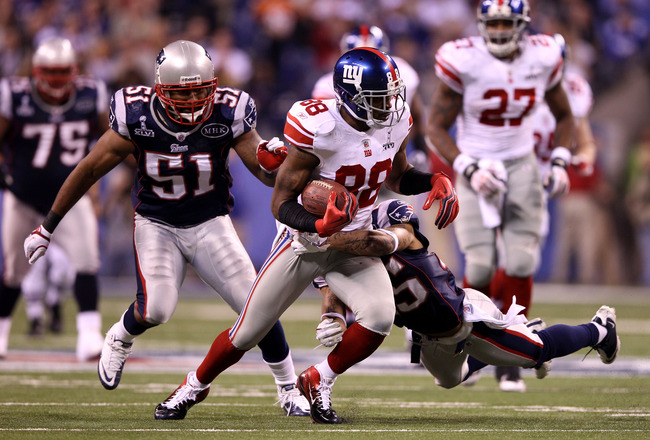 Elsa/Getty Images
Every year, fantasy football owners need to be on the lookout for players who can potentially improve or harm their season.
One player fans should be hesitant about drafting early on (if at all) is New York Giants wide receiver Hakeem Nicks.
Recovering from surgery on a broken bone in his foot, one needs to wonder how quickly Hakeem Nicks can recover and come back to form for the August minicamp.
Here are a few reasons why fans should steer clear of the injured Nicks.
Injury and Recovery Timetable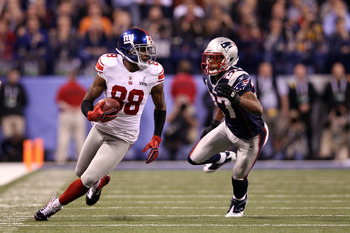 Elsa/Getty Images
When Hakeem Nicks broke his fifth metatarsal (pinky toe) in May, Tom Canavan of Yahoo! Sports reported that recovery from the surgery could take up to three months, but the recovery timetable may actually be more along the lines of 15-16 weeks, according to Jene Bramel of the New York Times.
The good news is that Nicks may be able to participate in the team's minicamp in August and even make the season opener on September 5.
However, Bramel writes that the bad news is that once the pinky toe has been fractured, it is more likely to fracture again or heal incorrectly.
Not only that, Bramel also notes that:
Should Nicks have a successful rehab after surgery, he'll also have to avoid a cascade injury—an injury to another, previously unaffected part of the body—as he gets into football shape late in camp. Hamstring or other muscle strains are an all-too-common occurrence as players attempt to return to their previous level of play before fully conditioned.
For fans who play fantasy football, the possibility of reinjuring his foot or another area is too high to consider using a high pick on the receiver.
CBS Fantasy Sports projects Hakeem Nicks as the seventh wide receiver to be drafted in 2012, but he may drop further depending on two things: Can he recover in 12 weeks as reported earlier, and can he avoid any new complications in minicamp?
For those who play in head-to-head leagues, you should consider using one of your last picks on Nicks or even claiming him off of waivers if he is a free agent in your league.
For those who play keeper leagues or total points, consider another player for your receiver position until further notice.
Other Giants Receivers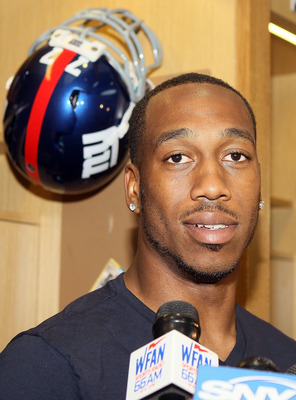 Jim McIsaac/Getty Images
With Mario Manningham heading to the San Francisco 49ers this offseason, the Giants look a little thin in the wide receiver position now that Hicks is hurt.
After having an amazing 2011 season, Victor Cruz has moved up in the depth charts from fourth wide receiver to first.
Though he is a natural slot receiver, Cruz will be the primary deep ball and outside threat just like Nicks was last season.
Domenik Hixon returns this season from injury and will take up his old role as a returns specialist and lineup as the slot receiver.
If the injury lingers, the main receiver threats will be Cruz, Hixon and rookie Rueben Randle from LSU, who has been compared to Nicks.
Assuming the worst, Nicks will miss a few games to properly rehab which leaves the door open for Randle to take his spot as the number two receiver on the team.
If Hixon can stay healthy, his performance might also lead to Nicks seeing fewer passes.
With this kind of company plus the injury, Nicks is fighting an uphill battle that fantasy owners will most likely pay for.
Consider drafting Randle or Hixon if you can't get Cruz; their production will benefit from this situation.
2012 Schedule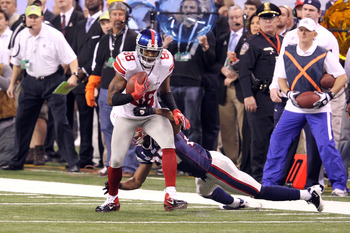 Andy Lyons/Getty Images
After taking a look at the Giants' 2012 schedule posted on Giants.com, Nicks' stock drops a bit in regards to fantasy football.
In 2012, they open in Dallas and face several strong, defensive teams this season.
They play Pittsburgh, New Orleans, Philadelphia, San Francisco, Atlanta and Baltimore.
Nicks has missed a total of six games in the past three years and playing these defenses, he will need to make sure that he doesn't put himself in a dangerous position where he is liable to reinjure himself.
Given the nature of this injury, Nicks needs to be cautious about what he does and how hard he pushes his body.
Not only that, defenses will press him because he is a good wide receiver. In Super Bowl XLVI, he more than one hundred reception yards while being double teamed by the Patriots.
Nicks is used to the double team and play well despite it when he is healthy.
There is not any proof to say that Nicks will be gone indefinitely for the season or part of it; however, it remains to be seen whether he will be able to avoid any obstacles to his health while trying to rehab in time for the season opener.
He is walking a fine line. All in all, fantasy owners who have relied on Nicks in the past for big points need to wait and see how Nicks handles minicamp before they draft him.
His situation is too iffy to know definitely what will happen but considering the fragile nature of this injury (and how it has recently stymied other Giants players), fantasy owners should look elsewhere for wide receivers.
Keep Reading

New York Giants: Like this team?