NBA Free Agency 2012: Predicting Destinations for Best Available Shooters
July 2, 2012
Jared Wickerham/Getty Images
NBA free agency is in full tilt. Marquee names are still on the market, but they aren't the only important pieces teams are waiting to add.
Every team needs a shooter, whether it be a consistent marksman or someone who provides instant offense off the bench. A three-point specialist or high-volume scorer is completely necessary to any NBA playoff hopeful. 
A few dead-eyes are still on the market. Let's predict where they'll land.
According to Yahoo! Sports' Adrian Wojnarowski, the Boston Celtics are actively pursuing Terry's sharpshooting abilities. 
Faced with the possibility of losing Ray Allen, the Boston Celtics are pursuing Dallas Mavericks free-agent guard Jason Terry, league sources told Yahoo! Sports. The Celtics are preparing themselves for the possible loss of Allen, and began the process of recruiting Terry after midnight ET Saturday, league sources said.
Wojnarowski states that the Mavericks are still trying to re-sign Terry, and that the Los Angeles Clippers are also interested in the veteran guard. However, I see him landing with the Celtics, who covet the sixth-man role. Even at 34 years old, very few players fill the position better than Terry.
He averaged 14 points per game for Dallas last season. He's a career 38-percent three-point shooter, and he's a proven clutch performer. His playoff experience makes him an enticing option as well. 
Terry fits exactly what Boston needs, and I think they will put together an attractive offer for his services. 
Prediction: Boston Celtics
Ersan Ilyasova
Ilyasova only shot 112 three-point attempts last year, but he made 51 of those shots. That's good enough for 46 percent and the second-best three-point percentage in the NBA behind Steve Novak.
It isn't likely that he remains in Milwaukee next season. The Bucks drafted power forward John Henson in the first round of the NBA draft, and the franchise seems to be heading in a different direction at this point.
According to Fred Kerber of the New York Post, four teams are showing interest in the face-up four man.
#Nets one time high radar target Ersan Ilyasova drawing interest from Bucks, Cavs, Raptors, Spurs

— Fred Kerber (@FredKerber) July 1, 2012
I think the bidding comes down to San Antonio or Cleveland. He'd fit each teams' current personnel, and fits their offensive system. 
San Antonio has the room to offer Ilyasova a decent contract. I can't see him commanding much more than $7 million per year, if he commands even that much.
The Spurs love to play with four men out and one man in. They stick Tim Duncan on the interior and run the entire offense based on his and Tony Parker's decision-making. Ilyasova's sharpshooting would mesh perfectly with the Spurs' offensive philosophy.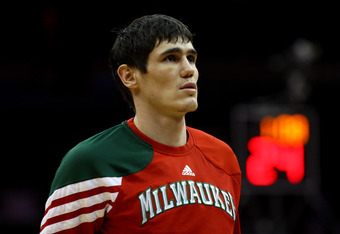 Chris Chambers/Getty Images
This signing will fly under the radar, but Ilyasova will be very valuable to someone next season.
Prediction: San Antonio Spurs
Ray Allen
I'd be remiss if I didn't mention the greatest three-point shooter in NBA history. Allen is in the twilight of his career, but his 45-percent clip from distance last year suggests he can still do his job.
According to ESPN.com's Chris Broussard, Allen is the Miami Heat's top priority.
The Heat, according to sources, have made Allen their prime offseason target and will pursue him strongly. Free agency officially opened on Sunday at 12:01 a.m. ET. They intend to offer him their $3 million mini-mid-level exception, a chance to win another title and significant playing time as they continue with the plan to play LeBron James as a power forward in the future. Heat players, including James and Dwyane Wade, have been publicly and privately recruiting Allen over the last month.
This makes a lot of sense to me. The Celtics are probably not going to be in the "real" running next year with their age, uncertain roster and lack of offensive firepower. Allen's best chance at winning another NBA championship lies in South Beach.
Broussard states that the Celtics are prepared to offer Allen a two-year, $12 million deal. They can't offer him the same championship aspirations, but loyalty does play a certain degree.
I don't see Allen coming back to Beantown (from Boston's perspective, I'm not sure bringing him back is even the right idea). Personally, I think he should, but Miami's allure will be too much in the end.
Allen looked old in the playoffs last year. In Boston, he would also have to play a larger role. On the other hand, in Miami, he would be a glorified version of James Jones from this past season. At this point in his career, that suits him more. 
This one could go either way, but I favor the Heat's star-power and chances to repeat as NBA champions.
Prediction: Miami Heat