2011 San Francisco 49ers: A Look Back at Top 5 Influential Acquisitions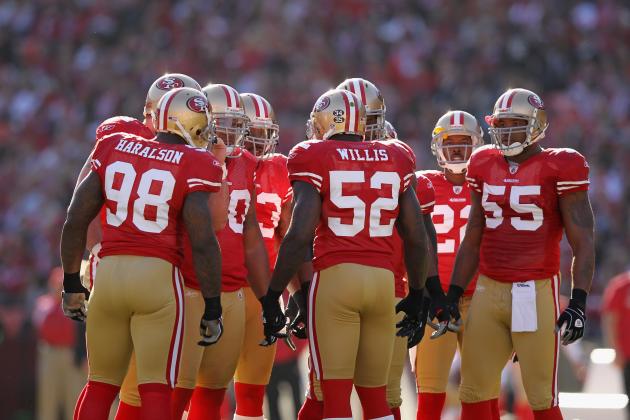 Ezra Shaw/Getty Images
2011 San Francisco 49ers
With the 2012 season coming upon us, let's look back at last year's team and the All-Pro players that provided the 49ers with the talent they needed to get them one game away from the Super Bowl. The 2011 San Francisco 49ers surprised everyone, including their fans. With a cunning draft selection and savvy free-agent signing period, the 49ers molded into a NFL juggernaut that no one could predict.
After a slow start in free agency, which brought along questions as to why they weren't jumping into the signings right away, GM Trent Baalke and head coach Jim Harbaugh proved to know what they were doing with their slow-burn of acquisitions and veteran signings.
An unheralded draft class added a youthful vitality that proved immediately beneficial to the team as a whole.
With this, I selected five players among the new signings or draftees that I felt had a tremendous impact on the 49ers in 2011.
Begin Slideshow

»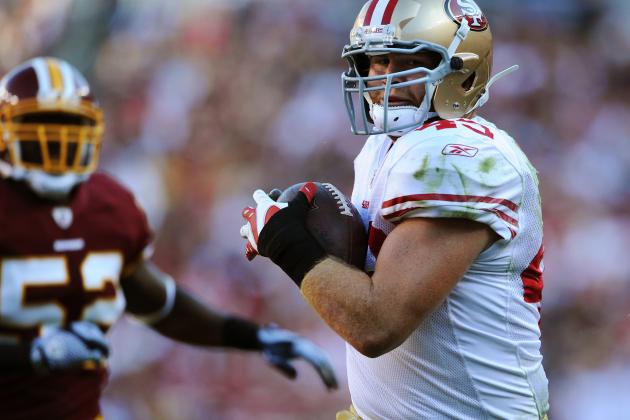 Patrick Smith/Getty Images

Switching from playing a DL position in college to FB with the 49ers, Bruce Miller emerged as a valuable cog in the backfield as well as special teams.
Playing a non-sexy position in FB, you have to really watch the game to understand how valuable a great fullback can be for a fluid offense. That's why it was nice to see Bruce Miller score a touchdown on a pass from Alex Smith vs the Redskins. He's tough and has speed and that's a deadly combo for a bruising fullback.
College highlights aside, you can see the versatility already. Baalke knew what he was doing in drafting Kendall Hunter: a key component in spelling Frank Gore and providing a much needed change of pace during games.
It will be interesting to see how 2012 draft pick LaMichael James will integrate in the backfield. Anthony Dixon might have to have a perfect preseason as Kendall Hunter has proved to be an invaluable and electric member of the 49ers.
A tough and physical safety, Donte Whitner was initially heading to Cincinnati; however, a last-second decision saw him to San Francisco, where he energized the 49ers secondary with hard hits and physical play.
What doesn't have to be mentioned, just simply viewed over and over and over, was the hit he laid on Pierre Thomas in the NFC Divisional playoff game against the Saints. A momentum-changing play for sure, the 49ers would go on to win this game in dramatic fashion as this hit marked the beginning of the end for the Saints.
Carlos Rogers was signed to a one-year contract before the 2011 season. With Nate Clements gone, the 49ers needed to shore up their secondary and Rogers provided protection and interceptions.
Making the Pro Bowl and leading the 49ers with six interceptions, it's no surprise that the 49ers locked up Rogers for the next four years.
An anchor in the defense, Rogers has made a home here in the Bay Area as the 49ers look to continue their stellar defensive play.
David Akers made his sixth Pro Bowl team with the 49ers, broke the NFL record for points by a kicker—finishing with 166—and also extended the NFL record for most field goals made, all in 2011. Unheralded? Yeah. Invaluable. YES.
Akers was the first free-agent signing by the new Harbaugh/Baalke regime. Never did the fanbase expect such a positive upswing in production for the 49ers.
Aldon Smith was a definite head-scratcher for a lot of the 49ers Faithful. We just didn't know who he was coming out of Missouri.
But when you have competence in the management offices, you will see the value of savvy decision making and brilliance. Looking back with a year in the bag, the 49ers drafted one of the best players in the 2011 Draft, and he can only get better.
Watch all his sacks here (even the sacks that didn't count).
Thearon W. Henderson/Getty Images

What will the 2012 49ers free-agent and draft pick signings have in store? Will they make an impact like Aldon Smith, Colin Jones and Bruce Miller?
Or will some fall off the radar like Ronald Johnson?
It's going to be one hell of a preseason filled with drama and unanswered questions, but one of the best aspects about football is that nothing is set in stone and we'll all tune in to see what transpires.