Forecasting the 2009-10 NBA Fantasy Draft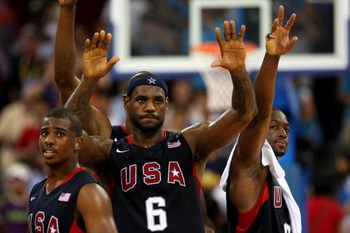 With the All-Star Weekend in full swing, it seems like the perfect time to go ahead and forecast the 2009-10 NBA Fantasy Draft.
I know we're still months away from the '08-09 fantasy season concluding, but since we have a break in the action, I figured it would be fun to talk about next season. For some advice on what to look for coming out of the All-Star break head over to http://www.RotoExperts.com and check out our daily content. Now, though, let's take a look toward next season.
Of course, these picks are subject to change—via injuries, trades, etc. Gentlemen, without further ado, please raise your hand if you think you're worthy of being the number one pick in 2009-10.
Pick No. 1: LeBron James (SF, CLE)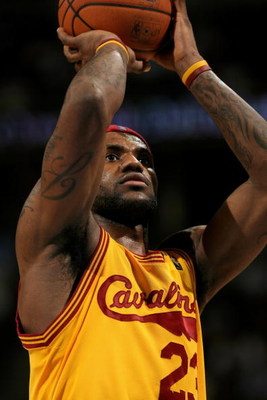 Next season, the debate will once again be between superstars LeBron James and Chris Paul (PG, NOH). You're really splitting hairs here. Both players have been swapping the top-spot in standard rankings all season long. What gives King James the nod in my book is that he can improve on the one deficiency he has—free throw shooting.
At the break, James is shooting a career-best 77.5 percent from the charity stripe. Still only 24-years old, he produces a nightly stat-line that reads: 28.5 points, 7.5 rebounds, 7.0 assists, 1.3 blocks, 1.8 steals, and 1.4 three-pointers, on 49.1 percent shooting from the field.
The pendulum swings in James' favor as he approaches 80.0 percent from the free throw line.
Pick No. 2: Chris Paul (PG, NOH)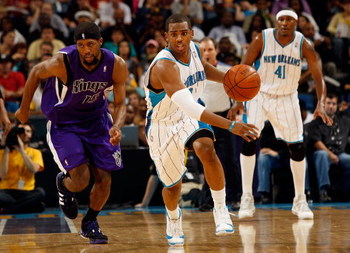 The case could be made for taking Paul with the top pick, but as LeBron James approaches 79.0 percent from the free throw line and 49.0+ percent from the field, the King on the court resides in Cleveland.
Currently, LeBron has amassed significantly more blocks, rebounds, points, and threes. Paul has the clear advantage in steals and assists, as the league leader in both categories. Again, efficiency from the floor and the free throw line is the key here. LeBron continues to improve on both percentages, which gives him a slight edge over CP3.
Pick No. 3: Dwyane Wade (PG/SG, MIA)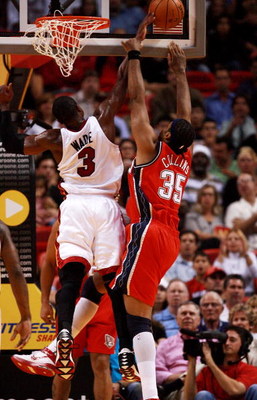 How about the second best scorer in the league, Dwyane Wade, who provides 2.1 STL and 1.4 BLK to go along with his 28.3 PTS? Wade too has a bit of a free throw shooting problem (74.1 FT%), but all of the questions about his health have been put to rest this season. He too can contribute with assists (7.0) and rebounds (5.0), but Wade lacks a bit of a long-range jumper (0.8 three-pointers per game).
I wouldn't be surprised to hear stories this summer about Wade working tirelessly on improving his three-point shooting. He is the top-dog in Miami, and I actually see the young guys stepping up next season to help lighten the defensive pressure surrounding D-Wade nightly.
Pick No. 4: Danny Granger (SG/SF, IND)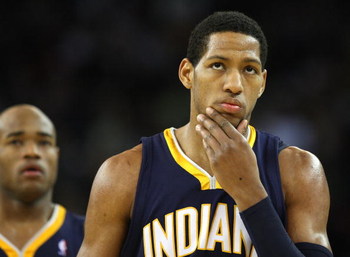 I know what you're thinking—over Kobe Bryant (SG, LAL)? Yeah, over Kobe Bryant. I'm not sure many fantasy owners are aware of the kind of season that Granger is having. He is the fifth leading scorer in the league (25.4), and more importantly, he is second in the league in three-pointers made (2.7), and he's also shooting 88.9 percent from the free throw line.
Along with LeBron James and Rasheed Wallace (PF/C, DET), Granger is one of only three players averaging at least 1.4 3PT, 1.0 STL, and 1.3 BLK. Granger is an across-the-board contributor, and I'd be happy to select him at No. 4.
Pick No. 5: Kevin Durant (SG/SF, OKC)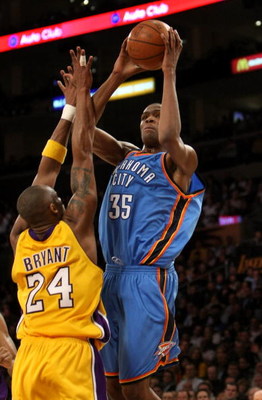 Again, it my seem like I'm not giving Kobe Bryant his due, but Durant to me has more upside than Bryant does next season. He's already averaging 25.5 points, 6.8 rebounds, 2.7 assists, 1.3 three-pointers, 1.2 steals, 0.8 blocks, and 85.8 percent from the line in just his second NBA season. Durant has room to improve, and that's a scary thought.
Only one-and-a-half seasons under his belt, and he's already in contention for a top-5 pick. The potential is huge!
Pick No. 6: Kobe Bryant (SG, LAL)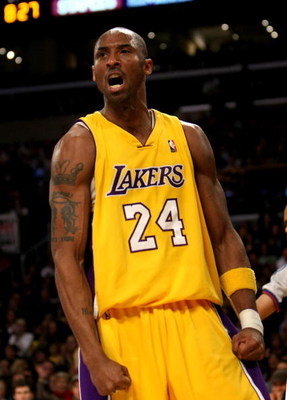 Bryant is still considered by many to be the best player in the NBA. However, in the fantasy basketball world, Kobe should be projected as the sixth best player for the 2009-10 season. The argument once again is made that the Lakers need to rely on Kobe less than those guys I'd draft ahead of him.
Who would you want to take the last shot in Game Seven of the NBA Finals? Yeah, I'll take Kobe. But Kobe is a 25/5/5 kind of guy who will hit a three, steal a ball, and occasionally block a shot.
I just don't think he needs to put up the same stat-line as the other superstars on this list every night, since he is surrounded by other All-Star caliber players who he can defer to on both ends of the court.
Pick No. 7: Dirk Nowitzki (PF, DAL)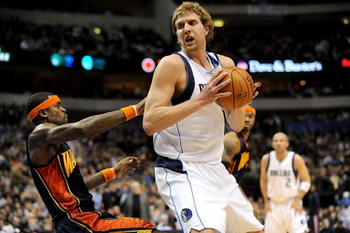 The big German is steady as he goes. Putting up 25/8/3 with a stellar 90.9 percent free throw shooting and respectable 47.5 percent from the field, Nowitzki is a reliable fantasy-stud. He hasn't shot well from beyond the arc this season (0.9 3PT), but then again, he hasn't knocked down more than 1.0 per game over the last three years.
The other thing I love about Nowitzki is that he hasn't played fewer than 77 games in a single season since 1998-99, his rookie campaign. He's reliable, and fantasy owners love that.
Pick No. 8: Amar'e Stoudemire (PF/C, PHO)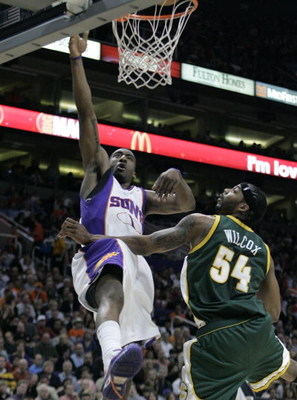 Stoudemire has been the subject of many trade rumors as we near the trade deadline, so this pick can change quickly depending on what does or doesn't happen.
Amar'e still has the potential to be the best big man in the NBA. He has superb athleticism that stands out from almost all of the other center-eligible players in the league. You could argue that Amar'e has been held back by the presence of super-Tweeter Shaquille O'Neal (C, PHO) in the paint. Stoudemire's scoring, rebounding, shooting percentage, and blocked shots have all taken a hit this season.
With that said, Amar'e is still producing quite well on a nightly basis: 21.0 points, 8.1 rebounds, 1.1 blocks, and 53.0 percent field goal shooting. Maybe he gets traded, or maybe Shaq gets moved.
Either way, Amar'e is going to up his production next season, whether it's in Phoenix or somewhere else. Plus, it should be noted that he'll be playing for a contract next year.
Pick No. 9: Yao Ming (C, HOU)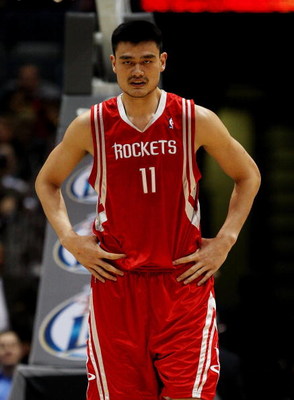 A center who shoots 54.4 percent from the floor and 87.3 percent from the free throw line, and who consistently gives you nearly 20-and-10 on a nightly basis with 1.7 blocks—I'm sold.
Ming, like D-Wade, always makes for a risky pick in the first round, because he has been injury-prone in the past. This season, though, Ming has proven to be healthy and efficient all season long.
If Yao can up his blocks to two-per-game, then he'll plant himself firmly into the first round.
Pick No. 10: Al Jefferson (PF/C, MIN)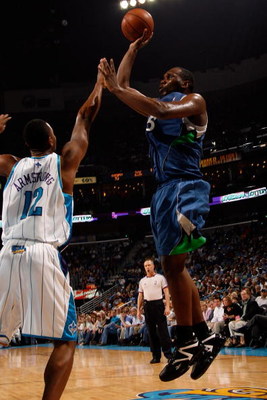 Big Al Jefferson is in the same conversation as Yao and Amar'e. He is a dominant big man, center-eligible, and efficient.
Maybe his 73.8 percent from the free throw line isn't that impressive, but he'll give you 23 points and 11 rebounds each night with almost two blocks and 50 percent shooting from the field.
This is a bit of a risky pick because of his health, a'la Elton Brand (PF/C, PHI) from last season, but if you are drafting at No. 10 in a 10-team league, then you have a chance to pick up two guys back-to-back who can really fill out some categories, starting with Al Jefferson.
Note: A few guys who just missed the list: Kevin Garnett (PF, BOS), Brandon Roy (PG/SG, POR), Jose Calderon (PG, TOR). And, of course, in a FTM-league Dwight Howard (C, ORL) makes the top-5.
Keep Reading