Dallas Mavericks: Day 1 Recap of 2012 Free Agency Bonanza
July 2, 2012

Ronald Martinez/Getty Images
We now count down the hours until the meeting between Deron Williams and the Dallas Mavericks.
According to ESPN.com's Marc Stein, the Mavs will be first in line to meet with the free agent perennial All-Star point guard on Monday, then the Brooklyn Nets will give their pitch right after that on the same day.
Williams is projected to make his announcement before he makes his way to Las Vegas to join with Team USA, so it could be Monday or maybe Tuesday.
Meanwhile, Dallas is still trying to make moves to build a caliber team around Williams and have been involved in more rumors to close out the day.
So here's your third Mavs free agency update of this crazy period.
Former Teammate of D-Will has Dinner with Carlisle
Unrestricted free agent guard CJ Miles was reportedly dining in New York City with Dallas head coach Rick Carlisle in a possible attempt to bring the other DFW native to the Mavs, as well.
 

Great dinner and metting in NYC at Atlantic Grill w/ Coach Carlisle ... Sushi is amazing get the Sweet and Spicy roll!! 👍

— C.J. Miles (@CJMiles34) July 2, 2012

 
Miles also had this to say about the Dallas head coach:
 

Can most definitely see why players like and play well for him ..

— C.J. Miles (@CJMiles34) July 2, 2012

 
Miles was a teammate of Williams' for five and a half years in Utah, and has been linked to possibly joining D-Will in Dallas.
It all depends how everything works out with cap space and if Dallas can bring along the 6'6" wingman along for the ride, but if the Mavs are serious about the possibility of shopping Shawn Marion and/or Vince Carter, that could clear up space.
Miles has spent the first seven years of his career with the Jazz and averaged 8.4 points per game in an average of 19 minutes per game.
Veteran Center Lists Mavs as Possible New Team
He's about to enter his 17th season in the NBA at the age of 38 years old, but Marcus Camby is still a valued player in this league.
Camby has narrowed his list of desired teams he would like to play for next season to six, and Dallas is one of those teams.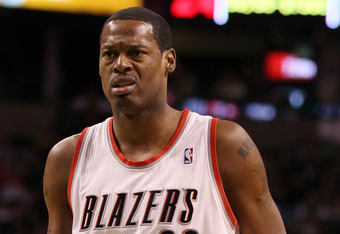 Elsa/Getty Images
Along with the Mavs, the former Defensive Player of the Year has the Knicks, Heat, Spurs, Celtics and Rockets listed as possible suitors.
Camby has played for six teams in his long and illustrious NBA career—Toronto, New York, Houston, Portland, Denver and the L.A. Clippers—and is averaging close to 10 points and 10 rebounds for his career.
With the possibility of losing Ian Mahinmi to free agency and using the amnesty clause on Brendan Haywood, center is an area that needs to be addressed heavily this summer, and Camby would be a great player to fix that problem in the short term, unless the coaching staff feels Brandan Wright could contribute full time at center.
However, Mike Fisher of DallasBasketball.com has this tidbit of information regarding the free agent Frenchman.
 

fwiw, 'Mahinmi done w #Mavs' headlines are premature. 'Contact isnt contract,' says source close to Ian

— mike fisher (@fishsports) July 1, 2012

 
Former Mavs All-Star to Join in D-Will Meeting on Monday
Michael Finley, who was famously known as one part of the Big Three in Dallas along with Steve Nash and Dirk Nowitzki, will reportedly join team president Donnie Nelson and Rick Carlisle in the meeting with Deron Williams on Monday.
 

Coach Rick Carlisle, GM Donnie Nelson and team rep Michael Finley will meet Deron Williams in NY on Monday. Dirk Nowitzki is on (cont.)

— Dwain Price (@DwainPrice) July 1, 2012

 

 

(cont.) his way to Wimbledon and owner Mark Cuban is in Los Angeles working on his 'Shark Tank' TV show.

— Dwain Price (@DwainPrice) July 1, 2012

 
Although, in the moment, it may come off as a concern that the owner and the franchise player will both not be meeting with the superstar, they want to desperately join their team.
But Finley can more than speak on the winning culture that the Mavs have experienced for the last decade-plus seasons, as he was a key element in Dallas' success.
Finley played 15 seasons in the NBA and was a two-time All-Star in 2000 and 2001 for the Mavs.
If you need to be caught up on the rest of Dallas' free agent rumors, make sure to check out my prior articles on my page.