NBA Free Agents 2012: Position by Position Rankings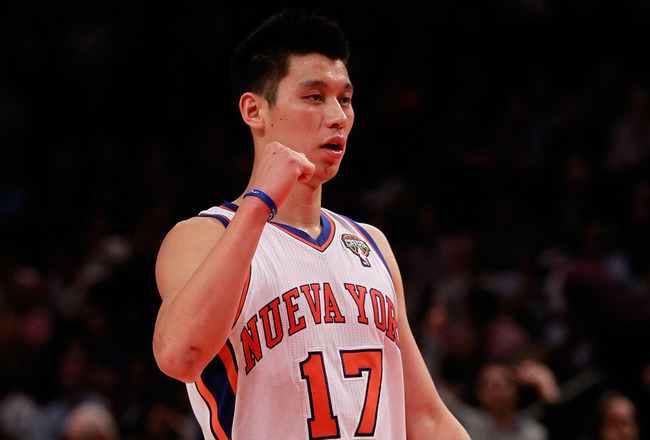 Chris Trotman/Getty Images
The 2012 summer of NBA free agency is under way, and it's sure to be one that shapes the balance of power across the Association.
While some teams are looking for franchise star they can build around, others are looking for role players who can compliment the top talent they already have on their rosters.
There have already been a number of substantial signings, like Omer Asik signing a three-year, $25 million deal with the Houston Rockets, and that's just the beginning of the free-agency madness that is soon to come.
To help sort through all of the free agents available, I've compiled a ranking of the top-five free agents at every position. Included in these rankings is each player's 2011-12 statistics to help give you a glimpse of the production each player will be able to bring to his respective team.
Ahead is a position-by-position ranking of the top-five free agents from point guard to center.
Players Who Barely Missed the Cut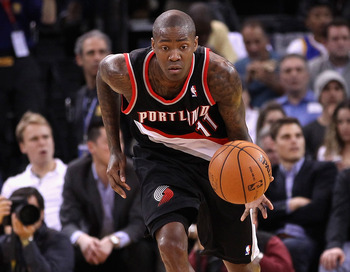 Ezra Shaw/Getty Images
1. Jamal Crawford, G, (UFA): 14.0 PPG, 3.2 APG, 2.0 RPG, 15.80 PER
2. Randy Foye, G, (UFA): 11.0 PPG, 2.2 APG, 2.1 RPG, 13.56 PER
3. Jeff Green, SF, (UFA): (2010-11) 13.3 PPG, 4.8 RPG, 1.4 APG, 12.92 PER
4. J.J. Hickson, PF, (UFA): 8.8 PPG, 6.2 RPG, 0.6 BPG, 14.91 PER
5. Brandon Bass, PF, (UFA): 12.5 PPG, 6.2 RPG, 0.9 BPG, 14.21
Point Guards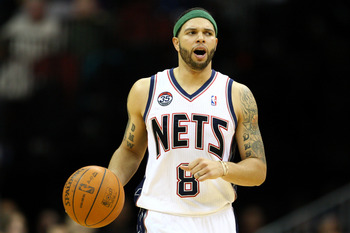 Chris Chambers/Getty Images
1. Deron Williams (UFA): 21.0 PPG, 8.7 APG, 4.0 TO, 20.34 PER
Deron Williams is the most highly sought after free agent of the 2012 offseason, and for good reason. He is a great facilitator at the point in addition to being a prolific scorer.
Williams has reportedly narrowed down his options to the Dallas Mavericks and the Brooklyn Nets, which is bad news for the 28 other teams in the NBA. The Nets and Mavericks both need Williams' versatile talents, and whoever manages to land him will be well on their way of being the winner of the 2012 offseason.
2. Jeremy Lin (RFA): 14.6 PPG, 6.2 APG, 3.6 TO, 19.97 PER
While a knee injury shortened his 2011-12 season, there's no doubt that Jeremy Lin will be a highly sought after free agent after two months of Linsanity earlier this year.
After receiving his early-Bird rights, Lin will look to draw max offers from teams looking to put the New York Knicks in a difficult situation. The one thing holding Lin back is his proclivity to turning the ball over, which came at a rate of 3.6 turnovers per game last season.
Lin's upside and playmaking abilities outweigh his turnover-prone play though, and that's why he will be one of the more highly sought after free agents this offseason.
3. Steve Nash (UFA): 12.5 PPG, 10.7 APG, 3.7 TO, 20.29 PER
Even at 38 years young, Steve Nash is still one of the most complete and productive point guards in the entire NBA. Teams like the Miami Heat, Toronto Raptors and Phoenix Suns will certainly be looking to lock down his talents for a few more seasons.
Nash is arguably the best facilitator in the game, and the way he incorporates teammates on the offensive side of the ball is second to none, which is at the foundation of what makes him so valuable.
The Raptors have reportedly offered Nash a three-year contract worth $36 million, so now it's time to see if Nash values championship potential or financial compensation.
4. Jameer Nelson (UFA) 11.9 PPG, 5.7 APG, 2.4 TO, 14.66 PER
After deciding to opt out of the final year of his contract with the Orlando Magic, Jameer Nelson will be testing the waters of free agency this offseason.
Nelson isn't the most offensively-explosive point guard available, but he a well-balanced floor general, and that's what will make him such a highly sought after player. Nelson protects the ball well and creates for his teammates at a consistent rate. The one thing he must improve is his efficiency shooting the ball.
If Nelson does that, he can realize his true potential and be a productive point guard for whoever signs him.
5. Jason Kidd (UFA): 6.2 PPG, 5.5 APG, 1.9 TO, 13.11 PER
Jason Kidd might be 39 years old, but he still has a year or two of productive play left in the NBA—especially if he can adjust to coming off the bench.
If rumors are true that Deron Williams and Jason Kidd are looking to sign as a package this offseason, Kidd's value will dramatically increase, as it will allow him to be the sixth or seventh man for whichever team signs him.
Kidd protects the ball better than any of the other free-agent point guards on the market, and his addition would be welcomes on pretty much every team in the league.
Shooting Guards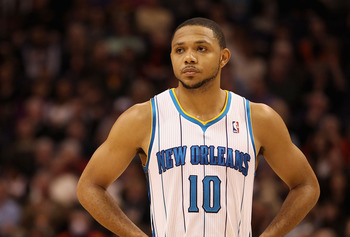 Christian Petersen/Getty Images
1. Eric Gordon (RFA): 20.6 PPG, 3.4 APG, 2.8 RPG, 19.23 PER
There are reportedly a number of teams lined up to take a shot at signing Eric Gordon this offseason, and for good reason. Gordon is an extremely athletic and prolific shooting guard who could become the cornerstone for a number of NBA franchises.
What makes Gordon such a special talent is the versatility that he brings to the court. Gordon can handle the ball like a point guard, and he can also light up the scoreboard like the shooting guard that he is.
Gorden is reportedly seeking a maximum contract, worth upwards of $79 million over five season. That's a lot of money, but it's certainly worth it for Gordon's franchise talents.
2. O.J. Mayo (UFA): 12.6 PPG, 2.6 APG, 3.2 RPG, 14.76 PER
O.J. Mayo is finally an unrestricted free agent, and a change of scenery might be just what he needs to finally realize his true potential.
Mayo is an prolific scorer who just needs the right system to flourish. Coming off the bench didn't really work for him in Memphis, and Mayo will be looking to find a team that can utilize his talents in the starting lineup.
In the right system Mayo can finally live up the hype that surrounded him when he entered the NBA back in 2008.
3. Ray Allen (UFA): 14.2 PPG, 2.4 APG, 3.1 RPG, 14.83 PER
Ray Allen will be 37 years old at the start of the 2012-13 season, but that doesn't mean he won't be able to find a team that can utilize his lights-out shooting.
As long as Allen is willing to take a considerable pay cut from the $10 million he made last season with the Celtics, he will have a number of teams lining up to sign his historically great jumper.
The biggest question surrounding Allen heading into the offseason is how well he will recover from his offseason surgery that will remove the bone spurs from an ankle that held him back this past season.
4. Jason Terry (UFA): 15.1 PPG, 3.6 APG, 2.4 RPG, 15.80 PER
Jason Terry could very well end up being the steal of the 2012 offseason.
Terry is a the kind of shooting guard who can either come off the bench for immediate production or put up impressive numbers as a part of his team's starting lineup.
Whichever team ends up with Terry will have a veteran player who will be able to add serious offensive production on the wing. Terry's defense might not be very valuable, but his offensive talents more than make up for it.
5. Nick Young (UFA): 14.2 PPG, 0.9 APG, 2.1 RPG, 12.93 PER
Nick Young might not be the most efficient shooting guard available this offseason, but that doesn't mean he's not a valuable free agent.
Young knows how to put up points at an impressive rate, which will earn him some good money this offseason. If Young can work on his efficiency and shot selection, he could end up being a very productive 2-guard in the NBA.
Small Forwards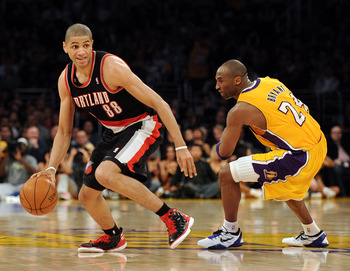 Harry How/Getty Images
1. Nicolas Batum (RFA): 13.9 PPG, 4.6 RPG, 1.4 APG, 17.32 PER
Nicolas Batum is one of the most exciting free agents of the 2012 offseason.
He is only 23 years old, and one of the most versatile players available at any position. The best part about Batum is that while he is an impressive talent, he hasn't even begun to achieve his true potential.
In addition to Batum's offensive abilities in the paint and on the perimeter, he is also a very competent defender, and that's part of what makes him such a special player.
2. Michael Beasley (UFA): 11.5 PPG, 4.4 RPG, 1.0 APG, 13.11 PER
Michael Beasley had a rough year this past season, but don't forget that just one year ago he averaged 19.2 points, 5.6 rebounds and 2.2 assists per game.
That kind of production is what NBA teams will be hoping Beasley can bring to the table next season. Beasley's athleticism, at 6'10'' and 225 lbs, also helps him stand out in this year's free agent class.
If Beasley improves his efficiency and finds his way onto the right team, he could become a very dangerous small forward once again.
3. Steve Novak (RFA): 8.8 PPG, 1.9 RPG, 0.8 APG, 15.95 PER
Steve Novak is an absolutely deadly three-point specialist, and at 6'10'' and 240 lbs., he is certainly in a league of his own.
The fact that Novak is merely a three-point specialist shouldn't deter interest in him. I mean, look at what Mike Miller did from beyond the arc for the Miami Heat this postseason.
4. Carlos Delfino (UFA): 9.0 PPG, 3.9 RPG, 2.3 APG, 11.72 PER
Carlos Delfino isn't the kind of player who will ever be an All-Star in the NBA, but that doesn't mean he's not capable of being a productive player in the right environment.
On the right team, Delfino can easily put up double-digit points and a handful of rebounds. With the Bucks, Delfino found himself in the starting lineup, but he could be more productive coming off the bench.
Whoever signs Delfino this offseason will be getting a productive wingman who can be a nice addition to that team's bench rotation.
5. Grant Hill (UFA): 10.2 PPG, 3.5 RPG, 2.2 APG, 12.34 PER
Grant Hill is a few months away from turning 40, but that won't stop him from finding a team that can utilize his veteran talents. On the right team, preferably coming off the bench, Hill can still put up solid numbers.
Playoff-caliber teams should consider signing Hill if nothing more for the mentoring that he can bring to the younger players on their roster.
Hill has at least one more year of productive basketball left in him, and the team that figures that out will get a free-agent steal this offseason.
Power Forwards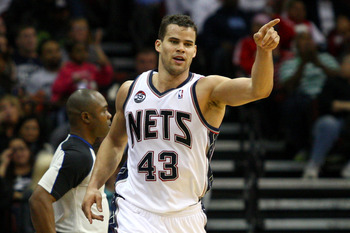 Chris Chambers/Getty Images
Disclaimer: Tim Duncan isn't included on this list because he has already said, "I'm a Spur for life."
1. Kris Humphries (UFA): 13.8 PPG, 11.0 RPG, 1.2 BPG, 17.98 PER
Sure, Kris Humphries gets a lot of unwanted attention for his marriage and divorce with Kim Kardashian, but he is actually one of the better power forwards in the NBA.
Humphries is a double-double machine, and the kind of unselfish player who can step right in and make his team better by bringing his tireless work ethic to the court.
While Humphries doesn't always get the respect he deserves, this summer is his chance to find a team that can utilize his talents to the fullest.
2. Ersan Ilyasova (UFA): 13.0 PPG, 8.8 RPG, 0.7 BLKPG, 20.55 PER
Like Humphries, Ersan Ilyasova is a seriously underrated player who doesn't get the attention or respect he deserves.
Ilyasova is a few rebounds from putting out double-double averages, which is quite an impressive feat for a player who has been in the league for just four years. There is no doubt that Ilyasova will get a lot of attention this offseason from teams looking to bolster their frontcourts.
Ilyasova can certainly help a playoff team become a championship-caliber team by bringing defensive toughness and dominance on the glass.
3. Ryan Anderson (RFA): 16.1 PPG, 7.7 RPG, 0.4 BPG, 21.23 PER
Ryan Anderson doesn't play like a power forward. He is more comfortable out on the perimeter than he is in the paint, but that is what makes him such a valuable commodity in the NBA.
Anderson's ability to spread the floor with his three-point jumper is an asset that a number of teams would love to have. The Magic retain the right to match whatever any other team offers Anderson, and that means Anderson's talents might not be leaving Orlando.
If Anderson amps up his defensive abilities he could transition from being the NBA's Most Improved Player to being an NBA All-Star.
4. Antawn Jamison (UFA): 17.2 PPG, 6.3 RPG, 0.7 BPG, 16.17 PER
Antawn Jamison reported that he's ready to move on from the Cavaliers, and that's good news for the other 29 NBA teams looking for a veteran power forward this offseason.
Jamison proved this past season that he is still capable of putting up high-level offensive production, and in doing so he all but guaranteed himself a nice veteran contract this offseason. Playoff-caliber teams could certainly benefit from adding Jamison's mid-range touch and mentoring abilities.
5. Carl Landry (UFA): 12.5 PPG, 5.2 RPG, 0.3 BPG, 18.31 PER
It was just a few years ago that Carl Landry put up 17.1 points and six rebounds per game with the Houston Rockets and the Sacramento Kings.
Ever since then, Landry hasn't been as productive, but that doesn't mean his best days are behind him. On the right team—one that values hustle and good defense—Landry could rediscover what he has been missing the past few seasons.
Landry's best assets are his defensive presence and his toughness around the rim; both of which are things that teams will aggressively look to add to their rosters this offseason.
Center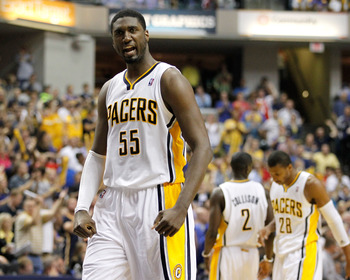 Gregory Shamus/Getty Images
1. Roy Hibbert (RFA): 12.8 PPG, 8.8 RPG, 2.0 BPG, 19.35 PER
When it comes to true centers in the NBA, you won't find one with more upside and potential than Roy Hibbert.
Hibbert's biggest strength is his massive 7'2'', 265-pound frame. While the Pacers will certainly do what they can to keep Hibbert, teams will definitely be interested in having Hibbert's large frame fill the paint. In fact, the Trail Blazers have reportedly already offered big Roy a max contract.
The one negative aspect of Hibbert's game is his lack of defensive pressure hedging out on the perimeter, which at times can be a liability. With that being said, Hibbert is still the best center available this offseason.
2. JaVale McGee (RFA): 11.3 PPG, 7.8 RPG, 2.2 BPG, 19.90 PER
JaVale McGee is reportedly meeting with the Nuggets to talk about a possible extension, and that's a smart move for Denver to make because McGee's talents will be highly sought after this offseason.
McGee is raw and at times immature, but the potential that exists in his game far outweighs his downside. If McGee continues to add some polish to his mid-range game, he can turn into a dangerous center who is known more for his true talent than his off-court issues.
With the right coaching and veteran mentoring, McGee can become an extremely productive NBA center.
3. Spencer Hawes (UFA): 9.6 PPG, 7.3 RPG, 1.3 BPG, 18.19 PER
Spencer Hawes is listed as a center, but he doesn't always play like one.
At times, Hawes appears to prefer making his money out on the perimeter instead of banging down in the paint, and that is why he is third on this list. If Hawes adds some strength to his frame and works on his ability to finish around the rim he can become a more dominant NBA center.
4. Brook Lopez (RFA): 19.2 PPG, 3.6 RPG, 0.8 BPG, 21.96
If Brook Lopez can manage to stay healthy he can be one of the most offensively productive centers in the NBA.
Lopez's finesse around the rim and the range in his jumper are at the foundation of what makes him such a special talent. While some would like Lopez to play a little stronger under the basket, there is no doubt that his true strength exists in his ability to spread the floor and hit shots from 12-15 feet away from the basket.
If Lopez continues to work on his defensive prowess and intensity he can certainly work towards being an All-Star center in the NBA.
5. Chris Kaman (UFA): 13.1 PPG, 7.7 RPG, 1.6 BPG, 15.42 PER
Chris Kaman's NBA career has been held back by a plethora of injuries.
While those injuries have kept him from realizing his full potential, Kaman still has become a highly sought after seven-footer. Kaman has an impressive stroke, and he compliments that well with intensity on the defensive side of the ball.
Kaman's veteran talent will certainly draw some interest this offseason, and on the right team, Kaman can once again return to his All-Star form.
Keep Reading