Tottenham Transfers: Lasso Lloris Before Liverpool and Arsenal
July 2, 2012
Lars Baron/Getty Images
If Tottenham wanted an excuse to sell Luka Modric, Lyon just gave them a golden one.
With multiple sources reporting (via The Daily Mail) comments made by Lyon president Jean-Michel Aulas to TF1, it appears that the French outfit might consider selling goalkeeper Hugo Lloris.
As reported on ESPNSoccernet, Aulas said:
"Lloris can go, but only for a decent price in relation to the market."
While there was no mention of what price that might be, Tottenham would be absolutely depraved to not try their luck in grabbing the French goalkeeper.
Liverpool and Arsenal have been mentioned as other potential suitors by The Daily Mail, but none offer the ease of placement that the Spurs do.
While Brad Friedel is a magnificent keeper, he is also 41 years old and will turn 42 before the end of the 2012-2012 campaign. Unfortunately, he is not a long-term option for the Spurs.
Lloris, however, is. The French captain may have only recorded five clean sheets last term, but is considered one of the best young goalkeepers around.
Behind a better defense, Lloris could be an outstanding goalkeeper at a time when Tottenham are teetering between being a major challenger and being left behind the rest of the English big boys.
With Lyon stuck in the Europa League, the chance to snatch Lloris and blood him in during the Premier League season would represent an excellent investment in Tottenham's future.
Of course, it is entirely logical to ask, "Why the hell is Lyon willing to sell him?"
It, unfortunately, boils down to politics.
While normally sports and politics aren't a good mix, the situation in France is a worrying one for football in the country.
Without going into too much detail, the proposed 75 percent tax rate on incomes over €1 million is rattling many chains in the game. It is with that in mind that French teams may be willing to sell their top assets now before the money is taxed to oblivion.
It's probably not a surprise, then, that the market may be flooded with French players leaving teams (aside from PSG) and heading to out-of-country destinations, more than likely on a permanent basis.
Why Tottenham is the place for Lloris is a much easier question to answer.
Even if Arsenal have a French connection, the Gunners have seemingly nailed down a quality young keeper in Wojciech Szczesny.
The Polish keeper is physically larger than his French counterpart, and, after the struggles Arsenal have had finding a steady keeper, ditching him now would subject the Gunners to yet another year of adjusting the defense to a new backstop.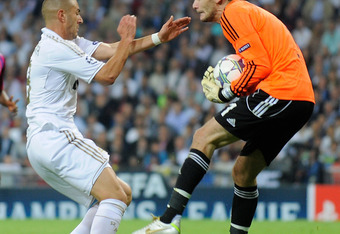 Denis Doyle/Getty Images
Pepe Reina is still commanding the sticks at Anfield, so for Liverpool to be interested, it would almost certainly mean that Reina is out the door.
The two likely would not be willing to step down for one another and it would cause distress in the Reds' locker room.
Therefore, of the initial three teams mentioned, the Spurs are the most logical choice  for the Frenchman.
The Lyon man fills a hole that is sure to become a concern after this season while reaffirming Tottenham's commitment to challenging for prime positions within the Premier League.
While it might go against the seemingly newly reformed transfer strategy of chairman Daniel Levy, even he has to know that getting a player of this quality and price is an offer even he can't refuse.