UFC 148 Silva vs. Sonnen 2: Info and Predictions for Every Fight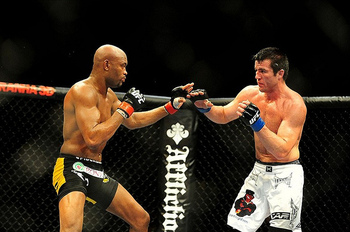 Mark J. Rebilas-US PRESSWIRE
This weekend plays host to the most anticipated rematch in UFC history, as Anderson Silva and Chael Sonnen clash for the UFC middleweight belt. For the past two years, Chael has been on the attack, making many ridiculous claims and jokes at Silva's expense.
Silva finally snapped on the UFC media call and said with certainty that he would not only break Chael's face, but also break all the teeth in his mouth. It was the first time anyone, including UFC president Dana White, had heard the champion speak with such passion and anger.
The fight headlines a fantastic card that will also see Tito Ortiz enter the cage for the last time in his illustrious MMA career. Ortiz holds the record for most title defenses at light heavyweight, with five, and also holds the record for most fights in UFC history, with 26.
The rubber match with Forrest Griffin promises to live up to the bar set in their first two affairs, as both Ortiz and Griffin know how to entertain fans. No matter the outcome, Ortiz will walk away from the sport a legend.
The rest of the card features some highly touted prospects looking to legitimize themselves and some fighters who are looking to stave off being cut by getting back in the win column.
Rafaello Oliveira vs. Yoislandy Izquierdo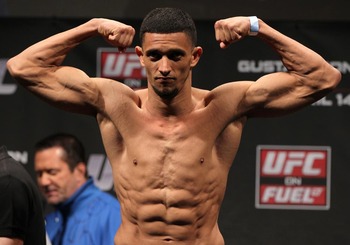 Photo by Josh Hedges/Zuffa LLC/Zuffa LLC via Getty Images
The sole Facebook prelim pits Rafaello Oliveira against Yoislandy Izquierdo.
Oliveira splits his time between Knoxville Martial Arts Academy and AMA Fightclub. He's a Brazilian Jiu Jitsu black belt with decent takedowns from the clinch.
His stand-up is functional, but he's a defensive liability on the feet, as he tends to work in straight lines instead of working from different angles. He is very strong on the ground, and when he has top control, it's very difficult to sweep or escape from the bottom.
Izquierdo is a Cuban karate fighter who is fairly dangerous on his feet, but in desperate need of a grappling game. He mostly works to get back to his feet or minimize the amount of damage he takes when put on his back.
He's currently 0-1 in the UFC and will likely not suffer Octagon jitters in this fight. There's also the fact that he's maintained a fairly busy schedule and likely won't have any ring rust.
Prediction: Yoislandy Izquierdo defeats Rafaello Oliveira by split decision.
John Alessio vs. Shane Roller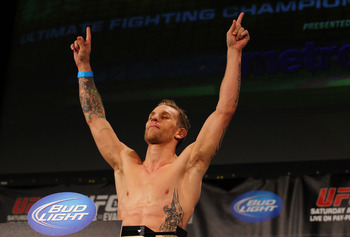 Photo by Al Bello/Zuffa LLC/Zuffa LLC via Getty Images
John Alessio and Shane Roller kick off the FX prelims with lightweight action.
Alessio is the definition of a journeyman. At the regional level, he's been absolutely dominant, but always seems to come up short in the big show. He's as well-rounded as you can get with above-average grappling and fairly decent striking.
His biggest weakness is that he doesn't close out fights well. He allows opponents to get back into fights and will often lose decisions that he should have won.
Roller is likely on his last legs in the UFC. He's currently on a three-fight losing streak and hasn't looked good in those outings. He made a decent comeback against Michael Johnson earlier this year, but that's likely due to Johnson's inexperience as opposed to Roller's ability to win fights.
His biggest strength is his wrestling pedigree, and he's become a pretty good submission grappler. His weakness is that his chin is suspect, and he's likely worried about the UFC cutting him should he be defeated.
Prediction: John Alessio defeats Shane Roller by unanimous decision.
Constantinos Philippou vs. Riki Fukuda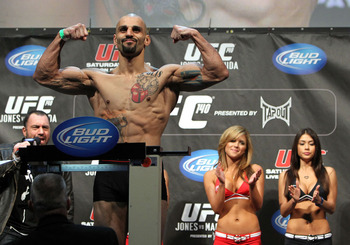 Photo by Josh Hedges/Zuffa LLC/Zuffa LLC via Getty Images
Constantinos Philippou meets Riki Fukuda in middleweight action on FX.
Philippou is essentially Alessio Sakara with a chin. He's got above-average boxing, and his grappling isn't terrible. He's very strong for 185 pounds and has been able to keep fights standing just by outmuscling his opponents. His ground game is decent, but it's mostly for him to get back to his feet, where he's most dangerous.
He's currently riding a three-fight winning streak, and a win this weekend will likely elevate him to the next level of the division.
Riki Fukuda is currently 1-1 in the UFC and probably best known for losing a controversial decision to Nick Ring at UFC 127. He's an average-sized middleweight with pretty good takedowns and below-average hands.
His biggest strength is his positional control when on top and his ability to keep a fight grounded. He's fairly active with his ground-and-pound and has stopped opponents just by being relentless with punches and elbows.
Prediction: Constantinos Philippou defeats Riki Fukuda by TKO in the second round.
Melvin Guillard vs. Fabricio Camoes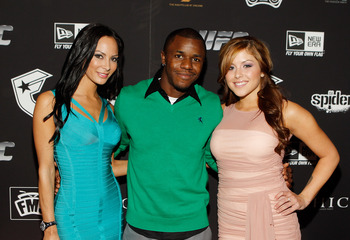 Isaac Brekken/Getty Images
Melvin Guillard meets Fabricio Camoes on FX.
Guillard may very well be the most frustrating fighter in the UFC today. He has all the natural abilities and skills to make an elite fighter, but just can't keep his focus for a full fight.
He's very creative on the feet and can put an opponent away at anytime with one-punch-knockout power. He's also adept on the ground, as he's a very solid wrestler who relies on explosive sweeps to get back to his feet.
His biggest weakness is his brain. If he loses focus, he loses the fight.
Camoes is a third-degree BJJ black belt training out of San Diego. While many believe that a black belt is a black belt, he proves that not all black belts are the same. He's super creative on the ground and can submit almost anyone when fighting off his back.
Against lesser opponents, he's been able to work his stand-up, but will likely not take the chance against Guillard. He needs to get the fight to the ground to have any chance of winning.
Prediction: Melvin Guillard defeats Fabricio Camoes by TKO in the first round.
Gleison Tibau vs. Khabib Nurmagomedov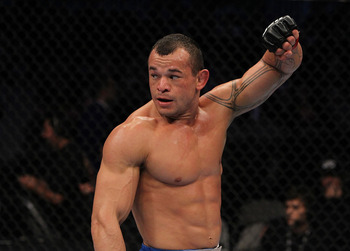 Photo by Josh Hedges/Zuffa LLC/Zuffa LLC via Getty Images
Gleison Tibau and Khabib Nurmagomedov headline the FX portion of UFC 148.
Tibau is absolutely massive for lightweight. It's comical and baffling how he makes weight with such a huge build. He uses this to his advantage, as he is ferocious fighting from inside his opponent's guard. He's become a fairly decent striker in recent years and has developed a solid jab and leg kick.
As usual, though, his biggest weakness is that he tends to fade in the later rounds, likely due to his weight cut.
Nurmagomedov is the very definition of a fantastic grappler. He's a black belt in Judo and holds the title of International Master of Sports in Combat Sambo. Essentially, he's a monster on the ground and can submit pretty much anyone.
Of his 17 fights, only four have gone to decision. Oh, and he's undefeated. Since he's never lost, it's difficult to determine what his weaknesses are, but he's never faced high-level competition, so it's possible that Tibau's experience will be too much for him.
Prediction: Gleison Tibau defeats Khabib Nurmagomedov by split decision.
Ivan Menjivar vs. Mike Easton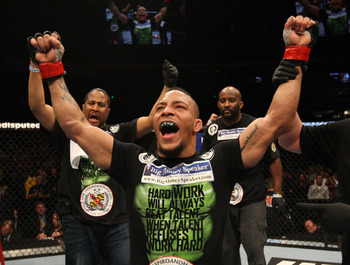 Photo by Josh Hedges/Zuffa LLC/Zuffa LLC via Getty Images
Ivan Menjivar and Mike Easton kick off the pay-per-view broadcast with a bantamweight fight.
Menjivar's record is one of the most misleading in MMA. He spent the majority of his career fighting above his natural weight class and suffered some devastating defeats.
Since making his bantamweight debut, he's 3-1 and on an absolute tear. His stand-up and grappling are both tremendous, yet he's also shown the effects of such a long career. His chin is still holding up, but it's been tested quite a bit lately, and his striking defense really isn't up to snuff.
Mike Easton is a powder keg waiting to explode. He's a very quick striker who tends to use punches more than kicks in his attacks. He also has very good head movement and limits the amount of damage that he takes on the feet.
He's a Lloyd Irvin disciple with a black belt in BJJ and has the wrestling to get the fight to the ground. My biggest concern with Easton is that he struggles against good competition and has faded when opponents push him.
Prediction: Mike Easton defeats Ivan Menjivar by split decision.
Chad Mendes vs. Cody McKenzie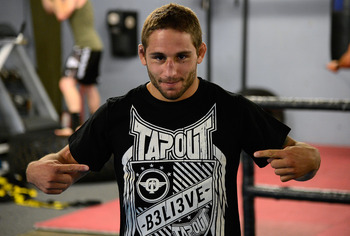 Thearon W. Henderson/Getty Images
Chad Mendes meets Cody McKenzie in featherweight action.
Mendes was widely considered to be the second-best featherweight in the world before losing to Jose Aldo in the first round. He has fantastic wrestling and has become a very strong grappler who looks to transition between positions whenever he gets an opponent to the ground.
He stills struggles to finish fights, but his pace and top control tend to wear his opponents out. Outside of that one KO loss to Aldo, he hasn't displayed any weaknesses.
McKenzie is an anomaly in the UFC. He doesn't look like a fighter, yet he finds a way to win when the odds are stacked against him.
Of his 13 career wins, all but one have come by way of a guillotine choke. It's a choke that he's perfected and one that opponents have trouble training for because of the way he sets up his hands.
The big problem, though, is that he's super limited, and if he can't submit an opponent, he ends up on the wrong end of a beating.
Prediction: Chad Mendes defeats Cody McKenzie by unanimous decision.
Dong Hyun Kim vs. Demian Maia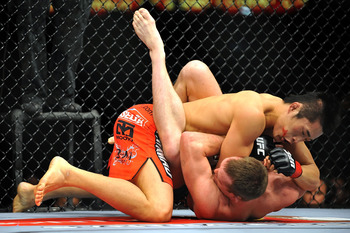 Jon Kopaloff/Getty Images
Demian Maia makes his welterweight debut against Dong Hyun Kim in the third fight of the pay-per-view.
Kim has quietly become one of the most well-rounded fighters in the welterweight division. He has very good judo and above-average stand-up.
He's going to be the quicker standing since Demian's striking was sluggish by 185 standards. He'll also be too hard to take down when the going gets tough, as he possesses very good balance and core strength.
There are probably concerns about how he'll perform against a top fighter, as he only has a handful of wins against decent competition.
Maia was once considered the most feared submission fighter in the UFC's middleweight division. I say "once" because he's all but abandoned his BJJ in the past three years in favor of his mediocre stand-up.
The only chance Demian has in this fight is pulling guard and getting crafty off his back. A lot of him being crafty on the ground is being a lefty who goes weak side.
There's also the question about how this weight cut will affect his conditioning. He faded hard against Chris Weidman when he didn't have to cut an additional 15 pounds.
Prediction: Dong Hyun Kim defeats Demian Maia by unanimous decision.
Cung Le vs. Patrick Cote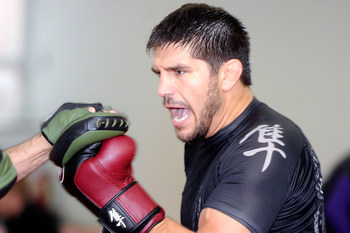 Richard Wolowicz/Getty Images
Patrick Cote makes his UFC return against Cung Le.
Cote is basically a better, less worn-out version of Scott Smith. I bring up Smith, as he demonstrated that a fighter with an above-average chin can weather Le's early storm of punches and kicks before turning the fight and ending it with punches.
Cote has legitimate heavy hands and one of the best chins in MMA. His UFC record is misleading, as he took some fights on short notice against opponents that were way further along in their development than him.
Le is the former Strikeforce Middleweight champion who never defended his title, instead opting to start his acting career. He's very dynamic with his punches and kicks, and from a purely aesthetic standpoint, he's extremely entertaining.
Unfortunately, he's faded in recent years due to not maintaining a busy fight schedule and by placing most of his focus on movies. He also just turned 40 and probably doesn't have much left.
Prediction: Patrick Cote defeats Cung Le by TKO in the third round.
Forrest Griffin vs. Tito Ortiz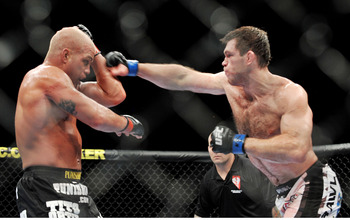 Jon Kopaloff/Getty Images
Forrest Griffin meets Tito Ortiz for the third time in the co-main event of the evening.
Griffin is one of the most recognizable faces in the UFC. A fan favorite due to his propensity for pushing the pace, he's never had a boring performance in the UFC. He's as well-rounded as they come and has some of the most underrated grappling in the light heavyweight division.
I do have concerns about his mindset entering this fight, as he seemed to be strongly considering retirement heading into the second fight with Mauricio "Shogun" Rua.
Ortiz is a legend in the sport. As one of the most decorated champions in UFC history, he's done everything a fighter can possibly do in MMA.
He spent most of his career as a relentless wrestler who would bludgeon opponents with elbows from top control, but recently has become a fairly solid striker as well. Ortiz will bring conditioning and a heck of a chin into the fight with Griffin.
This will be the last fight of his MMA career, and he'll be inducted into the UFC Hall of Fame prior to the card at the Fan Expo. This may be a distraction for him as he prepares for this meaningful bout.
Prediction: Forrest Griffin defeats Tito Ortiz by split decision.
Anderson Silva vs Chael Sonnen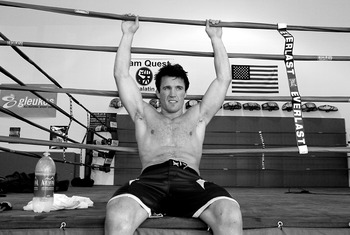 Jonathan Ferrey/Getty Images
In the main event of the evening, Anderson Silva looks to defend his UFC middleweight belt against Chael Sonnen.
Silva is one of the most dangerous fighters in the UFC and, hands down, the best pound-for-pound fighter in MMA history. He's a perfect combination of striking technique and active guard work. He also brings into this fight an incredible chin and a drive to shut Sonnen up for good.
His only weakness is his wrestling, and he'll look to avoid exposing it by pressing the action against Chael early and often.
Sonnen is probably best known for his incredible ability to cut a promo at any given moment, but that's not fair to the gangster from West Linn, Ore.
Chael is the best wrestler in the UFC's middleweight division and is brutal with his ground-and-pound. He's also displayed improvement in his boxing and can hold his own on the feet in order to get an opponent to the ground.
The big concern about Chael is his mental game. Close friends and training partners have publicly stated that he loses confidence in himself, which is why he's always come up short in title fights.
Prediction: Chael Sonnen defeats Anderson Silva by TKO in the fourth round.
Keep Reading