The 10 Most Unbelievable Baseball Catches You've Never Seen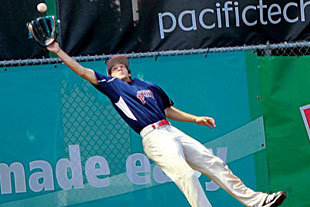 Photo courtesy sports.yahoo.com
Anyone who is even remotely familiar with Major League Baseball is no doubt aware of the various highlights shown nightly on major sports networks featuring amazing catches.
ESPN features Web Gems as a regular feature of their Baseball Tonight broadcast, and a host of other cable and local sports network programs have their own monikers for features showcasing the great defensive plays in MLB.
Fortunately, for everything other than MLB, we have YouTube.
From Little League to Triple-A to other baseball leagues across the world, literally thousands of great catches are put on display by anyone with a video camcorder or cellphone.
Here are just some of the greatest catches that you won't see on ESPN's Baseball Tonight.
Begin Slideshow

»
From Japan, we have a center fielder who scales fences better than Spider-Man.
Masato Akamatsu should have been arrested and charged with robbery after this amazing grab.
This is absolutely one of my favorites.
Lower Columbia College outfielder Derrick Salberg makes an incredible dive to rob the hitter of a sure home run.
Just goes to show, there really are no sure things in life after all.
If we had categories similar to the ESPY Awards, this would qualify for the Greatest Deflection Catch trophy.
The St. John's Jesuit pitcher was clearly in the right place at the right time, but to do it bare-handed?
Wow.
We've all seen more than enough videos of fans attempting to catch a foul ball and then splattering their beer all over themselves.
And then the TV analyst will try to make some funny remark about alcohol abuse or $20 down the drain.
In this particular video, however, the fan is holding something just a bit more precious than a plastic cup of beer—his daughter.
When this particular centerfielder went back on a ball driven over his head, he probably had no idea he would actually be using his head—to catch the ball.
He even doubled off the runner on first. Now that was a heads-up play.
OK, so I actually did make up categories similar to the ESPY Awards.
This one absolutely deserves credit for the Risking Life and Limb Award. A face-crunch into the fence and having the wherewithal to display the ball still in his glove. Now that is impressive.
If you think great catches only happen to big kids, this youngster has something to say about that.
This particular catch has made its way through various "best catch" segments on a number of shows for several years now.
But it's always worth another look.
We'll take a quick break from great catches for just a minute.
This young man must have gotten his training from Bela Karolyi.
Here we have another entry from Asia, but this time, instead of players scaling walls, we have fans using accessories to make outstanding grabs.
I'm not sure what the fan was eating at the time, but he now has a little side dish as well.
And finally, if we're going to do an outstanding catch presentation, it just wouldn't be sufficient without adding this one. This doesn't qualify as one of the 10, only because it simply doesn't qualify as a catch never seen. If you've never seen it, you've been living under a rock.
Rick Monday's incredible saving catch of the US flag is still without a doubt the greatest catch ever made.
Doug Mead is a featured columnist with Bleacher Report. His work has been featured on the Seattle Post-Intelligencer, SF Gate, CBS Sports, the Los Angeles Times and the Houston Chronicle.