Fantasy Football 2012: 5 Hidden-Gem WRs Who Can Help You Win Your League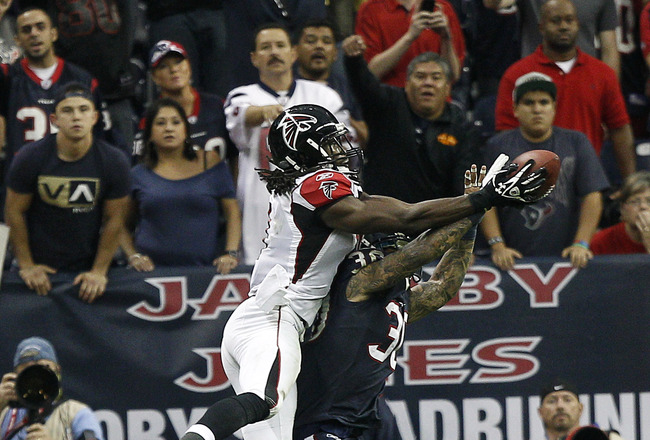 Bob Levey/Getty Images
While the NFL season is still several months away, it is not too early to start preparing for your fantasy draft.
In this first slideshow for the 2012 NFL season, the Professor of Fantasy Sports gives you five wide receiver gems whom you should target in your draft.
In a typical 12-team league, each team might have a stud WR1, but you might win your league if your second or third WR can put up stats like a WR1. So, I am going to give you five WRs who are not rated in the top 10 and who you should target in your draft. These are all young receivers who have the shot at putting up numbers like a WR1.
I am always afraid to draft short, lightweight receivers because they seem to be prone to taking a big hit by a strong safety and missing key games. So, all of these receivers are at least six feet tall and weigh at least 205 pounds; most are bigger than that.
All are under age 25, too.
Julio Jones Will Replace Roddy White as the Falcons' Top Receiver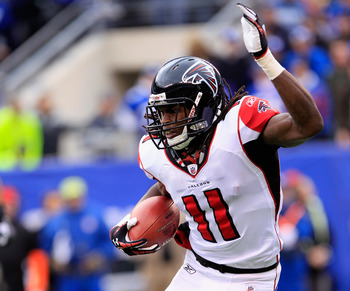 Chris Trotman/Getty Images
Despite missing four games last year, Julio Jones of the Atlanta Falcons tallied more than 950 receiving yards and scored eight touchdowns in his rookie season. He didn't score his first touchdown until the ninth week of the season, so those eight TDs were packed into seven games.
I'm looking for Jones to replace Roddy White as the Falcons' top receiver this season. White is now more than 30 years old, and his touchdown count has decreased each of the last two seasons. His total matched Jones' total in 2012.
Let some other manager burn a second-round draft pick to get White, and wait until the next round and get Jones. You will be happy you did.
Torrey Smith Will Be the Ravens' Top Wide Receiver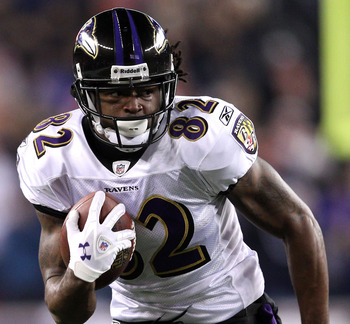 Elsa/Getty Images
Torrey Smith of the Baltimore Ravens suddenly broke onto the NFL stage last year with three touchdowns in the third week of the season.
The Ravens' corps of wide receivers is a little thin, and Smith will certainly emerge as Joe Flacco's favorite downfield target. Anquan Boldin is slowing down at age 32, and there isn't a great deal more to chose from on their depth chart.
I don't think the Ravens can open the season without getting some more help at this position. So, watch the Ravens' roster moves carefully. Unless they pick up a stud WR somewhere, target Smith for somewhere around the 70th pick, and you will be happy you did so.
Demaryius Thomas' 204 Yards in Wild Card Game Shows What's in Store for 2012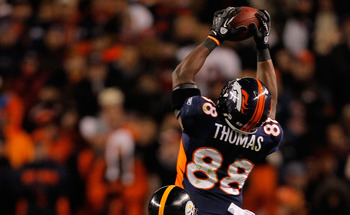 Justin Edmonds/Getty Images
I was urging managers to pick up Demaryius Thomas of the Denver Broncos late last October.
Those readers who took my advice were rewarded with two games where Thomas had more than 100 yards at critical weeks during the fantasy season.
His 204 yards in the Wild Card Game over the Steelers gives an indication of what might be in store for 2012. Thomas will have to split Peyton Manning's attention with Eric Decker, but he should be the team's top receiver if he stays healthy, which can be an issue.
If you plan on drafting two running backs and a quarterback in the first three rounds, look to take Thomas in the fourth. He could serve you well as your WR1.
Justin Blackmon Is a Rookie You Want to Grab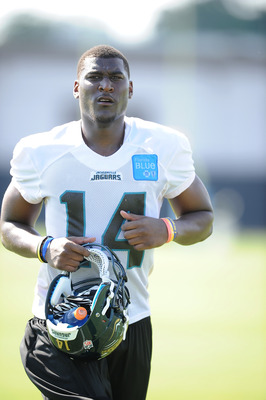 Rick Dole/Getty Images
I know the rule against taking rookie wide receivers, but I am going to break that rule with these next two players.
Last season at Oklahoma State, Justin Blackmon went 12 consecutive games with at least one touchdown and 100 yards. His total for the season was 20 touchdowns, 111 receptions and 1,782 yards.
These are very impressive numbers for playing a strong conference like the Big 12.
There is, of course, the issue of who is going to throw the ball to Blackmon, but whoever it is will quickly get comfortable having him as the primary target.
I'd stretch to get him on my team during the draft. I would even take him ahead of aging star Reggie Wayne.
Brian Quick Will Blossom by Midseason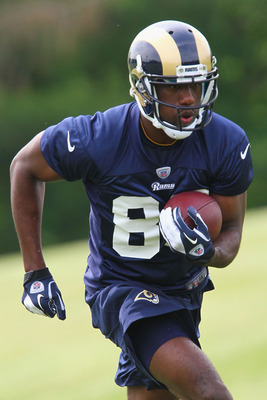 Dilip Vishwanat/Getty Images
Brian Quick, a rookie from Appalachian State, has great size, reach and leaping ability for the wide receiver position.
It might take him a little while to get the hang of playing in the NFL, and he needs to learn to concentrate to avoid dropping easy catches.
Nevertheless, I can see him being a strong contributor by midseason for the St. Louis Rams. I think you should try to get him in the last or next-to-last round of your draft. He probably still will be available at that time.
Keep Reading