Oklahoma City Thunder Draft Better Than Everyone Else: Analyzing Perry Jones III
July 2, 2012

Streeter Lecka/Getty Images
The Oklahoma City Thunder are my favorite professional sports organization.
No, not my favorite team (Packers) or even NBA team (Bulls).  I just love the way they are run.  I love their fans, and I love the way they have built their team.
So when I saw that the Thunder were willing to take a gamble on Perry Jones III, I just smiled and thought, "Of course they would."
The Good
Perry Jones III is an athletic freak.  He is 6'11" but can run the floor like and defend guards.  That tells you all you need to know, but I guess I should extrapolate a little.
Offensively, he prefers to play big inside.  Don't let that fool you!  He can face up a defender and shoot a jumper over their heads, no problem.  However, he prefers to catch the ball down low and make his move to the basket from there.
He doesn't have great footwork.  Instead, he attempts to overwhelm his opponent with his athleticism and ball-handling skills.  PJ3 is a matchup nightmare.  If you go big on him, he will run right around them.  If you go small, he can shoot right over their heads.  
He operates fairly well with his back to the basket, but he often settles for difficult shots.  Spending a little bit more time on his footwork could make him unstoppable.
He is very much a raw product defensively.  Jones has all the tools to be a great defender, but his game doesn't match his body.  Perry Jones III can defend guards and forwards very well on the perimeter, and his height makes it easy for him to disrupt shots.  
The Bad
The biggest fear I have about PJ3 is the knee.  No one knows how much that can affect his career, but it is a definite concern.  However, injuries are hard to predict, so let's focus on the other holes in PJ3's game.  
Perry Jones III's greatest weakness is on the defensive end.  He is a matchup problem for other teams on offense, but his thin frame makes it hard for him to defend on the block.  He is much like his Thunder teammate Kevin Durant in this regard.  KD is a big guy but has too slight of a frame to bang with the big guys in the paint.  Perry Jones III could have the same problem in the NBA.
Telling statistic?  He is near 7'0" tall, but only averages around 7.5 rebounds per game.  A player with his height and athleticism should be pulling in closer to 10 boards a game.
Offensively, his biggest weakness is the fact that he only shoots around three free throws per game.  Maybe that is for the best, as he only shoots a little under 70 percent from the charity stripe.  The Thunder are a team that thrives at the foul line, so he needs to get better in that department.
Also, his three-point shooting is lackluster.  I don't know if his game needs one, but it would sure as heck be nice to have.  He has a nice stroke on his jumper, so it would be fair to assume that he will improve in that area.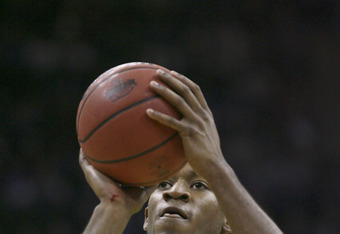 Ed Zurga/Getty Images
The Verdict
All of the concerns I have with PJ3's game have little effect on how I feel about him because of the organization he was drafted by.  The Thunder have a knack for keeping their players in line and making them buy in to what they are doing.  
This is the same organization that somehow convinced James Harden to be a sixth man.  They have worked with Russell Westbrook and stood behind him even when people were calling for his head.  I think they will take good care of PJ3.
Simply put, they draft talent and make roles for them.  Perry Jones III will get his role.  If he can stay healthy, he should be a productive NBA player.