NBA Draft 2012: Fab Melo Will Have Biggest Rookie Impact in Atlantic Division
Jim McIsaac/Getty Images

The 2012 NBA Draft sent tidal waves through most of professional basketball. The water in the Atlantic, however, remained steady.
The five franchises comprising the league's Atlantic Division were relatively quiet on Thursday night. Just one team, the Toronto Raptors, held a lottery pick, and two teams, New York and Brooklyn, didn't make a selection until the second round.
But 2012's draft boasts a remarkably deep class of prospects, and although it came late to the party, the Atlantic finds itself with some enticing new talents.
Perhaps none more so than Boston center Fab Melo.
Drafted 22nd overall from Syracuse, the defensive-minded big man joins a Celtics team that was just one game away from the NBA Finals. Check out why Melo stands to make the biggest splash in the Atlantic this season.
Begin Slideshow

»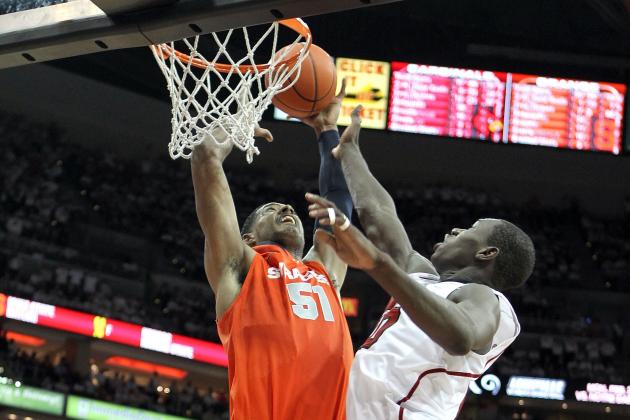 Andy Lyons/Getty Images

Unlike most of the division's draftees, Fab Melo could see no shortage of minutes in 2012-13.
Melo joins a Celtics team that lacks a legitimate center. Kevin Garnett manned the middle for the majority of 2011-12, but the 17-year veteran came to national prominence as a power forward. Now that he's re-signed in Beantown, perhaps he and forward Brandon Bass will split time at the 4 or platoon with Melo at the 5.
Regardless, there's a lot of playing time for the Brazilian native to snag. A young player in an aging lineup, Melo will have plenty of chances to shine.
Philadelphia first-rounder Maurice Harkless hangs in the balance while the perpetual saga surrounding forward Andre Iguodala resolves itself. His court time is also clouted by incumbents Evan Turner and Thaddeus Young, as well as the No. 27 selection, forward Arnett Moultrie. Unlike Melo, the Sixers' carousel of wing players will compromise their rookies' minutes.
Meanwhile, New York's lone pick will remain overseas in 2012-13, and Toronto's Terrence Ross, a natural 2-guard, could sit behind DeMar DeRozan. Brooklyn's top selection, point guard Tyshawn Taylor, may lose playing time if Deron Williams returns to the Nets.
The newbies of the Atlantic Division will all get their reps, but Fab Melo could wind up spending the most time on the court when it's all said and done.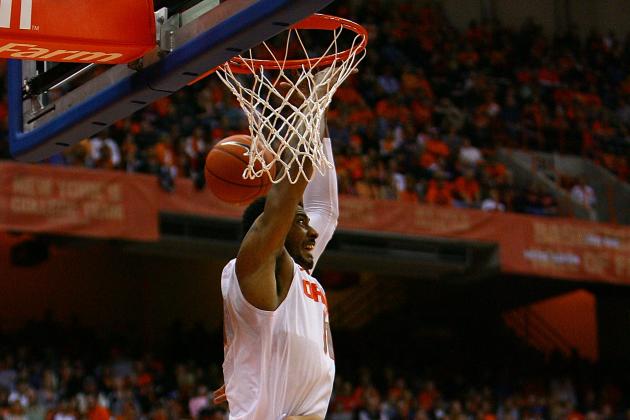 Nate Shron/Getty Images

Quite simply, Fab Melo and the Boston Celtics are a match made in hardwood heaven.
Melo is a perfect fit in coach Doc Rivers' system. The Cs were second in the league in points allowed, first in opponent field-goal percentage and sixth in total blocks. Melo is a "defensive monster," and brings intensity and augmented focus to a team that's already hard-nosed in the paint.
Behind the revered Garnett, Melo should learn to adapt his game and improve immensely. With Rajon Rondo and Paul Pierce already in place, Melo won't be pressured for offensive output.
Boston's system resembles Melo's former 'Cuse team, which ranked near the top of Division I in points allowed and opponent field-goal percentage. With such a natural fit, the seven footer's in for a good rookie season.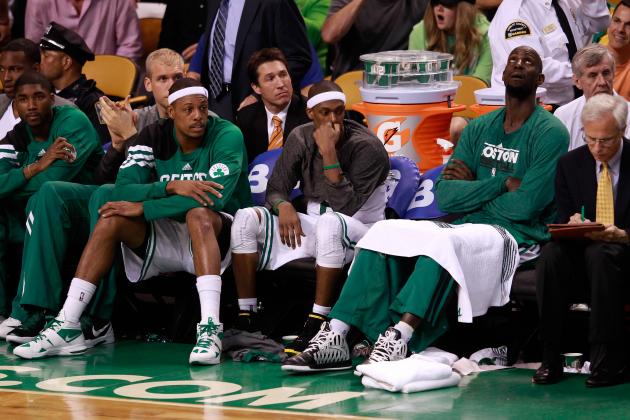 Jared Wickerham/Getty Images

New York and Philadelphia are both on the upswing, and Brooklyn continues to inch closer towards landing All-Star center Dwight Howard, but for now, Boston continues to exercise a stranglehold on the division.
The Cs were just 48 minutes removed from an NBA Finals appearance, and are still the Atlantic's premier team. Subsequently, Melo and fellow first-rounder Jared Sullinger should thrive with a dominant team and with dominant teammates.
It will be tough for players like Terrance Ross to make an immediate impact on a rebuilding team. But Melo should see first-year playoff minutes and will make a handful of appearances in prime time.
Time and time again, mid-round picks flourish because they're tossed into a contending lineup. Think San Antonio's Kawhi Leonard, Denver's Kenneth Faried and New York's Iman Shumpert from 2011.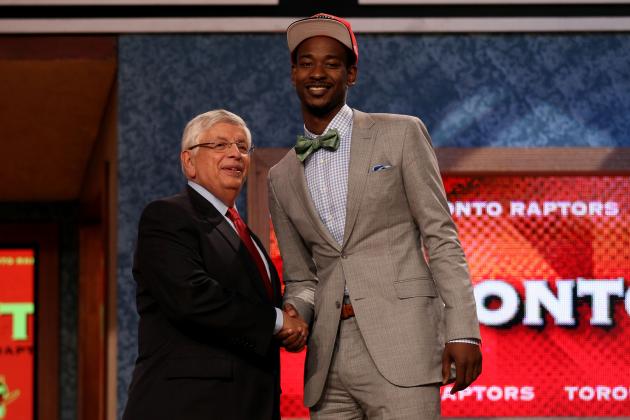 Elsa/Getty Images

While there's no denying Melo's need to improve and adjust his low-post offense, his rookie peers face tougher transition periods.
North of the border, Terrence Ross (pictured) transitions to a post-heavy offense, headed by forward Andrea Bargnani. Starting point guard Jose Calderon is set to be amnestied, while center Jonas Valanciunas will be sizing up to American competition.
Per the Boston Herald, Moe Harkless was a "developmental choice" who faces an impending position change. Adds the Herald on Arnett Moultrie:
He's another player who drifted around the middle of a very underwhelming draft class and will have to develop before he can make a real impact.
New teammate Jared Sullinger may have to transition to an entirely new role and style of play with "medical red flags" and forward Brandon Bass ahead of him on the depth chart. Melo's not a flawless prospect by any means, but he has far less first-year baggage than his contemporaries.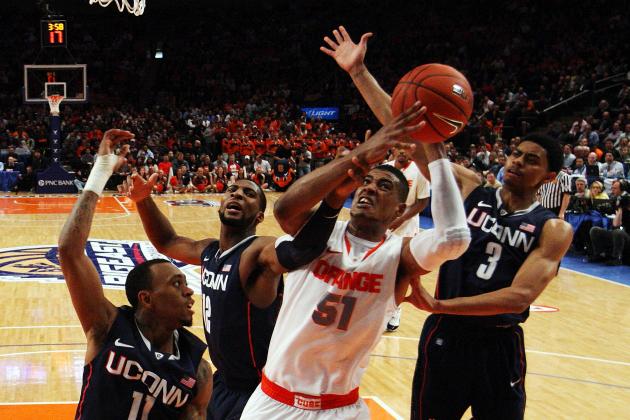 Jim McIsaac/Getty Images

As a member of the Orange last year, Melo shot over 56 percent from the field, and averaged nearly three stuffs a night. In a league that's becoming increasingly focused on the defensive end, these numbers are indicative of a stud prospect.
Melo recorded 10 blocked shots against Seton Hall last season, and notched 1.52 points per possession in transition plays. He also hauled in over four offensive rebounds per 40 minutes.
The numbers don't lie here, and if Melo can improve his man defense and defensive rebounding, he's a sure-fire star in the middle.