Oklahoma Sooners: Predicting 2012 Statistical Leaders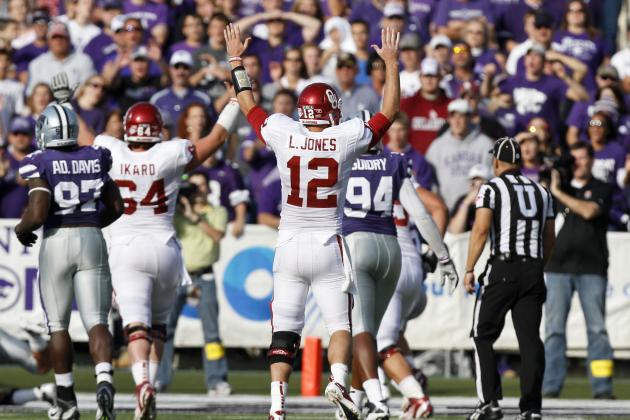 Ed Zurga/Getty Images

While they certainly are not the only way to judge success, statistics are quick and easy for measuring production on the football field.
Landry Jones and the Oklahoma Sooners have been putting up huge numbers for the past few years, yet they have been unable to reach their full potential for success.
Still, the Sooners have been at the top of the country in many major statistics, meaning they're doing something right in Norman.
In 2011, OU's passing attack was one of the best in the nation. Oklahoma was fourth in passing yards, fifth in attempts, and sixth in completions. Jones was also third in the nation in passing yards with 4463.
This season, OU will look to replicate those numbers and improve on their statistical output across the board.
Here are the players who will lead the way statistically in 2012.
Begin Slideshow

»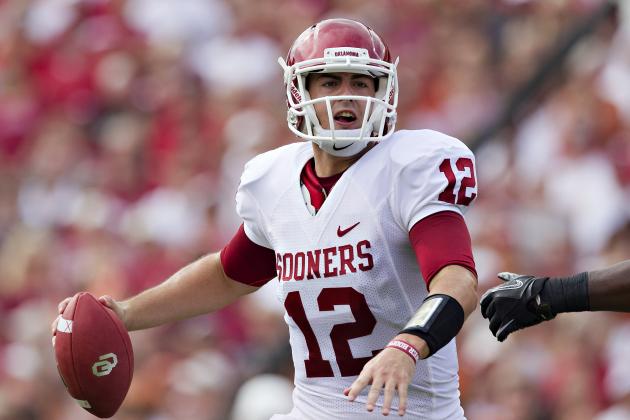 Wesley Hitt/Getty Images

No surprise here; Landry Jones will lead the passing surge for Oklahoma once again.
Jones is back for his senior year and will be adding on to his numbers that are already the best in school history.
Jones is the Oklahoma career leader in yards, attempts, completions and touchdowns and will have his best season in 2012.
There was some disappointment for Jones in 2011 despite breaking many records over the course of the season.
After an injury to Ryan Broyles late in the season, Jones almost completely shut down statistically for the rest of the season. In four games to close the year, Jones had only one touchdown and threw six interceptions.
Jones' decline can be attributed to the losses of Broyles and running back Dominique Whaley, as well as the introduction of the "Bell-dozer" package which took away many short-yardage tries for Jones.
Unless a freak incident forces Jones out this season, he will be at the top of his game with new No. 1 receiver Kenny Stills and the rest of a high-powered Sooners passing attack.
Projection: 4,821 yards, 40 Touchdowns, 12 Interceptions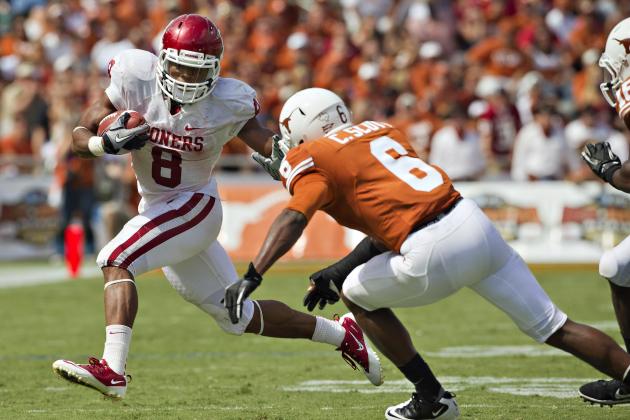 Wesley Hitt/Getty Images

Dominique Whaley surprised a lot of people with his exceptional play as a walk-on in 2011.
Running back was a huge question mark entering 2011 after the graduation of Sooner legend Demarco Murray.
The Sooners had a multi-back attack that allowed the coaching staff to do a variety of things on offense in both the rushing and passing games.
Whaley became a key member of that attack early in the season and established himself as a top running back in the Big-12.
Despite going down against Kansas State and missing the last five games of the season, Whaley was still the leading rusher for OU in 2011, a title he will retain in 2012.
Whaley will again lead a three-headed attack, supplemented by Roy Finch and Brennan Clay.
Finch and Clay will contribute, but the stats will favor Whaley throughout the year.
If Whaley stays healthy and plays like he did early last season, he will be flirting with a 1,000-yard season.
Projection: 230 Carries, 960 Yards, 10 Touchdowns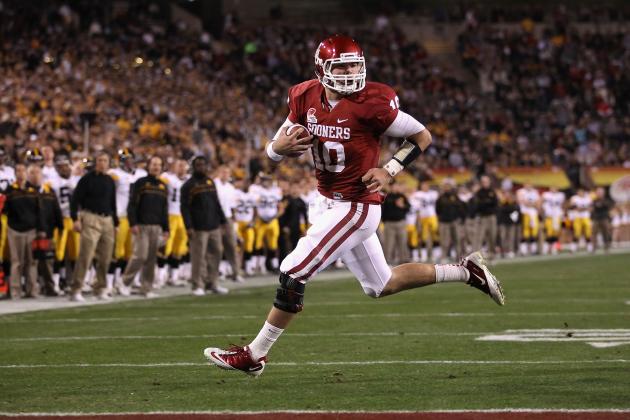 Christian Petersen/Getty Images

Oklahoma fans cheered each and every time Blake Bell took the field in 2011 in his "Bell-dozer" package. In 2012, Sooner fans will be doing much of the same.
Co-offensive coordinators Josh Heupel and Jay Novell unveiled the package after Whaley was forced out against Kansas State, leaving the Sooners without the extra help they needed in short-yardage situations.
Oklahoma uses Bell as a power running back in short situations due to his 6-6, 245-pound frame. Bell's size and speed let him move the ball with ease.
And thus was born a sensation in Norman.
Bell scored a team-leading 13 rushing touchdowns despite being in a rushing role in only six games.
Bell's production in 2012 will largely be dependent on the ability of Landry Jones to make plays in the red zone. If Jones struggles like he did late in 2011, Bell will see his numbers rise.
Either way, the unique package is too successful for Heupel and Norvell to ignore.
Prediction: 16 Touchdowns
Brett Deering/Getty Images

With Ryan Broyles moving up to the NFL, Kenny Stills becomes the top wideout for Oklahoma this season.
Stills had solid seasons as a freshman and sophomore for the Sooners. In each year, Stills caught 61 passes and was a solid second-fiddle to Broyles.
When Broyles was lost for the remainder of 2011 against Texas A&M, Stills was thrust into the top spot.
Stills failed to score, but was still successful in the passing game.
2012 will be Kenny Stills' breakout season for Oklahoma.
With a full summer to prepare both physically and mentally to be the top target, Stills will have the leadership ability and skill to take the country by storm and lead a young group of receivers to prominence.
Prediction: 120 Catches, 1,524 Yards, 10 Touchdowns
Freshman Trey Metoyer will turn a lot of heads around the country in 2012.
Metoyer stands at 6-2, 195 pounds, but plays the game even bigger.
I love this play from spring practice. Metoyer gets a nicely delivered ball from Jones and brings it in with one hand, showing off his impressive ability to snag the ball out of the air with those massive hands.
He then uses his strength to force his way up the sideline for the score.
I might be overreaching a bit, but expect this play all season from Metoyer.
After the dismissals of three wide receivers this offseason, Metoyer has shot up from backup to starter opposite Kenny Stills. With lots of opponent attention on the explosive Stills, Metoyer will be able to catch some jump balls in one-on-one situations and can use the fade route to his advantage.
Metoyer has the ability to continue the trend of great wideouts for the Sooners.
Prediction: 75 catches, 920 yards, 13 touchdowns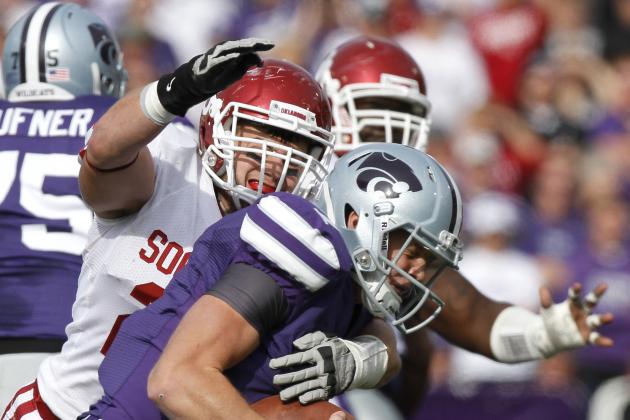 Ed Zurga/Getty Images

Tom Wort has fast become one of my favorite Sooners to watch.
Wort seems to be everywhere on the field each play. He sometimes is in the backfield as the ball is being snapped, other times he's hiding deep in the box, waiting to pounce.
With Travis Lewis graduating, OU's defense will be led by its two biggest weapons, Wort and safety Tony Jefferson.
Wort's play at linebacker alongside Lewis was exceptional in 2011. Without his partner, Wort will bear the brunt of the work.
Wort had 71 tackles last season, but expect that number to go up.
Prediction: 85 Tackles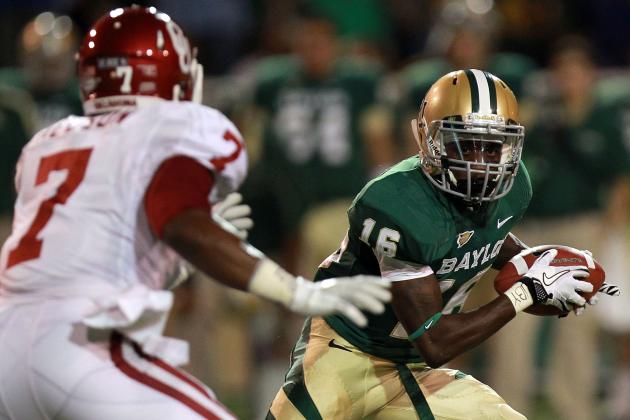 Ronald Martinez/Getty Images

Corey Nelson is a great player to have at strong-side linebacker because of his ability to find the ball behind the line of scrimmage.
Nelson had 8.5 tackles for loss in 2011, the most of any returning player for the Sooners.
With Tom Wort taking a stronghold at middle linebacker, Nelson will be free to take shots at the quarterback and make the big play for OU.
With a relatively inexperienced defensive line, OU's linebackers, including Nelson, will be finding the QB more often this season than they did when Frank Alexander led the team in sacks from the line.
Nelson will do well, but will not be overly impressive.
Prediction: 7 sacks
Brett Deering/Getty Images

Tony Jefferson moving back to safety full-time is a huge bonus for Oklahoma.
Jefferson came to his own as a safety his freshman season, making big plays and delivering hard hits.
In his sophomore season, Jefferson played a hybrid role, moving around between safety, linebacker and nickleback.
Jefferson succeeded, recording 4.5 sacks as well as four interceptions. Still, he never seemed entirely comfortable in the position.
Now, Jefferson will be back in his natural spot, a move that will put him among the elite defenders in the nation.
Jefferson is going to have a huge season as a defender in a very offense-heavy conference. It will be tough, but the junior will have plenty of passes coming his way, giving him tons of chances to be a game-changer for OU.
Prediction: 8 Interceptions