Wimbledon 2012: Enticing Round 4 Matches That Are Must-Sees
July 2, 2012

Clive Rose/Getty Images
Round 4 of this year's Wimbledon kicks off Monday morning. Sixteen competitors remain, and the competition is stiff. 
Notable names (Rafael Nadal) are missing from the Round of 16, but that doesn't mean there isn't any noteworthy action. Three of Monday's eight matches command your full attention.
Let's take a look at Monday's must-watch matches. 
Murray is one of tennis' best players who can never get over the hump. Cilic is Croatia's top player and one of the world's more underrated performers. Together, they create an interesting matchup.
Both athletes are quick and far from one-dimensional performers. They play to each other's strengths, and neither holds a major advantage over the other.  
Adding to this match's intrigue is the history between these two players. Cilic upset Murray in the fourth round of the 2009 U.S. Open. Murray fans have become accustomed to these disappointments, but the victory set Cilic on the right path. 
You can bet both players remember that match vividly. Monday's spectators will remember this one as well.
David Ferrer vs. Juan Martin del Potro
Two very good players will meet head-to-head in Monday's action. Neither man has ever advanced past the fourth round at Wimbledon, and that added hunger will only make this match more intense. 
They have a history head-to-head as well. They've met six times in their career with the 2012 Sony Ericsson Open being their most recent encounter. Of their six all-time meetings, Ferrer has won four of them.
Their history against each other has never been on this grand stage, but what better time than the present? They're two of the best players remaining in the tournament, and it's a pity one of them needs to pack his bags. 
Jo-Wilfried Tsonga vs. Mardy Fish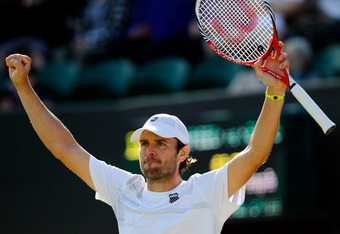 Paul Gilham/Getty Images
Fish and Tsonga each boast powerful serves and a solid all-around game, and both men have enjoyed success at Wimbledon. Last year, Tsonga made the semifinals and Fish made the quarterfinals. 
Each player hopes this year goes the same, but it can't happen for both players. Watching them pit strength against strength while trying to find last year's form will be must-watch television.
Tsonga and Fish both move effectively and play a fast-paced game. Fish's two-handed backhand is one of the tour's most underrated shots, and Tsonga's serve-and-volley style is a breath of fresh air. 
Be sure to tune in Monday to see which player manages to advance to quarterfinal play.