US Olympic Track Trials 2012: Redemption Within Reach for Top US Sprinter
July 2, 2012

Andy Lyons/Getty Images
With a dominant win in the 200-meter dash at the U.S. Olympic Track Trials, Wallace Spearmon Jr. is on his way to London in an effort to help erase the sting of disappointment permeating from his 2008 Beijing Games experience. 
You probably remember Spearmon's heartbreaking failure, even if you don't remember that you remember. Spearmon crossed the finish line in the 200 final in Beijing in third place with a time of 19.95 seconds. He then had enough time to let the joy of winning a medal sink in enough that what happened next had to be especially soul-crushing. 
Replays showed that Spearmon stepped out of his lane on one little, fast-moving step, and he was disqualified. The medal that was temporarily his, was gone forever. 
After his performance Sunday, nothing stands between Spearmon and his shot at Olympic redemption, and that in itself is an accomplishment. 
Spearmon suffered through Achilles' tendon pain last year, and it caused him to miss time, including the World Championships. Achilles problems can end a career, but Spearmon's tricky tendon is cooperating this year, and he is looking fantastic. 
Earlier this year, he turned in a 19.95-second time in the 200, which is the best U.S. time this season, and Spearmon is only improving on that. 
On Sunday, he posted a time of 19.82—although with a plus-2.3 wind, it was wind-aided. Breeze at his back or not, this is a great showing for Spearmon. He isn't touching his career best of 19.65, set in 2006, but he is certainly closing in on it. 
Eyeing London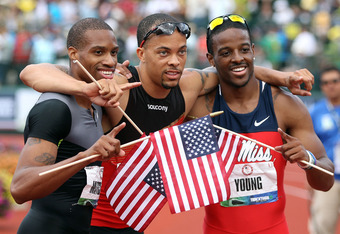 Christian Petersen/Getty Images
Spearmon has to be absolutely amped right now. Not only is he fresh off his own great showing, but the two men, who many assumed would turn the 200 into a two-man showdown, were well off their best times on Sunday. 
At the Jamaican Olympic Trials, Yohan Blake upset Usain Bolt in the 200 finals. These are the two fastest men in the history of this event. Bolt holds the world record at 19.19, and Blake's personal best sits at 19.26. 
On Sunday, Blake won with a time of 19.80 and Bolt was .03 behind that. While Spearmon had a little wind on his side, it has to be a nice physiological edge knowing he just went lower than both. 
Of course, with Spearmon it is not just about running fast, it is also about running straight. This fact is not lost on him. He addressed that issue and was quoted in the StatesmanJournal.com:
I'm just trying to stay undefeated and stay healthy, stay away from the lines, not false start, not that other bad stuff. Only positive notes.
Spearmon can't let his thoughts of staying in his lane sit in the forefront of his brain to the point that it causes him to tense up and consequently slow down, and the closer he gets to that final in London, the more he will have to battle back those demons. 
However, he certainly isn't showing any ill-effects of this yet. He was the clear class of this race at the trials. Maurice Mitchell was a distant second at 20.14, and Isiah Young's 20.16 was good enough for third, which means both he and Mitchell will join Spearmon in making the trip over the pond to represent the U.S. in the 200 in London. 
Young and Mitchell both have an excellent shot at making the finals, but when it comes to discussing medal favorites for the Americans, Spearmon carries that load on his shoulders. Now he just needs to make sure he carries it between the lines.