Euro 2012 Final: Boring 4-Italy 0
July 1, 2012

Laurence Griffiths/Getty Images
Well, well, well look at what we have here. "Boring" Spain demolished a fantastic Italian side 4-0 in the final of the Euros. I don't understand. How did this happen? I thought Spain were boring. At least that was the simplistic opinions I have been reading and hearing from so-called football fans for the last two or three weeks now. 
I have to say that I feel great after this final. I feel vindicated.
As I have been saying for the last two or three weeks to these same simple people, it's not Spain who are boring, but their fearful opposition's tactics that make them seem boring.
However, I felt that the people I have been talking to had an agenda. One of which meant that they deliberately ignored the brilliance of Spain and the negativity of their opposition simply so they could beat Spain with the boring stick.
Well, tonight's result has ended that ridiculous point of view. Spain have finally put that to bed for good.
A record Euro final win and done with such style and—for most of the game—with a team with no recognised striker. We witnessed history tonight. Not just because of the result, but the manner of the result and the tactics involved and the quality of the opposition. 
Spain absolutely dominated Italy and were clearly going to truly win way before Thiago Motta was unfortunately injured.
I was genuinely gutted to see Motta go off, as I felt it was the only out for the "Spain are boring" brigade. "Well, they only won 4-0 because Motta was sent off" or "If they had of played Germany, then they would've lost." Blah, blah blah...wake up and smell the coffee. Take your medicine. This is quite possibly the greatest International side we have ever seen along with Pele's 1970 Brazil.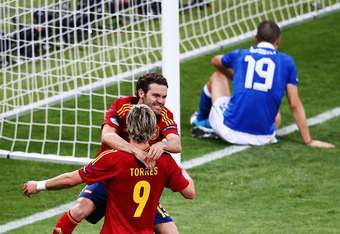 Martin Rose/Getty Images
I actually feel sorry for people who don't get this style of play. It's as if they deliberately do not want to get it and are just looking for a chink in the armour.
Well guess what? Tonight has proven that there is no chink in the armour and YOU are wrong. YOU were wrong. It's not Spain who are/were boring. It was their opposition. Spain are class. 
Your accusations of Spain been boring are really what was boring in this tournament.
Spain gave us an education in football tonight. Italy are a great side, and Spain demolished them and with no striker. It was the modern version of total football, and Vicente del Bosque has to be applauded for his braveness in not changing his tactics. 
It's great to see all the anti-Spain and Barca brigade been proven SO, SO wrong, but I just know that they haven't got the class to admit it. I am sure we will hear excuses that attempt to belittle Spain's win, but for me this game was the best answer to all of the idiots who were calling them boring.
What a great result for real football fans. The only reason anyone would begrudge Spain this victory would be if they were Italian or idiots!