Euro 2012 Final: Spain Makes History as Italy Falls
July 1, 2012

Spain made history in Poland as they took the 2012 UEFA European Championship against Italy in the final match, winning 4-0. As the first team to win three major international championships in a row, this Spanish team is arguably the best soccer team to ever play the game.
"To win three titles is almost impossible," Spain head coach Vicente Del Bosque said in a press conference via UEFA.com. 
"Congratulations to the players. I didn't really want to be the coach who wins but the coach who educates. I want to keep preparing them for the future."
Midfielder David Silva was vital for the final Spanish victory, taking part in both of Spain's goals in the first half.
Silva notched the first goal with a header from the corner of the box that came from a sharp and brilliant cross by Cesc Fàbregas. Silva was on the passing end of Spain's second point, setting up defender Jordi Alba for his first career goal for Spain.
Fernando Torres, a Spanish forward who has scored in consecutive major tournament finals, scored Spain's third goal in the second half.
Forward Juan Mata put the final nail in Italy's coffin with an easy strike.
Mata's goal came off of a smooth touch from Torres, a selfless assist that made him the UEFA Euro 2012 Golden Boot winner.
Italy out-possessed Spain in the first half and tested Spanish keeper Iker Casillas, but Spain capitalized early on the errors of the Italian defense.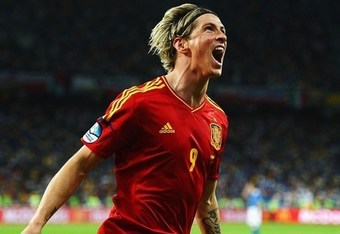 Alba's spirit-crushing goal was a very preventable one for the Italians. Alba was able to execute his run uncontested, despite three Italian defensemen surrounding him.
The championship game against Spain was the first time Italy has trailed in this 2012 Euro.
Spain's defense in this tournament was unbreakable. Although Italy was the only team to score on the Spanish in the Euro 2012—they took the lead against Spain in their group match—they were unable to put one passed Casillas in the championship.
"This is the only regret that we can have. We came up against a terrific side, they're world champions." Italy head coach Cesare Prandelli said in a press conference via UEFA.com.
"Obviously when you're down to 10 men you can't carry on. The game is over."
With championships in the 2008 UEFA European Championship, the 2010 FIFA World Cup and now the 2012 UEFA European Championship, Spain has secured an historic dynasty and will have a chance to extend it even further in the 2014 FIFA World Cup in Brazil.