US Olympic Track Trials 2012: 100M Runoff a Reckless Gamble for Allyson Felix
July 2, 2012
Christian Petersen/Getty Images
Whatever happens in her Monday runoff against Jeneba Tarmoh, Allyson Felix is a 2012 London Olympian.
She earned that title on Saturday with a convincing win in the women's 200-meter final, her best event and the Olympic title she most covets after having earned silver at consecutive Olympic Games.
Simple question: Why the heck is Allyson Felix contesting this runoff?
She made the team in her signature event. She's favored to win said event. And now she'll risk injury—physical and psychological—in a trumped-up exhibition-style spectacle intended to determine whether or not she qualifies for an Olympic race she's unlikely to win.
Again, why run?
In trying to answer that question for myself, I thought back to an observation Sports Illustrated's Tim Layden made just nine days ago in his fantastic U.S. Olympic Track and Field Trials preview piece.
Layden wrote, in part:
Sprinters Allyson Felix, Carmelita Jeter and Sanya Richards-Ross will each attempt to make the U.S. team and potentially win a medal at the Games in two individual events. This might be for the [sic] pure joy of competition, but it could also be to meet the qualifications for the stardom in our postmodern Phelps-centric world, where just one gold medal is, just, you know, Pffft.
Layden speculates that sponsorship pressure might play some role in the rampant ambition we're seeing in the highest levels of track and field.
Maybe so. But there's also a larger matter of pride at play here for a discipline that has seen its star diminish in comparison to swimming over the past decade.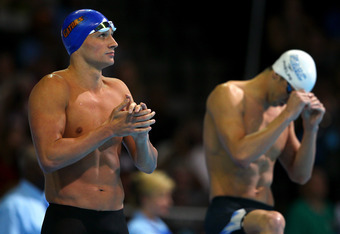 Al Bello/Getty Images
American track and field, quite frankly, needs a name—someone it can promote alongside the headline-stealing aquatic trio of Michael Phelps, Ryan Lochte and Missy Franklin.
The nation's top runners feel the burden of that deficiency, and a collective angst has emerged—as if they all feel duty-bound to become that transcendent, savior figure.
They want it for their sponsors. They want it for themselves. But they also want it for their sport.
If you don't think there's a level of self-awareness among the top sprinters with regard to track's overall health, listen to defending 400-meter hurdles champion Lashina Demus, who told the press in May, "We know we're in a dying sport."
Demus continued:
"We don't have anyone pulling in [viewers] on TV. Our races aren't on TV like in other professional sports. It's just less and less."
That's the vibe around track and field these days, and I have to believe it plays some role in all the double-duty ambition we saw at Trials.
Even though Allyson Felix has so little to gain in Monday's runoff, she feels compelled to gain it.
Such is life in a sport seeking heroes.