Wimbledon 2012: When and Where to Watch Best Matches of Day 7
July 2, 2012

Julian Finney/Getty Images
The start of the second week of play at Wimbledon will feature several exciting matchups with some of the world's top players going head-to-head.
This is the time where the players who have what it takes to win high-pressure matches step up and show their championship fortitude.
Let's look at the three best matches for day seven at Wimbledon and when and where you can watch them.
Andy Murray (4) vs. Marin Cilic (16)
When: 1:00 p.m. ET
Watch: ESPN
Andy Murray has flown under the radar a bit at Wimbledon this year, but he's still a legitimate threat to win the tournament despite coming up short each time he's competed at the event.
He will be opposed in the fourth round by talented Croatian Marin Cilic, who won't make it easy for Murray. Murray will need to serve well and keep his unforced errors to a minimum if he wants to keep his dreams of winning a Grand Slam singles title alive.
David Ferrer (7) vs. Juan Martin Del Potro (9)
When: 1:00 p.m. ET
Watch: ESPN2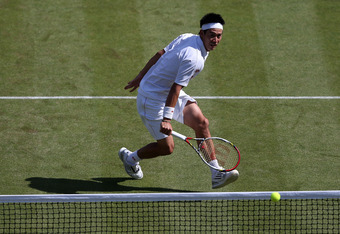 Clive Rose/Getty Images
This is a match between two players that could give one of the top contenders such as Roger Federer and Novak Djokovic a great match later in the tournament.
Del Potro has fantastic Grand Slam experience and is an impressive player on grass surfaces. Ferrer has been quite consistent over the last year but hasn't been able to break through and win a Grand Slam title.
For entertainment value and true competitiveness, this could be the best match of day seven.
Jo-Wilfried Tsonga (5) vs. Mardy Fish (10)
When: 11:30 a.m. ET
Watch: ESPN2
Mardy Fish will look to end the United State's struggles at Grand Slam tournaments, but to do that, he must first defeat talented Frenchman Jo-Wilfried Tsonga.
Tsonga is always a threat to defeat any opponent. He has never won a Grand Slam singles title, but he could this year since he's been playing some fantastic tennis of late. This could certainly be the most intense and exciting match of the day.