Euro 2012: Why Spain Is the Best National Side Ever
July 1, 2012

Shaun Botterill/Getty Images
Often, we don't truly appreciate history when we have the privilege of witnessing it.
Just as the younger among us wonder what a joy it must have been to watch the great Brazil sides of the late 1960s, with the likes of Jairzinho, Carlos Alberto and Pele orchestrating some of the best football ever witnessed, our children will ask about the incomparable Spanish dynasty of our time.
Take note of what has just happened. Not even those incredible Brazil sides of the Pele era dominated the game for as long as Spain have. With a truly remarkable 4-0 triumph over Italy, La Roja have won three consecutive major tournaments with largely the same core of players.
To succeed for this long against the best competition in the world is a feat worthy of the highest reverence. It is impossible to go on the sort of unprecedented run that Spain has and rely on the slightest bit of luck or chance.
The statistical odds of beating the best teams on the best footballing continent in the world and sandwiching a World Cup in the middle are so low that they are almost laughable. In fact, the only time any team has ever come close was when West Germany lost Euro 1976 to the Czech Republic on penalties.
But what makes this Spain team so incredible is that they have achieved their unprecedented success with an entirely new style of football that no one else can play and hardly anyone can defend.
The Spanish largely have the great Johan Cruyff to thank for introducing the revolutionary "tiki-taka" strategy of lightning-quick passes and constant movement to Barcelona in the early 1990s. Though it would take well over a decade for the mesmerizing style to bear its first fruit on the international stage, those vital formative years would breed an entire generation of players at every position who learned the patience and skill necessary to make tiki-taka work.
Because they play an entirely different style that is impossible to emulate, Spain have several rare attributes that ordinary champions do not.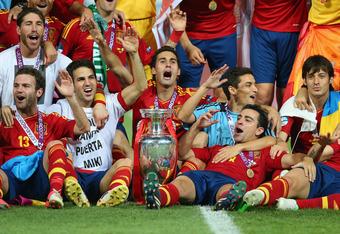 Handout/Getty Images
There is, first and foremost, the incredibly important intimidation factor that we see affect every single team that is unlucky enough to play the Spanish.
We have seen teams like France, with a long-standing national footballing philosophy centered on attacking play and a coach who is normally unwavering in his principles, fundamentally alter their game simply because of the juggernaut they know is in their way.
No team has figured out how to stop Spain, even after all these years that they have played the same style. Thus, a player on the opposing team knows that he will have to chase the ball for minutes on end before he might get another touch. One cannot overestimate the incredibly demoralizing effect this has another team.
When this happens, as we saw in the quarterfinals of Euro 2012, Spain have won even before the referee whistles for the game to begin. The masters must only perform their normal duties, and the opposition will inevitably be pushed aside.
Intimidation comes from observation. Not only do the Spanish almost never lose (they have not capitulated in the knockout stages of a major tournament since France beat them in the 2006 World Cup), La Roja simply dominate their opponents, often running them off the field.
Even when the final score of a Spain match is 1-0, anyone who watched it can tell you that it was the closest thing to a 1-0 blowout that one could ever see.
After all, when you have been chasing the ball for 10 minutes straight, how are you going to capitalize on the one or two half-chances you might be fortunate enough to get?
The depth of the team, too, boggles the mind. Construct a new starting XI out of the players that were left on the bench for the final, and I guarantee that that team would have at least made it to the semifinals of Euro 2012.
Fernando Torres, used almost exclusively as a substitute, won the Golden Boot. Incredibly talented midfielders like Juan Mata, Javi Martinez and Francisco Juanfran would be regular starters in almost every other national team in the world. And the fact that Fernando Llorente, who had a stellar season at Atletico Madrid, did not feature even once for Spain during the whole tournament boggles the mind.
It was that astounding reserve of talent that allowed the best Spainsh goalscorer in history, David Villa, to sit out the whole tournament and watch his friends slice through opposition defences as is now their routine.
As many unfortunately do, I have neglected Spain's own defence, which is, without question, the best the world has ever seen.
Of course, Italy has had some superb defenders in Fabio Cannavaro and Alessandro Nesta, but even the Italians, traditionally regarded as the most defensive-minded nation on the planet, were never as good as Spain are now.
Consider this: With Iker Casillas, the world's best goalkeeper, and Sergio Ramos, arguably the world's best center-back, Spain conceded a record one goal in all of Euro 2012, which came in their opening match against Italy and was scored by Antonio Di Natale.
Moreover, with yet another clean sheet in the final, Casillas has not allowed a goal in nearly 1,000 minutes of knockout-round play at major tournaments.
Whether their stunning defensive record is attributable more to the team's vast amount of possession, the back line in front of Saint Iker or the goalkeeper himself is debatable, but as football is a team game, the entire side can and must be credited as the best defensive unit ever.
But ultimately, the difference between the Spanish side of today and every other national team that has ever been is the completeness and consistency of their dominance.
Those fabled Brazilian teams of the Pele era were no doubt complete units, capable of utter destruction on their day. But they did not dominate all others for as long as Spain, nor did they make their opponents fundamentally change their entire footballing philosophy for the one game they crossed paths.
What we have just witnessed is truly unprecedented in the history of football. Never before has a team invented its own utterly unique style of play and found that, even given years to do so, other teams cannot figure out a way to defend against it.
Savor this moment, football fans. When you watched Spain beat Italy by the largest margin ever in a European Championship final, you were seeing the best national team ever assembled playing at its very best.
And you will probably not see anything like it ever again. Unless, of course, this same group arrives at the World Cup in two years.