New York Mets: Why R.A. Dickey and Johan Santana Are Baseball's Best Duo
July 1, 2012
Victor Decolongon/Getty Images
One baffles big league hitters with a hard-thrown knuckler that dances to the plate with unheard of accuracy. 
The other starts them off with a heater or two and sends them away with one of the game's best circle changes. 
They are R.A. Dickey and Johan Santana, twin aces of the New York Mets, and they are dominating National League batters as the Mets plant themselves deeper and deeper into the NL East pennant race.
R.A. Dickey has bounced between starter and reliever throughout his 12-year MLB career, never winning more than 11 games in a single season and tallying a career 4.07 ERA.
Santana has been one of the games most feared pitchers for a decade now, even though his tenure in New York as failed to live up to the expectations he set as a Minnesota Twin.
This year, though, the two have combined to provide the best one-two punch of any pitching duo in the majors.  Statistically, Dickey and Santana are in the midst of a run with which no other team's starters can compete.
Entering Sunday, the two have combined for more complete games and shutouts than any other tandem in baseball.  They also have the lowest WHIP (walks and hits allowed per inning pitched), lead the league in on-base percentage allowed and are tied for first in opponents' batting average.
As a duo, they are second in baseball in innings pitched, behind only Matt Cain and Madison Bumgarner of the Giants.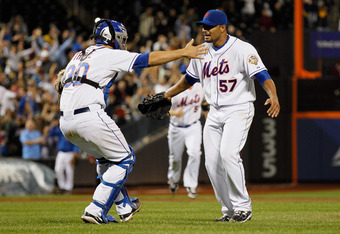 Mike Stobe/Getty Images
They are third in total strikeouts, opponents' on base percentage, ERA, total quality starts, and combined winning percentage.
They are fourth in total wins and opponents' slugging percentage.
For those scoring at home, the duo of Dickey and Santana are in the top four in no less than 14 categories.  Statistically, no other starting combo is even close to the two.
As the only remaining knuckleball pitcher in the game, Dickey has finally found his niche in the pitching world. 
Just selected to represent the Mets in his first All-Star Game, his 12-1 record, 2.15 ERA and 116 strikeouts make it very likely that he will also be named as the National League's starting pitcher in the midseason classic.  He also pitched back-to-back one-hitters last month.
Perhaps most importantly, the Mets have won 13 of his 16 starts.
Despite a record of only 6-4, Johan Santana is tenth in the National League with a 2.76 ERA.  The victim of poor run support at times, the Mets have scored only 17 runs in the seven losses that Santana has started.  His no-hitter on June 1 was the first in the history of the Mets organization.
The Mets are 22-10 in games started by either Dickey or Santana—21-26 in all other games.  They go into Sunday night just three games behind the Washington Nationals, riding the backs of their two aces. 
A team that was expected by many to finish at the bottom of the NL East now has its sights set on its first playoff appearance since 2006.  With the dynamic duo of R.A. Dickey and Johan Santana leading the charge, they might just make it.