Tiger Wins AT&T: 74 Victories Makes Tiger No.2 on All Time Win List
July 1, 2012

Patrick McDermott/Getty Images
Tiger Woods came into Sunday's final round of the AT&T National at Congressional Country Club in Bethesda, Md., only one shot off the lead. Woods shot a four-under-par 67 on Saturday in the unusual quiet of the gallery-less course.
The lack of gallery noise on Saturday's third round of the AT&T National was due to the course being closed to spectators. Golfers and officials only were allowed on the otherwise-closed course on Saturday due to safety concerns.
The course problems arose after powerful storms upended large trees Friday evening. Over 400,000 people were without power in the Washington, D.C., area after the storms ripped through.
Golfers played the third round on Saturday in an unusual quiet, especially around Tiger Woods. No oohhhs and ahhhs when a tee shot slipped left or right. No yells of "In the hole!" when he ripped a perfectly hit driver off the tee on a par 5. Still, Woods shot a very good 67 to close to within one coming into the final day.
Woods opened play on Sunday at a six-under 207 for the tournament. The tournament leader going into Sunday was 31-year-old Brendon de Jonge, from Zimbabwe, at 206. He has made 17 of 20 cuts and earned $910,675 in prize money in 2012.
The spectators were definitely back on Sunday as they cheered Tiger loudly on his tee shots and clapped enthusiastically as he sank putt after putt to keep the pressure on fellow golfers.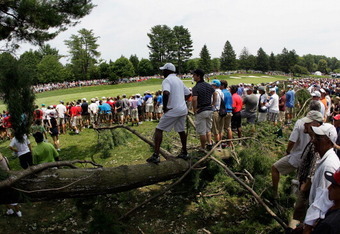 Rob Carr/Getty Images
Through nine holes Tiger was at minus-two. De Jonge had slipped to three over par for the day and appeared to be fading. As the round wore on, Bo Van Pelt replace de Jonge on Tiger's heels. Tied on 16, Tiger calmly eased a 22-foot putt into the cup to go up one. Van Pelt, on the same line, dropped his putt to tie again. 
Van Pelt, who has played several rounds with Tiger in the past, said during the telecast that he was befuddled without Tiger's normal gallery on Saturday. Tiger sank a chip shot from about 40 feet without a roaring crowd. Van Pelt said the gallery noise sounded familiar to the way it would sound if he had made the shot in front of one of his, much smaller, galleries.
Van Pelt and Tiger were still tied on the 17th hole when Van Pelt had some difficulty with his approach shot. His chip up ran by the hole and just off the other side of the green. This allowed Tiger to pick up a shot and tee off at the par-four No. 18 at eight under to Van Pelt's seven under for the tournament.  
No. 18 was all Tiger. He was on and 20 feet from the hole in two strokes, while Van Pelt was just off the green some 60 feet away. 
With this, Tiger has 74 all time tournament wins. Only Sam Snead has more, with 82 all time.