Quintin Berry Will Be Detroit Tigers' Second-Half X-Factor
July 2, 2012

There is no doubt that everyone is looking for answers at this point, as the Detroit Tigers are currently 39-40 and only three games out of the AL Central lead.
While many are looking to the trade market to help solve Detroit's woes, their answer may already be located in lineup with Quintin Berry.
Tigers fans will continue to see Berry in the lineup, as Andy Dirks may not be back for a few weeks.  However, it is hard to imagine a lineup without Berry even when Dirks makes his comeback. 
For all devout Tigers fans, it is impossible not to appreciate the play of Quintin Berry.  He is a high energy, fun-loving player who is taking full advantage of his opportunity at the professional level.
Berry has appeared in 36 games with Detroit thus far, and he currently has a very respectable slash line: .296 BA / .385 OBP / .400 SLG. 
While it may be difficult to assume that Berry will be able to keep up this incredible pace, it is very likely that his presence will have an immediate impact on Detroit's playoff hopes. 
As the Tigers begin to steadily improve their play and various trades either do or do not happen, it will be imperative that the outfield situation be addressed.  Most believe that Dirks, Jackson, and Berry will be the main trio patrolling the depths of Comerica Park, while Delmon Young will spend the majority of his time slotted at the DH position and Brennan Boesch will be relegated to bench duty.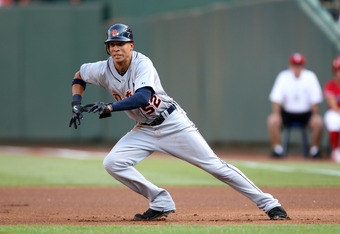 Layne Murdoch/Getty Images
Detroit is relying very heavily on Berry, as he is sitting directly after the vastly improved Austin Jackson and before the hot hitting run producer Miguel Cabrera.  Therefore, it is critical that Berry continue to get on base and limit his strikeouts. 
Before the season began, this Detroit team was expected to mash its way to a division title.   However, with a revamped Austin Jackson getting on base and Quintin Berry making his presence felt night in and night in and night out, the Tigers now have an element of speed that was not expected. 
As of Sunday, Berry is 14th in the American League but leads the Tigers with 12 stolen bases and has yet to be caught one time.  Interestingly enough, Berry has appeared in less games than anyone who is ranked in the top 25 stolen base leaders in the AL. 
Not only is Berry's impressive play a cause for smiles in the Tigers' clubhouse, but his fun-loving spirit and great attitude are sometimes lost in the struggle to get back to .500.
Anyone who watches a Tigers game knows that Quintin Berry loves the game and is not afraid to show it at any time.  His huge smile and hand clapping when he gets on base show the Tigers and their fans that he is willing to do whatever it takes to help the team be successful, and every team can use a player like that. 
The trade deadline is rapidly approaching, and new players will most likely be making their way to Motown.  However, Quintin Berry will be making some noise for the rest of the 2012 season, and this will certainly play a role in Detroit's ability to win the division and make a run in the postseason.