Euro 2012 Final: Complete Player Ratings for Italy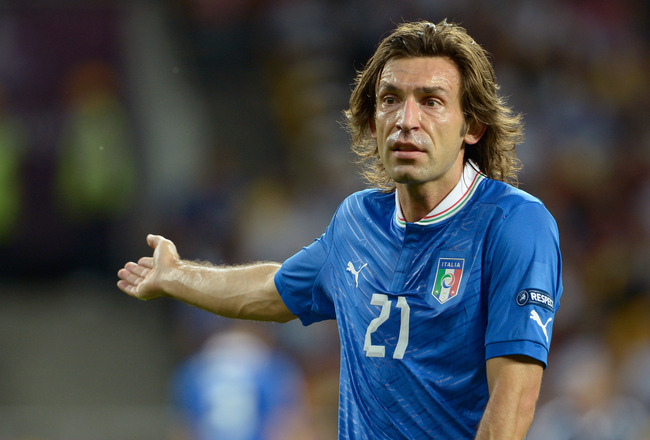 Claudio Villa/Getty Images
Italy had an absolute nightmare of a European final.
Most of these players will want to forget this match, but the Italians should be proud of their performance. The national side restored the team's integrity, and it was an overall successful tournament for the team.
Unfortunately, the final didn't go so well.
Players were injured, tired and simply poor. After a solid start to the game, Italy was simply overmatched by Spain. The Spanish side played an all-around great game, and Italy wasn't up the challenge.
If Italy had a little luck early on, things might've been different. Unfortunately, there was no such luck for the Azzurri.
GK: Gigi Buffon, 5.0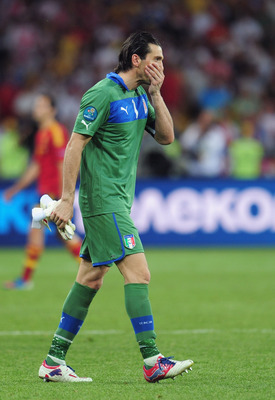 Shaun Botterill/Getty Images
Gigi Buffon wasn't at fault for the goals, but he certainly didn't play well.
After having a great tournament, Buffon was hung out to dry in the final. His defense couldn't contain Spain's incisive runs, and Buffon was left one on one four times.
He made a couple saves, but Buffon needed an absolutely legendary performance to keep Italy alive. Unfortunately, the captain wasn't up to the challenge.
RB: Ignazio Abate, 6.0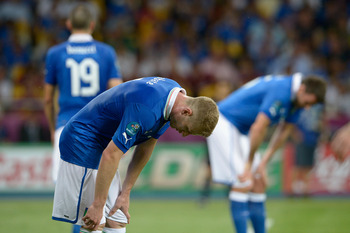 Claudio Villa/Getty Images
Ignazio Abate was simply not good enough on the right side for Italy.
Iniesta didn't have a problem operating on the left side because Abate simply didn't make it difficult. With Iniesta running free, Italy had no chance of stopping the Spain attack.
Abate simply needed to be better.
CB: Andre Barzagli, 6.5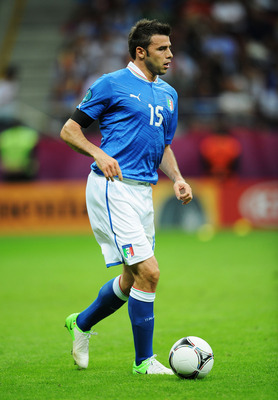 Christopher Lee/Getty Images
Andre Barzagli was one of the few bright spots for Italy.
Although the defense wasn't up to snuff, he did make some goal-saving tackles, and he was a force in the middle of the defense. Without him, this game would've gotten out of hand a lot sooner.
With that said, the defense gave up four goals, and it needed to be better.
CB: Leonardo Bonucci, 6.0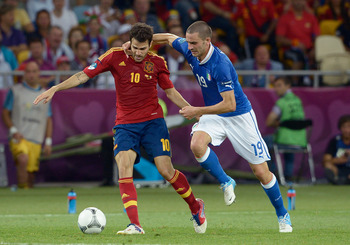 Claudio Villa/Getty Images
Leonardo Bonucci had a similar game to Andre Barzagli, only it was without the goal-saving tackles.
The Spanish midfielders ran wild, and the passes were destructive.
Bonucci was beaten a few times, and he allowed the Spain attack go right down the middle.
If Bonucci (and Barzagli, for that matter) would've played better, Italy would've had a chance. With them playing like they did, the Azzurri didn't stand a chance.
LB: Giorgio Chiellini N/A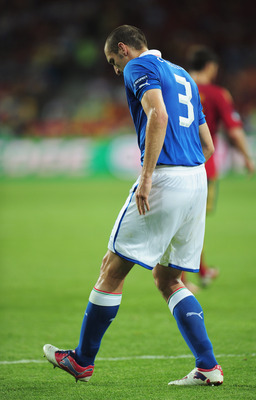 Shaun Botterill/Getty Images
Giorgio Chiellini's hamstring just couldn't hold up.
After 20 minutes, the Italian left-back needed to come off, and the whole dynamic of the match changed.
Italy desperately needed another substitute, but Chiellini's injury robbed them of that.
Too bad.
RM: Claudio Marchisio, 5.5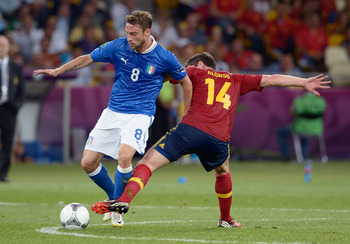 Claudio Villa/Getty Images
Claudio Marchisio had a very forgettable game.
He was decent defensively, clearing the ball a few times when Italy needed it. With that said, he couldn't move forward. He turned the ball over a few times, and he simply couldn't help in the attack.
Spain's midfield does a good job making other midfielders look foolish, and Marchisio was the latest victim.
CM: Andrea Pirlo, 6.5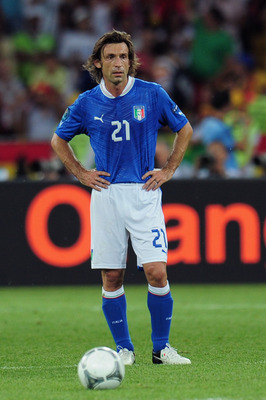 Shaun Botterill/Getty Images
Andrea Pirlo was simply tired.
After having a great tournament and playing better than anyone, Pirlo just ran out of gas against Spain.
Xavi and Iniesta were all over the place, and Pirlo was forced to defend. Whenever Pirlo found the ball, one of the Spanish midfielders immediately hounded him.
Pirlo had a great tournament, but he didn't have enough left in the tank to overcome Spain.
LM: Daniele De Rossi, 6.0
Laurence Griffiths/Getty Images
Daniel de Rossi had a disappointing final.
Like Andrea Pirlo, Rossi had played well in the tournament, and he seemed like the right player to slow down Spain's midfield.
Unfortunately, de Rossi didn't come to play.
A poor pass here, a lazy giveaway there and missed tackles all over.
It was a rough day at the office for de Rossi.
CAM: Riccardo Montolivo, 6.5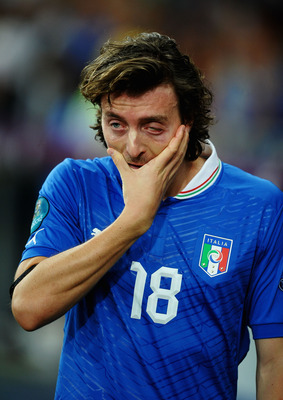 Laurence Griffiths/Getty Images
Riccardo Montolivo had a solid game, but it wasn't enough.
He helped Italy looked dangerous moving forward, but the Azzurri couldn't quite finish at the goal.
Iker Casillas had a good game, but Italy only tested him a handful of times. Montolivo played decently, but he needed to be better.
RS: Mario Balotelli, 6.0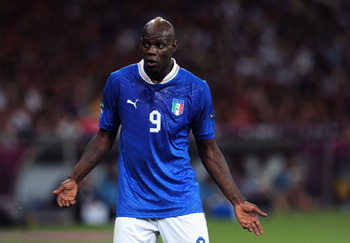 Shaun Botterill/Getty Images
Mario Balotelli legitimately didn't do anything in the Euro final.
Other than avoid a red card, the ill-tempered striker didn't do anything positive or negative for Italy. He sent a few shots over the bar, but that's about it.
His passing was mediocre, as was just about everything about him tonight. If Fernando Torres had a night like this, people would be destroying him.
As for Balotelli, you just shake your head.
LS: Antonio Cassano, 6.0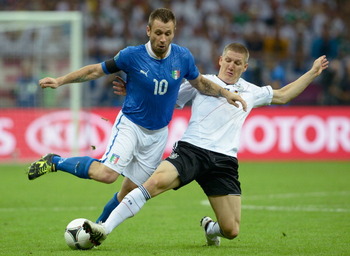 Claudio Villa/Getty Images
Antonio Cassano was just as effective as Mario Balotelli.
And that means not effective at all.
Cassano looked dangerous once or twice, but he still couldn't convert any chances. If he had the opportunity instead of Antonio Di Natale, maybe the entire match would've been different.
Unfortunately, Cassano came off at halftime and didn't have a chance to make the difference in the match.
Substitutes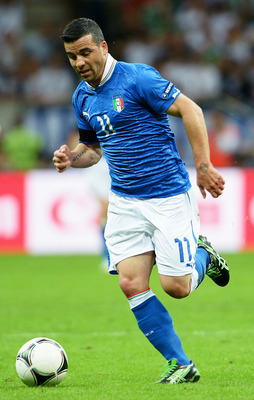 Claudio Villa/Getty Images
Federico Balzaretti, 6.5: He did a solid job taking the place of Giorgio Chiellini, but it still weakened the Italian defense. Balzaretti didn't play poorly, but he didn't provide the same width that Chiellini brings to the table.
Antonio Di Natale, 5.5: His terrible miss from point blank in the 50th minute was inexcusable. Iker Casillas made a great save, but Di Natale simply needed to finish better. If he scored in that instance, the last 40 minutes would've been completely different.
Thiago Motta, N/A: Four minutes after coming on, Motta went down. Yeah, that's about how the match went for the Azzurri. Too bad.
Keep Reading

Italy (National Football): Like this team?