NBA Free Agents 2012: Value Players Who Would Put Teams over the Top
July 1, 2012
Chris Trotman/Getty Images
The best teams know how to stretch their dollars and find the best value players. The NBA teams who can do this and still keep the core of their team together will propel themselves to the top. 
There are quite a few great values available this offseason. However, these are highlighted by J.R. Smith, Willie Green and Nazr Mohammed. In terms of the value per dollar, these are the "Moneyball" style signings that will make impact for a good price.
Willie Green, Guard
Salary in 2011-2012: $1,352,181
Projected Salary in 2012-2013: Veteran Minimum
Willie Green is an interesting projection. While he isn't a top player or a guy who is going to score 30 points a game, he is easily worth much more than the veteran minimum he will sign. He's a very solid combo guard who can provide a lot of scoring off the bench.
His 7.6 points per game don't tell the whole story—he had multiple games off the bench when he dropped 17-20 points. He's a contributor, and he is going to provide some lucky team with an excellent value.
Nazr Mohammed, Forward/Center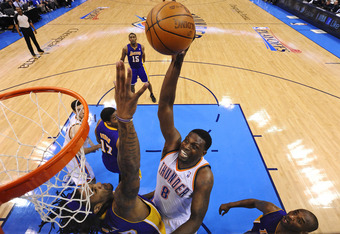 Pool/Getty Images
Salary in 2011-2012: $3,750,000
Projected Salary in 2012-2013: Veteran Minimum
While Nazr Mohammed is winding down his career, he is still valuable as a rebounder and defender off the bench. He is someone with great length and leadership and would be an excellent addition to a team with a young core.
Mohammed will prove to be much more valuable than a veteran minimum contract, and he should be an asset off the bench in more ways than just on the court.
J.R. Smith, Guard
Salary in 2011-2012: $2,382,353
Projected Salary in 2012-2013: Mid-Level Exception contract
While he isn't the prime player that he believes that he is, he is easily a mid-level player worthy of the mid-level exception. He is someone who can provide an excellent scoring option and start at the two. He could come in and be a scoring presence.
Smith is also the kind of player who can be a valuable asset off the bench. He can come in and score points in bunches for the team that signs him. He should prove to be more valuable than the contract he signs.
All contract information courtesy Spotrac and all Stats courtesy ESPN.