What Lineup Changes Should Manny Acta Consider to Boost Indians' Offense?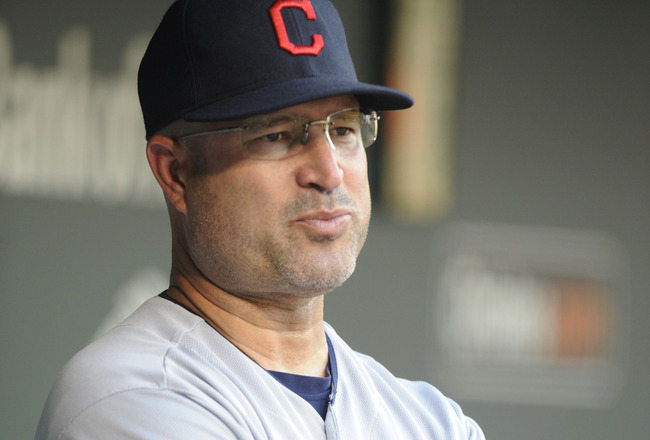 Mitchell Layton/Getty Images
Manny is just being Manny, making lineups in Baltimore that are capable of a four-game, 32-run and 55-hit outburst in Baltimore against the AL East power (?) Orioles, taking three games from the O's before heading back to Cleveland.
Upon their return, the Indians will have a seven-game homestand against the Los Angeles Angels and Tampa Bay Rays before heading into the All-Star break.
Manny Acta may not have a sensational roster to work with, but he is doing the best job that he can with what he has. He has made some sensational moves this season. In particular, the move of Shin-Soo Choo to the leadoff spot on May 14 has been truly fantastic, as Choo has hit .324/.393/.551 with seven home runs, 17 doubles, 18 RBI and 38 runs scored in 42 games.
But what else could Acta do to improve the Cleveland Indians' everyday lineup?
Move Johnny Damon to the Leadoff Spot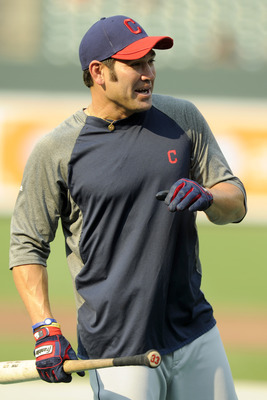 Mitchell Layton/Getty Images
Yeah, I just wrote that they should cut him last week, but this is a new day and Johnny Damon is hitting .323 since June 17. Being the leadoff hitter isn't about speed, it is about getting on base, and Damon has the skills to do so.
Damon's career .285/.352/.434 line is what bought him time on the Tribe roster to have a solid two weeks, and it is why he could handle the leadoff spot, despite his current .207/.286/.338 for the Indians.
His 21:16 K:BB over 145 at bats shows the patience is there to be successful, and his career worst .217 BABIP means that Damon is in for a nice boost.
Putting Damon in the leadoff spot could provide a nice boost for the Tribe. It also allows Acta to...
Move Shin-Soo Choo to Sixth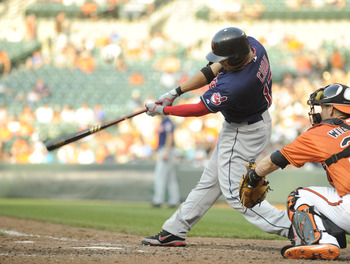 Mitchell Layton/Getty Images
Shin-Soo Choo has been awesome in the leadoff spot, but the Indians rank 7th in the American League in runs scored and they need someone to drive in runs in the middle of the order. With Travis Hafner's pending return, the Indians suddenly have four to five players who can get on base in front of Choo if you move him to the middle of the order.
In 2009 and 2010, Choo averaged a .300/.397/.486 line, with 34 doubles, four triples, 21 home runs, 88 RBI and 21 stolen bases per season. He struggled in 2011 with personal issues and injuries, but he is back in 2012 with a .291/.382/.471 line through 71 games.
Putting Choo sixth in the order will put a run producer towards the bottom of the lineup, providing a spark to a lineup with very patient hitters in the middle of the order. Choo's runs scored would drop significantly, but his ability to drive in runs would improve tremendously.
You have to score to win. Choo has helped with that out of the leadoff spot, but he can help even more in a run-producing role.
Move Michael Brantley to the Seventh Spot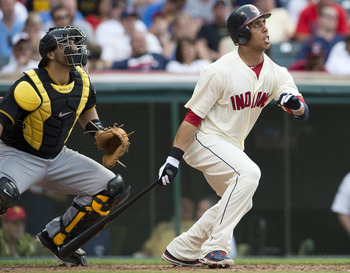 Jason Miller/Getty Images
Michael Brantley has been incredible for the Indians this season, hitting .280/.327/.385 with 22 doubles, three triples, one home run, 35 RBI and nine steals over 296 at bats. He has struck out just 31 times, 9.7% of his at bats, so he puts the ball in play. He does not hit for power, but his ability to make contact allows him to be an asset behind Choo in the Indians' lineup.
Most importantly for Brantley is his ability to hit left-handed pitching.
He is a left-handed hitter but he has a .281/.330/.385 line against south-paws in 2012 and a .280/.322/.385 line against right-handers.
Consistency.
Brantley also has some solid speed, so if he continues making contact and getting on base, he can create runs with his legs.
Brantley needs to be a fixture in the Tribe lineup going forward, as he seems to be a piece to build around at the tender age of 25, and doing so in the 7th spot is a great start. The fact that he is hitting .341/.341/.463 there in 41 at bats in 2012 doesn't hurt either.
Put Carlos Santana in the Number Five Spot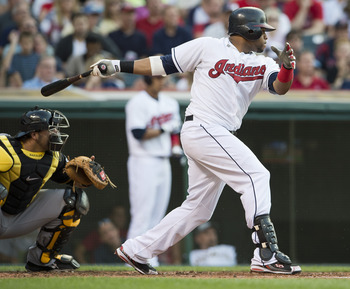 Jason Miller/Getty Images
Well, did Lou Marson steal his job? If Santana isn't catching as often, he should at least be starting at first base a few times a week so that Marson can get a look, as well.
The Indians invested their future into Santana by locking him up through 2017 with an extension. They can't give up on him now.
Santana is a switch-hitter and he can sit nicely between Travis Hafner, who should still hit cleanup, and left-handed hitting Shin-Soo Choo as the number five hitter. Santana is an interesting hitter. He seems a bit too patient at times, then shows periods of pressing where he strikes out too much.
Somewhere in between those two extremes is a catcher and first baseman with the ability to get on base and hit for power.
Santana hit 27 home runs in 2011, his first full season. He has improved defensively and is gunning down 35 percent of would-be base stealers in 2012. Add in the fact that his 162-game average has him raking for 36 doubles, 23 home runs, 80 RBI and a 135:108 K:BB, and you can see why you have to be patient for him to get it going.
Putting Carlos Santana in the middle of the order keeps the lineup a little less lefty-heavy, as he can turn around if a specialist comes in. Santana is the future of the Indians and as frustrating as he can be at times, he has the skills to be elite—in time.
Jose Lopez Should Be Starting and Batting Ninth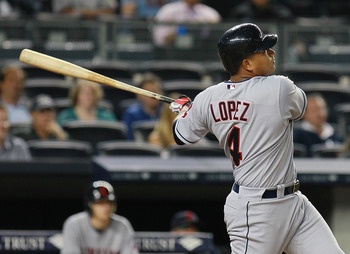 Mike Stobe/Getty Images
Jose Lopez, your new everyday third baseman. Why? You can blame the fact that he is hitting .444 over the last seven days with six RBI, primarily in the cleanup spot.
You can blame the fact that management does not seem to want to give Russ Canzler a shot. You can also blame the fact that Lonnie Chisenhall is out 10-12 weeks with a broken wrist and Jack Hannahan is hitting .225 since the start of May.
Lopez is a right-handed bat. He allows Acta the opportunity to split up the lineup, especially with Brantley hitting lefties well in the bottom third of the order with him.
Jose Lopez is just three years removed from smashing 42 doubles and 25 home runs with 96 RBI for the Seattle Mariners in 2009. At 28, the former All-Star saw his stock plummet when his weight rose, but he has shown glimpses of ability worthy of a long look in Cleveland.
While Lopez doesn't get on base or offer a lot of speed, he is another contact hitter, having struck out just 22 times this season in 144 at bats. He may not win a gold glove but he offers a lot more for scoring opportunities for the Tribe.
So, What Is the Lineup?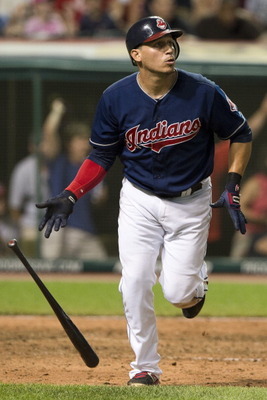 Jason Miller/Getty Images
Your new everyday lineup:
1. Johnny Damon: LF
2. Asdrubal Cabrera: SS
3. Jason Kipnis: 2B
4. Travis Hafner: DH
5: Carlos Santana: C
6: Shin-Soo Choo: RF
7: Michael Brantley: CF
8: Casey Kotchman: 1B
9: Jose Lopez: 3B
When Santana plays first and Marson is catching:
1: Johnny Damon: LF
2: Asdrubal Cabrera: SS
3: Jason Kipnis: 2B
4: Travis Hafner: DH
5. Carlos Santana: 1B
6: Shin-Soo Choo: RF
7: Michael Brantley: CF
8: Lou Marson: C
9: Jose Lopez: 3B
Conclusion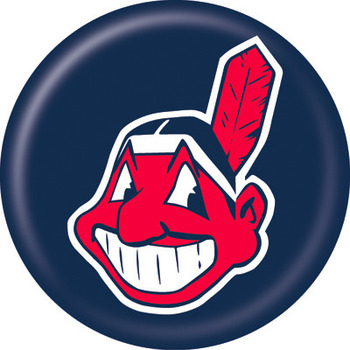 Courtesy: Cleveland Indians
1. Johnny Damon: LF
2. Asdrubal Cabrera: SS
3. Jason Kipnis: 2B
4. Travis Hafner: DH
5: Carlos Santana: C
6: Shin-Soo Choo: RF
7: Michael Brantley: CF
8: Casey Kotchman: 1B
9: Jose Lopez: 3B
This lineup would be very productive. Damon and Lopez are hot, so you have to ride the streak. Cabrera and Santana split up the lefty-heavy top of the lineup due to their ability to switch-hit. Brantley between Choo and Kotchman provides a hitter who is solid against lefties between two solid hitters who struggle against left-handed pitching.
While it is difficult to pull Choo from the leadoff spot, especially after the outburst in Baltimore, you certainly aren't going to continue starting Aaron Cunningham because the team was having success, right? Please tell me you're not!!!
The Indians need to continue hitting the way they did against the Orioles, but the Angels will obviously have better starting pitching, as will the Rays. It will be an interesting week leading up to the All Star break, an important week for the Tribe to maintain their position in the AL Central, and possibly take the lead again.
Keep Reading

Cleveland Indians: Like this team?