Tiger Woods: Win at AT&T National Shows He's Ready for Major Breakthrough
July 2, 2012

Patrick McDermott/Getty Images
If there was any question as to whether or not Tiger Woods was "back"—well, it appears that question has been answered. He's back.
In winning his PGA Tour-leading third tournament of the year Sunday—a two-shot victory at the AT&T National—Tiger showed he can still win golf tournaments. In fact, nobody is doing it any better than Tiger right now.
But a big question that still remains is whether he is ready for the next step—a major championship victory that might silence his critics for good. I believe he is.
It's been a slow but sure process as Tiger has rebuilt both his health and his golf swing from a place where many thought he would never find success again, but his game is rounding into form just in time for the final two majors of the 2012 season—the Open Championship and the PGA Championship.
The first two majors didn't go so well. Tiger finished T-40 at the Masters after winning the Arnold Palmer Invitational. Then he finished T-21 at the U.S. Open after winning the Memorial.
But his game—still not without some inconsistency and the frustration that accompanies it—has shown signs of steady improvement. Obviously.
The proof is in the playing. Look how he performed Sunday at Congressional Country Club. He manufactured a win using whatever means necessary.
Coming into the AT&T National, Tiger was one of the best in the game statistically in total driving, which combines a player's distance and accuracy numbers off the tee. Surprisingly, however, this was one aspect of his game he struggled with at Congressional. He hit only 30 of 56 fairways for the week, including just 8 of 14 on Sunday.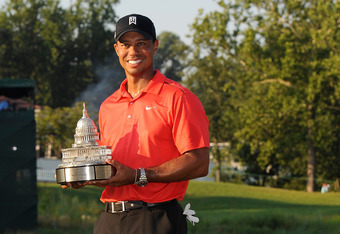 Patrick McDermott/Getty Images
This is where Tiger fashioned a good score anyway.
He still managed to hit greens in regulation—48 of them for the week with a very impressive 15 of 18 in the final round. And unlike his poor weekend performance at the U.S. Open a couple weeks ago, Tiger made only one bogey this weekend.
What also impressed me was the way Tiger finished the golf tournament.
Standing on the tee at No. 18 with a one-shot lead, he appeared to challenge himself by selecting, arguably, the least favorite club in his bag—his driver. This showed a lot of confidence when he could've gone with a "safer" choice.
Tiger faded his tee shot into the middle of the fairway, then proceeded to draw a near-perfect nine-iron to almost hole high to guarantee the win with an easy two-putt par.
The victory continued to reinforce Tiger's return to prominence on the PGA Tour. And he seemed to bask in the victory afterward. With a wry smile during his post-round presser, Tiger said (h/t asapsports.com):
I remember there was a time when people were saying I could never win again. That was, I think, what, six months ago. Here we are.
Here we are, indeed. Tiger's 2012 season is starting to look a lot like his 2009 season, when he won six times. He didn't win a major championship that year but he did finish in the top 10 in every one of them. I think he can get to six victories again this year. But unlike '09, I believe one of them will be a major win.