10 Events That Made the UFC What It Is Today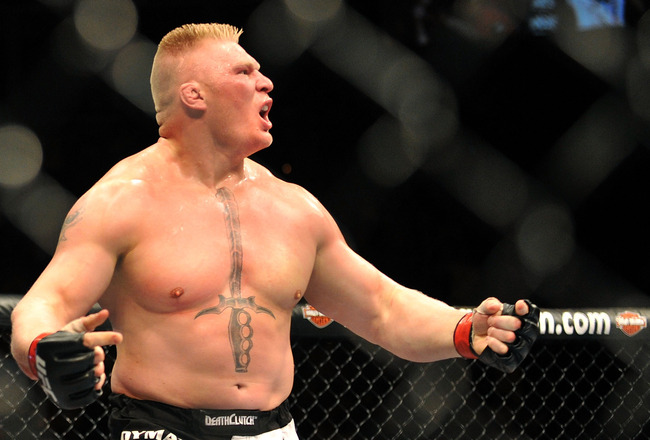 Jon Kopaloff/Getty Images
The UFC heads into Las Vegas this weekend for a rematch between Chael Sonnen and Anderson Silva that has the sports world buzzing. A promotion that was once relegated to backwoods arenas in the deep south is now the talk of Las Vegas.
How did the UFC come so far so fast? From the brink of bankruptcy to a battle with boxing for combat-sports supremacy, the UFC has traveled far and fast in less than two decades.
These are the events that started the MMA explosion, without which Anderson Silva and Chael Sonnen wouldn't be household names. From Royce Gracie to Junior dos Santos, these are the stars and the events that built an industry.
UFC 1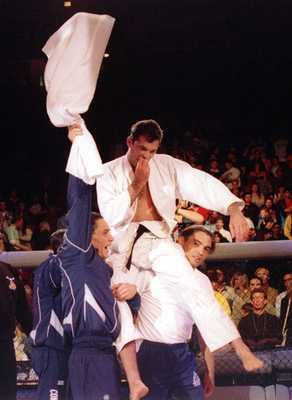 Holly Stein/Getty Images
The show that started it all. UFC 1 not only introduced the concept of mixed martial arts, it made Brazilian Jiu Jitsu a player on the word martial arts stage. This show literally changed the way we think about fighting. No contest before or since has been so influential.
At a glance:
UFC 1: The Beginning

When: 11/12/1993

Where: Denver, Colorado

Estimated Pay-Per-View Buys: 86,000

Key Fight: Royce Gracie vs. Ken Shamrock
UFC 5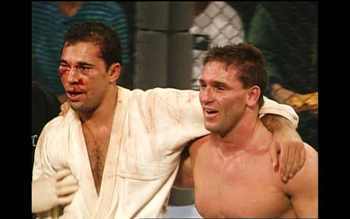 Post fight. Source unknown
Tired of trying, and failing, to set up top fighters to meet in their tournaments, the UFC cut to the chase by inventing the super fight. Finally, almost two years after their first fight, the UFC got the Royce Gracie-Ken Shamrock rematch they'd wanted for so long.
The fight was a dreadful draw. But the Super Fight concept was in the UFC to stay.
At a glance:
UFC 5: Return of the Beast

When: 4/7/1995

Where: Charlotte, North Carolina

Estimated PPV Buys: 260,000

Key Fight: Royce Gracie vs. Ken Shamrock II; Dan Severn vs. Oleg Taktarov
UFC 14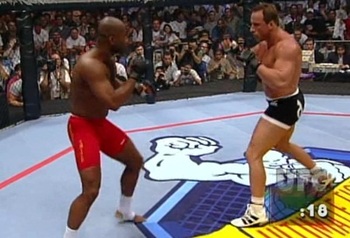 screencap via http://theflyingkneemma.com
Maurice Smith did more at UFC 14 than beat the seemingly unstoppable Mark Coleman. Smith redefined what was possible in MMA, making it clear that a striker could indeed beat a grappler with the right training and game plan.
Like Royce Gracie before him, Smith's win changed the way we thought about mixed martial arts. Smith has faded into obscurity. Coleman fought too long, leaving modern fans with memories of an outmatched old man. But that doesn't change this fight's place in the history of our sport.
At a glance:
UFC 14: The Showdown

When: 7/27/1997

Where: Birmingham, Alabama

Estimated Attendance: 4800

Key Fight: Mark Coleman vs. Maurice Smith
UFC 19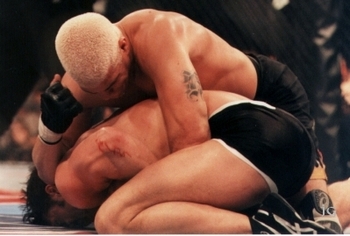 Picture via Full Contact Fighter
Ken Shamrock's feud with Tito Ortiz was, arguably, the most important in UFC history. Across eras and owners, it was the go-to bout when you desperately needed a big hit at the box office.
And the fight that started it all, between Ortiz and Shamrock student Guy Mezger, went down at a dingy casino in Mississippi in front of less than 2000 fans. Ortiz battered Mezger bloody and, after John McCarthy stopped the fight, taunted Mezger and Shamrock by putting on a "Gay Mezger is My Bitch" t-shirt and firing the double birds at Ken.
Saying Shamrock was furious is a serious understatement. His face turned so red that it looked like a heart attack was imminent. Tito enlisted Mark Coleman and Kevin Randleman to watch his back in case things got violent backstage. It was a complete cluster—and it was awesome.
At a glance:
UFC 19: Young Guns

When: 3/5/1999

Where: Bay St. Louis, Mississippi

Estimated Attendance: 1700

Key Fight: Tito Ortiz vs. Guy Mezger
UFC 28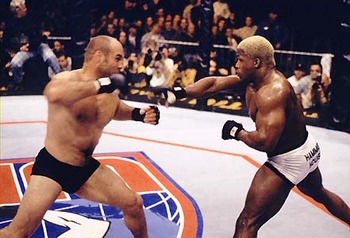 Photo via http://en.susumug.com
Things were starting to turn around for the UFC after battling the cable companies and politicians for years. For the first time, a major state athletic commission sanctioned the bouts, thanks to New Jersey Athletic Control Board kingpin Larry Hazzard, one of MMA's unsung heroes.
Hazzard's risky move was rewarded in the main event. He saw two world-class athletes, top wrestlers Randy Couture and Kevin Randleman, battle neck and neck for almost 15 minutes. These, it was clear, were no mere bar brawlers. The UFC's rise to legitimacy had begun.
At a glance:
UFC 28: High Stakes

When: 11/17/2000

Where: Atlantic City, New Jersey

Estimated Attendance: 5000

Key Fight: Kevin Randleman vs. Randy Couture
UFC 33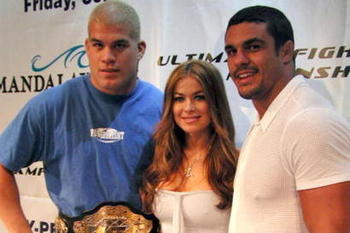 Photo via SB Nation
In 2001, Zuffa purchased the UFC from a struggling Bob Meyrowitz. It was the start of exciting things. New owner Lorenzo Fertitta had the connections in Las Vegas to get the show up and running there. PPV would soon follow.
The first event back on cable pay-per-view, available to most of the American public instead of just those with a satellite dish, was supposed to feature Tito Ortiz and Vitor Belfort. That fight would have been epic, but a Belfort injury changed everything, as I explained at SB Nation:
That opponent ended up being Vladimir Matyushenko, a solid wrestler who would test Tito, but thrill no one. What should have been a moment to remember turned into an epic disaster. They booked three title matches for the show and each one ran the full 25 minutes. The show ran over its allotted time window and thousands of fans had the main event cut off mid-fight, never getting to see Ortiz's hand raised. UFC President Dana White, as always, was blissfully blunt when asked about the card: "UFC 33 is the only one I can remember where every fight sucked.
Although it didn't succeed as hoped, UFC 33 was a milestone for the new company. The new pay-per-view clearances gave the sport a fighting chance to survive.
At a glance:
UFC 33: Victory in Vegas

When: 9/28/2001

Where: Las Vegas, Nevada

Estimated PPV Buys: 75,000

Key Fight: Tito Ortiz vs. Vladimir Matyushenko
UFC 40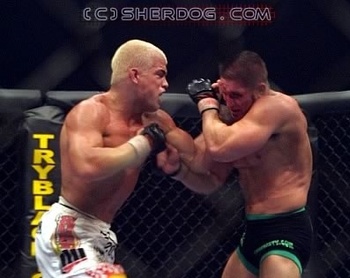 Image via Sherdog.com
Lorenzo Fertitta was starting to have second thoughts about his new toy. The UFC was supposed to set the world on fire after it made its way back onto pay-per-view. Instead, he'd invested millions with little return. Fertitta needed a sign it wasn't all hopeless—and got one when Ken Shamrock and Tito Ortiz energized the whole sport.
The feud had been simmering for years. And while Tito beat the older Shamrock easily in the cage, the pre-fight buildup established the right way to make stars. Ortiz's popularity soared, and the sport once again seemed like a promising investment.
At a glance:
UFC 40: Vendetta

When: 11/22/2002

Where: Las Vegas, Nevada

Estimated PPV Buys: 150,000

Key Fight: Tito Ortiz vs. Ken Shamrock
The Ultimate Fighter 1 Finale

Griffin and Bonnar discuss their legendary bout

Ken Shamrock and Rich Franklin were the headliners. Their faces graced the posters, and the two were featured in all the advertising. But when the event was over, no one was talking about the two veteran stars.
The sport's focus shifted to a new generation of fighters, represented ably in the cage by Forrest Griffin and Stephan Bonnar. Griffin won a close decision in a furious battle of wills, that impressed UFC President Dana White so much he offered both men a coveted UFC contract.
Spike television producers were just as produced. The UFC would remain a mainstay on the network for years.
At a glance:
The Ultimate Fighter 1 Finale

When: 4/9/2005

Where: Las Vegas, Nevada

Estimated Television Audience: 1,900,000

Key Fight: Rich Franklin vs. Ken Shamrock; Forrest Griffin vs. Stephan Bonnar
UFC 100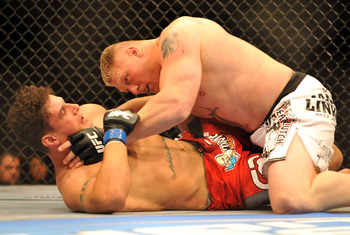 Jon Kopaloff/Getty Images
The UFC's anniversary event had it all. The sport's two biggest stars, Brock Lesnar and Georges St-Pierre, both defended their titles, and the pomp and circumstance was unlike anything UFC fans had seen before. The show set a PPV record that still stands today, selling 1.6 million homes on dropping $50 to see the mega event.
And, more than an economic success, the event delivered in the cage as well. Who can forget Lesnar's avenging his first career loss against Frank Mir? And Dan Henderson's knockout win over Michael Bisping is one of the single most GIF'ed moments in the sport's history.
At a glance:
UFC 100

When: 7/11/2009

Where: Las Vegas, Nevada

Estimated PPV Buys: 1,600,000

Key Fight: Brock Lesnar vs. Frank Mir II; Georges St-Pierre vs. Thiago Alves
UFC on Fox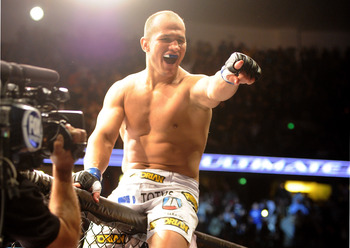 Jason Merritt/Getty Images
It took them a decade, but the UFC finally made their national television debut on Fox in November, 2011. The first of many events on the network, it was a sign that the sport had finally made it. The UFC had the potential to escape the "niche" label and penetrate the mainstream. This deal proved it.
The first event on Fox featured a single match—but it was a doozy. Junior dos Santos challenged Cain Velasquez for his heavyweight title. At least he did for just over a minute. After that, Velasquez was prone on the mat, and dos Santos was celebrating his first world title.
At a glance:
UFC on Fox

When: 11/12/2011

Where: Anaheim, California

Estimated Television Audience: 5,700,000

Key Fight: Cain Velasquez vs. Junior dos Santos
Keep Reading