All Star Game Lineup 2012: Pablo Sandoval and Others Who Shouldn't Be Starters
July 1, 2012

Thearon W. Henderson/Getty Images
The MLB All-Star game is one of the greatest traditions in the game of baseball, but fan voting sometimes mars the Midsummer Classic.
Fan interaction is one of the best parts of the All-Star game process. It lets fans decide who starts the All-Star game, but it also leads to players taking the field who don't deserve to be there.
In 2012, fans casted a record 40.2 million ballots, shattering last year's record total of 32.5 million. Some of those 40.2 million tallies were attributed to players who didn't deserve to get the nod over others.
Here are three All-Star starters who shouldn't be.
Pablo Sandoval
Sandoval has had a pretty decent season so far, hitting .307 with a .366 on-base percentage. The only problem is that he's played in only 45 games. He missed over a month thanks to a broken bone in his hand, a huge reason why he has just six homers and 25 RBI.
My gripe with Kung Fu Panda getting the starting nod is that David Wright is having one of the best seasons of any player in the entire league, regardless of position.
The following stat is a testament to Wright's success this seasons:
David Wright is one of two major league players with 50 or more runs scored, 50 or more RBI and 45 or more walks. Who is the other?

— Andy Martino (@SurfingTheMets) June 30, 2012
Jose Bautista is the other player, but that doesn't matter.
Wright is second in the majors with a .355 batting average. He's missed just four of the New York Mets' 79 games, and has compiled a 1.013 OPS, good for third in the majors behind Josh Hamilton and Joey Votto.
He's making a strong case for MVP, something that Sandoval is certainly not doing. Wright has led the Mets in their quest to shock the world this season, but unfortunately he'll be a reserve at Kauffman Stadium.
Dan Uggla
The Miami Marlins second baseman is hitting .233 this season. Sure, he has 11 homers, but that number is nowhere near high enough to lock down a starting spot in the All-Star game. 
His 92 strikeouts rank fourth in the majors and second among second basemen, two behind Rickie Weeks. His .777 OPS ranks third behind Aaron Hill and Jose Altuve.
Hill is the one who deserves the nod in Kansas City. He has the same amount of home runs as Uggla, but he's hitting .301. His slugging percentage is over 100 points better than Uggla's, and has seven stolen bases compared to the goose egg that Uggla has put up.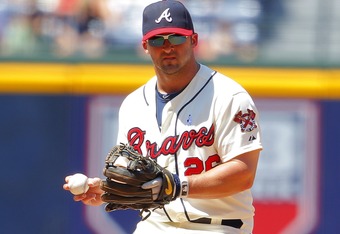 Todd Kirkland/Getty Images
This one is debatable, and Uggla definitely holds the aesthetic advantage over Hill, but consistent stats matter more than long home runs.
Rafael Furcal
This crop of N.L. shortstops is one of the least impressive that fans have had to choose from in some time.
Jose Reyes is having a down year. Hanley Ramirez is no longer a shortstop. Troy Tulowitzki finds himself on the disabled list. Other than those three, the casual baseball fan probably wouldn't know most of the names.
That doesn't mean that the fans had to go and vote Furcal in. He's scored 52 runs, but the St. Louis Cardinals are one of the best hitting teams in the MLB. He leads all shortstops in on-base percentage, but he doesn't lead in anything else other than runs.
His stats are impressive, especially considering his longevity and durability, but Ian Desmond should be taking the field in the top of the first.
He was twice as many doubles as Furcal, eight more homers, 12 more RBI and his slugging percentage is 108 points higher.
Furcal's 52 runs are only 11 more than Desmond has, but he still finds himself as the All-Star starter.
Furcal is just another instance in which the fans' decisions should be overridden.