NBA Free Agents 2012: 3 Reasons Why Ray Allen Will Choose Heat over Celtics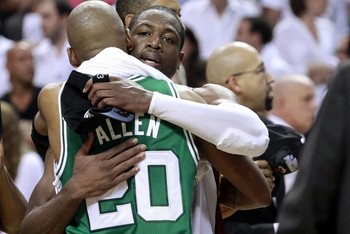 According to the latest report by ESPN insider Chris Broussard, the Boston Celtics have an offer on the table for Ray Allen worth $12 million for two years, while the Grizzlies are said to be offering their full mid-level exception.
As a result, one would guess the Miami Heat are at a clear disadvantage in the the three-way bidding war for Allen, given that the most they can offer is their mini mid-level exception, worth three million.
Nevertheless, Broussard noted that, of the three teams, the Miami Heat and Boston Celtics remain among the front-runners to sign Allen.
Having said that, here are three reasons why the Miami Heat will ultimately be the more attractive destination for the free-agent sharpshooter.
The Emergence of Avery Bradley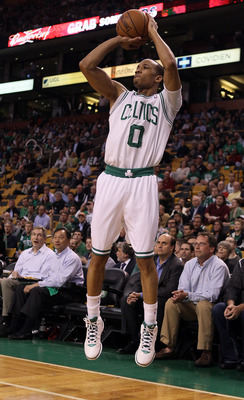 Elsa/Getty Images
It's one thing to come off the bench when you're backing up a player like Dwyane Wade. But at 37, Allen has been a lifelong starter in the league and has already been on record as saying he didn't want to come off the bench while in Boston.
When looking at Avery Bradley, his likely successor, it's easy to understand why. Bradley stands as an undersized shooting guard at 6'2 and only averages 7.6 ppg.
Going beyond statistics, Allen was also seen as a leader and mentor on the team, a role that would seemingly become diminished if he were to come off the bench.
Ultimately, while free agency often tends to become a game of numbers (i.e. minutes on the court and dollars in the bank), this saga is beginning to feel as though the only number that will fuel Allen's decision is 37.
As in, the same jersey number that Derek Fisher decided to wear when the Lakers traded him in favor of Ramon Session at the trading deadline—a slight he perceived having to do with his age.
And given that Bradley isn't exactly a big name player in this league, Allen has every reason to feel the same way Derek Fisher did.
Friction with Rondo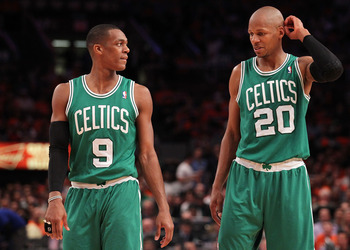 Nick Laham/Getty Images
In an article written by SI writer Chris Mannix earlier last month, Rajon Rondo and Ray Allen were reportedly having a hard time getting along over the course of the season.
Now, we all know there have been reports here and there about Boston's big three getting in clashes with Rondo at times.
We also know that things came to a head at one point between Rondo and the franchise to the degree that the Celtics were said to be aggressively shopping him as a result of his off-the-court attitude.
However, after Rondo's performance in the NBA playoffs, and especially against Miami, he is likely to remain the cornerstone of the franchise.
The Miami Heat, meanwhile, for all their "flaws," have never had any problems with guys that were headcases or didn't get along with the rest of the team.
And maybe in a lockout-shortened 66-game season, that doesn't become as much of a problem.
But why would Allen want to spend the tail end of his career around a drama queen like Rondo for two full NBA seasons?
Doesn't sound too comfortable.
Heat-Thunder Are the New Class of the NBA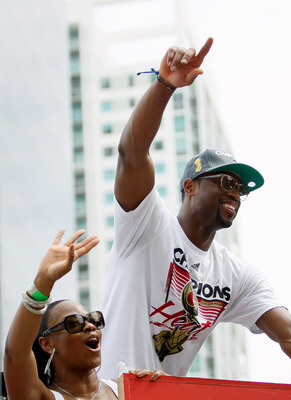 Joe Raedle/Getty Images
Looking back on these playoffs, both the Miami Heat and Oklahoma City Thunder set themselves apart as the two dominant franchises of their respective conference.
And while some Celtics fans will object to that statement by pointing out that Boston took Miami to seven games in the Eastern Conference Finals, how can you argue with what LeBron James did to them in Game 6?
Furthermore, if you want to talk about how the Celtics were missing Avery Bradley, we could then discuss how Miami was without Bosh for much of the series.
In essence, the Celtics' last hurrah came months ago, and how can anyone really believe they pose a legitimate threat to Miami when the Heat have eliminated them in the last two playoffs.
More so than that, who's to say that the Celtics are even better than the Chicago Bulls?
At the end of the day, Allen has made enough money in his career to be comfortable for the rest of his life.
But for a drive-and-kick team like Miami, Allen could find no better situation to make the best use of his skills at this point in his career.
See, a return to Boston may keep the Celtics competitive, but his addition in Miami may just put the Heat over the top.
Not to mention, a few more rings may also go a long way in strengthening his case for the Hall of Fame.
Keep Reading

Miami Heat: Like this team?