College Football Recruiting: Should the NFL Allow One and Done?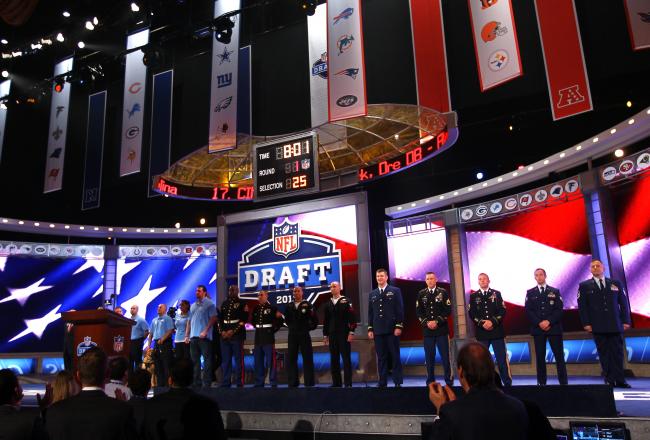 Al Bello/Getty Images
The 2012 NBA draft has just passed and Kentucky's Anthony Davis became the latest No. 1 draft pick to have spent only a single year in college. As we begin to turn our focus from the draft to the sport that really matters (college football of course), it's fitting to ask a simple question:
Should the NFL and college football agree to allow one-and-done players in the NFL draft?
The simple answer is "no."
Now if the NFL had a development league this would be a different story. In baseball or basketball if a young player needs a bit more experience before taking the field they can send them to the minor league to give them just that.
What happens to young talent in the NFL when they just aren't ready? If they're lucky the can land as a backup and learn in practice and from the sidelines.
If they're not lucky, they end up with a career in the CFL, IFL or they just have to give up playing football. That would be a hard on a young man's ego, to go from the promise of making the big bucks in the NFL to having to look for some other way to support themselves.
Another thing is that it takes more time for your typical player to make the jump from high school to the college level in football than in basketball. Kentucky rode a bunch of freshman and sophomores to a national championship in basketball, and that would never happen in college football.
Most freshmen are lucky just to get any sort of playing time.
Obviously there are some exceptions. Jadeveon Clowney, Sammy Watkins, Malcom Brown and Isaiah Crowell all got considerable playing time last season. However, who would say that they're ready now to go play with the big boys?
Watkins and Crowell have already run into trouble with the law, and Crowell has just been dismissed from Georgia after being arrested on gun charges.
Definitely shows the lack of maturity needed to succeed in the NFL.
Besides, allowing one-and-done would diminish college football. If the NFL wants to get players early, then they should create a minor league instead of depending on college football. College is supposed to be about getting an education and not about being a development league for the NFL.
So, until the NFL gets a development league, the current three years in college rule should hold. One-and-done players need not apply in college football.
This article is
What is the duplicate article?
Why is this article offensive?
Where is this article plagiarized from?
Why is this article poorly edited?