NFL Mock Draft 2013: It's Never Too Early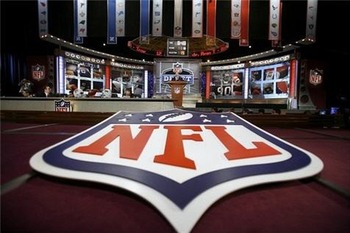 http://iballsohard.files.wordpress.com/2012/04/nfl-draft.jpg
OK, so the NFL preseason hasn't even started, but that doesn't mean we can't start looking ahead to next year's draft.
College football is loaded with talented players who NFL scouts are already salivating over and are ready to make an impact in the NFL in the near future, and there are other players who will fly up the draft boards during the season.
Here is an early look at the 2013 NFL draft. The draft order is based on my predictions for the upcoming season.
1. St. Louis Rams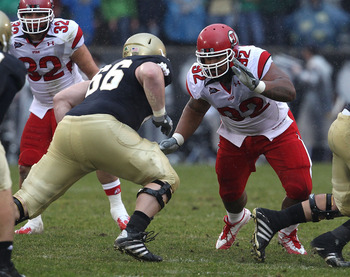 Jonathan Daniel/Getty Images
DT Star Lotulelei, Utah
The Rams have two first-round picks and both figure to be pretty high in the draft. I don't think they're ready to give up on Sam Bradford, so if they do get the No. 1 overall pick, it wouldn't surprise me if they traded it to one of the many teams that would be interested in drafting Matt Barkley.
But, let's say they keep their pick. Star Lotulelei is a 6'3", 325 lbs freak of an athlete who has the potential to be the next Haloti Ngata.
Having a guy like this would greatly improve the Rams defense.
2. Jacksonville Jaguars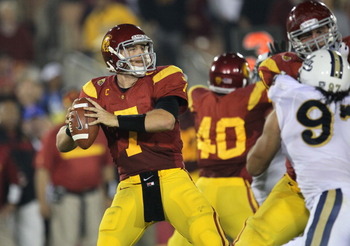 Stephen Dunn/Getty Images
QB Matt Barkley, USC
The best quarterback in this year's draft is USC's Matt Barkley. If Jacksonville does poorly enough to have the second pick in the draft, it would appear that Blaine Gabbert isn't working out.
Barkley will be a franchise quarterback for whoever he plays for, and Jacksonville would be lucky to have a quarterback like him.
3. Cleveland Browns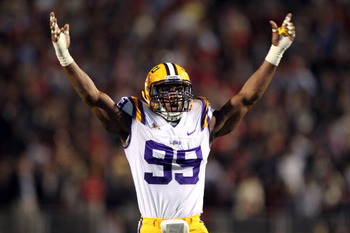 Joe Murphy/Getty Images
DE Sam Montgomery, LSU
The first of many LSU defensive players who will go in the first round, Sam Montgomery is a strong defensive end who would greatly improve the Cleveland defense.
He gets to the quarterback quickly and will be an immediate impact player in the NFL.
4. Indianapolis Colts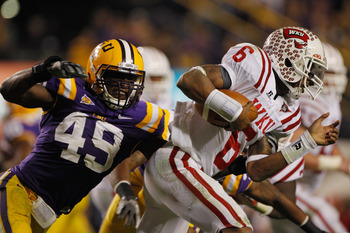 Chris Graythen/Getty Images
DE/OLB Barkevious Mingo, LSU
Back-to-back Tigers in the top five? That just gives you an idea of how good that defense is.
For the Colts, Barkevious Mingo would be able to be a replacement for aging Robert Mathis or Dwight Freeney at outside linebacker.
5. Minnesota Vikings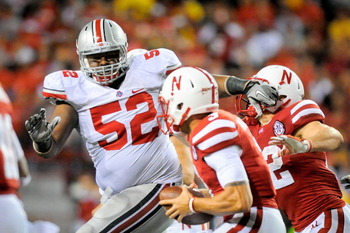 Eric Francis/Getty Images
DT Johnathan Hankins, Ohio State
Minnesota needs help at defensive tackle, and Johnathan Hankins would be their answer.
Hankins is a big, playmaking defender who has the size and talent to be an NFL starter as a rookie.
6. Tampa Bay Buccaneers
http://www.thedenradio.com/wp-content/uploads/2011/11/clemson.jpg
CB David Amerson, NC State
Amerson is the top cornerback in the draft, and he would build some depth in the Buccaneers secondary.
The NC State ball hawk picked off 13 passes as a sophomore, and will have a tough decision to make after his junior year: become rich, or return to school for senior year?
7. St. Louis Rams (from Washington)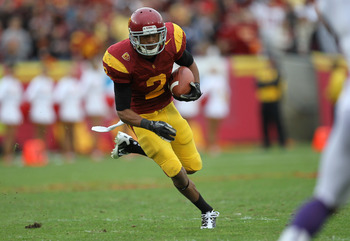 Stephen Dunn/Getty Images
WR Robert Woods, USC
The Rams addressed defense with their first pick, and they'll address their offense with the second pick.
Robert Woods is the best receiver on the board and he would be able to come in and give Sam Bradford some much-needed help right away.
8. Miami Dolphins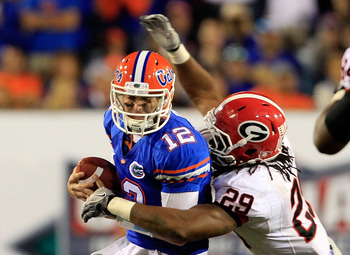 Sam Greenwood/Getty Images
DE/OLB Jarvis Jones, Georgia
Miami needs defensive help, and Jarvis Jones is a defensive beast who can play outside linebacker or defensive end.
Jones had 13.5 sacks last year at Georgia and will be a highly coveted defensive prospect for next year's draft.
9. Arizona Cardinals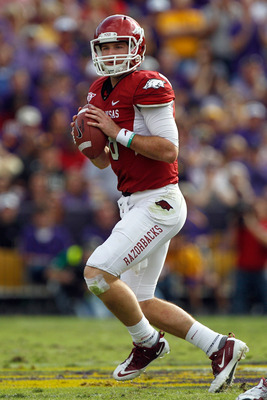 Chris Graythen/Getty Images
QB Tyler Wilson, Arkansas
Time for the Cardinals to draft their future quarterback.
After Matt Barkley, Wilson will be the best quarterback available, and if the Cardinals have a chance, there's no way they pass on him.
At 6'3", 220 pounds, Wilson is the prototypical NFL quarterback.
10. Oakland Raiders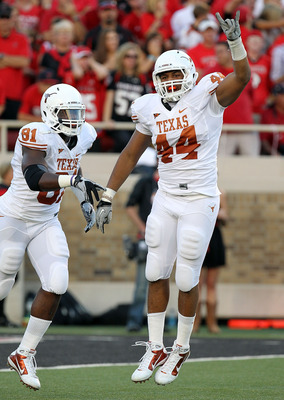 Ronald Martinez/Getty Images
DE Jackson Jeffcoat, Texas
Jackson Jeffcoat is a sack machine and has all the tools to be a great NFL player.
Oakland is weak at defensive end and needs somebody like Jeffcoat to come in and make an impact for the future.
11. Seattle Seahawks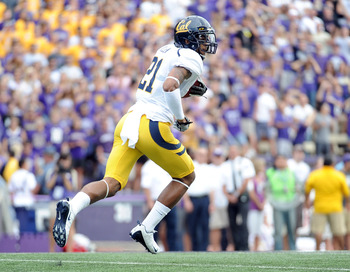 Harry How/Getty Images
WR Keenan Allen, California
Seattle brought in Matt Flynn to save their offense, but now they need to get him some help.
Keenan Allen is a dynamic playmaker who will be a great offensive weapon for whoever he plays for.
12. Tennessee Titans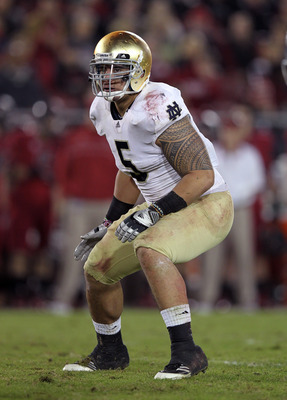 Ezra Shaw/Getty Images
LB Manti Te'o, Notre Dame
I think Manti Te'o will be a Pro Bowler. He has the size, the speed and the strength to be the next Brian Urlacher.
Te'o recorded 128 tackles and 5 sacks last year for Notre Dame and is the best middle linebacker on the board.
13. Carolina Panthers
Kevin C. Cox/Getty Images
S Eric Reid, LSU
Eric Reid would be a great fit for the quickly improving Carolina Panthers.
Reid is the best safety in the draft and has great instincts and reaction. He would be the next young piece added to the Carolina defense.
14. New York Jets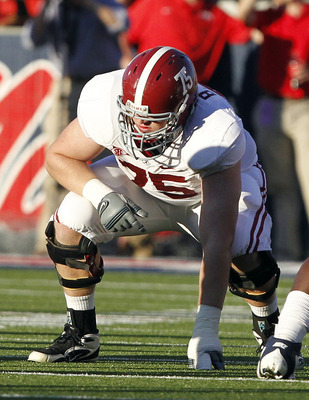 Butch Dill/Getty Images
OG Barrett Jones, Alabama
The Jets could use a big offensive guard, and Jones fits the bill.
At 6'4" and 305 lbs, Barrett Jones is a strong blocker who will be able to pave the way for the Jets running game and protect Mark Sanchez, or whoever the Jets quarterback is next year.
15. Kansas City Chiefs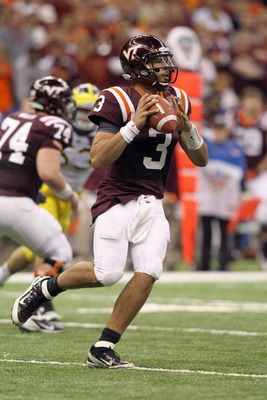 Matthew Stockman/Getty Images
QB Logan Thomas, Virginia Tech
The Chiefs have Matt Cassel under contract through 2014, but it may be time for them to start looking for a replacement in the draft.
Logan Thomas is a dual-threat playmaker who has the arm strength and accuracy to be an NFL quarterback.
The Chiefs have a fast offense, and a quarterback like Thomas would make their offense lethal.
16. Cincinnati Bengals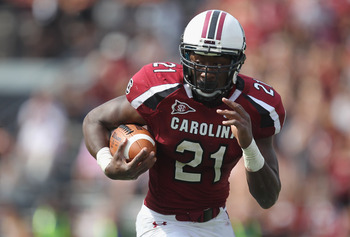 Streeter Lecka/Getty Images
RB Marcus Lattimore, South Carolina
This is a relatively weak draft class for running backs, with Marcus Lattimore being the only player who will definitely go in the first round, provided he can stay healthy through this year.
Lattimore is a powerful runner with break-away speed who would be a great fit for Cincinnati, who could use a young back.
17. New York Giants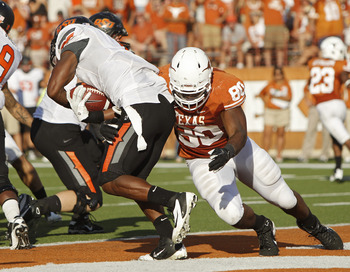 Erich Schlegel/Getty Images
DE Alex Okafor, Texas
Another defensive end for the G-Men? Drafting Okafor would add another young piece to the New York defensive line and create tremendous depth.
Okafor is quick off the end and has tremendous strength, which makes him a dangerous defensive weapon.
18. San Diego Chargers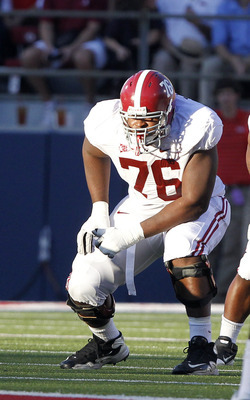 Butch Dill/Getty Images
OT DJ Fluker, Alabama
Another big Alabama lineman, DJ Fluker is 6'6" 335 lbs and is extremely difficult to get by.
The Chargers need help on the offensive line to give Phillip Rivers time to make plays. Fluker would be a great addition for San Diego.
19. Dallas Cowboys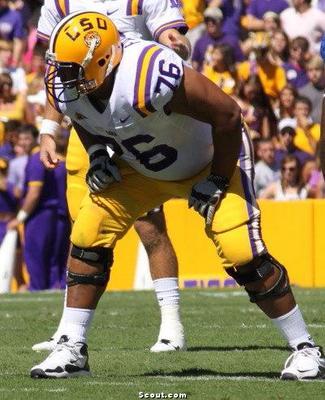 http://media.scout.com/media/image/98/980988.jpg
OT Chris Faulk, LSU
Dallas drafted Tyron Smith with their first-round pick in 2011, and they would benefit from drafting another offensive tackle in 2013.
Faulk is a big man at 6'5" and 325 lbs, and he knows how to create holes for running backs. Faulk may end up going in the Top 10 in 2013.
20. Atlanta Falcons
Jonathan Daniel/Getty Images
TE Tyler Eifert, Notre Dame
Tony Gonzalez's career is nearing its end, and Atlanta needs to find his replacement.
Tyler Eifert is the best tight end on the board and would be able to come in and be a weapon for Matt Ryan.
Eifert caught 63 passes for 803 yards at Notre Dame as a sophomore and will see similar success in his junior year.
21. Detroit Lions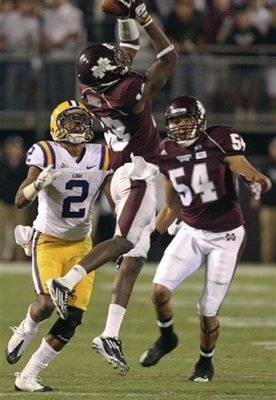 http://media.gulflive.com/mississippi-press-sports/photo/10408582-large.jpg
CB Johnthan Banks, Mississippi State
Detroit is heading in the right direction, and adding a cornerback like Johnthan Banks would improve their secondary, which got absolutely torn apart by New Orleans in last year's playoffs.
Banks intercepted five passes last year, and he has good height to help him cover some of the bigger NFL receivers.
22. Buffalo Bills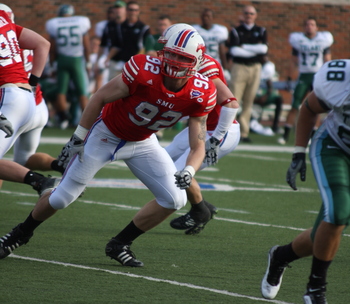 http://www.matthewvisinsky.com/wp-content/uploads/2009/12/Margus-Hunt-SMU-v.-Tulane-11-28-09-5.JPG
DE Margus Hunt, SMU
Keep an eye out for Margus Hunt; he will fly up draft boards this year.
Hunt is a 6'7", 288 lbs defensive end who has shocking speed for his height and has length that will make him very difficult to block.
Hunt is a work in progress and could learn from Mario Williams in Buffalo until he is ready to make an impact on the field.
23. Pittsburgh Steelers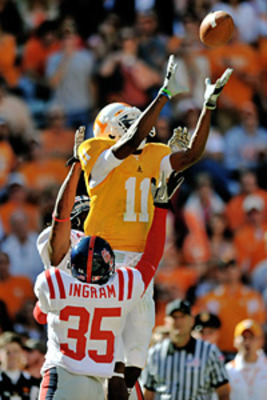 http://thebasementdweller.files.wordpress.com/2011/09/justinhunter_2.jpg
WR Justin Hunter, Tennessee
Hines Ward has retired, so it's time for Pittsburgh to draft a new receiver.
Justin Hunter missed most of last season with a torn ACL, but if he can stay healthy, he'll be one of the best receivers in the draft.
Hunter has great size and above-average speed and would make a dangerous target for Ben Roethlisberger in Pittsburgh.
24. Chicago Bears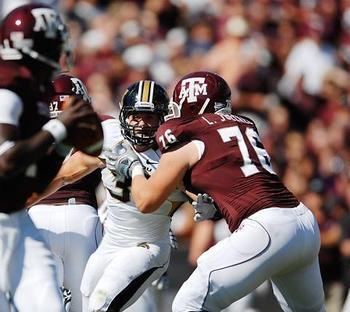 http://cdn.bleacherreport.net/images_root/slides/photos/001/771/067/LukeJoeckel_display_image.jpg?1325915925
OT Luke Joeckel, Texas A&M
Bringing in an offensive tackle to protect Jay Cutler's blind side would be a great idea for Chicago.
Cutler has been beaten up over his past few years with the Bears, and a guy like Luke Joeckel will help keep him on his feet.
Joeckel is 6'6", 310 lbs, so size is not an issue with him.
25. Houston Texans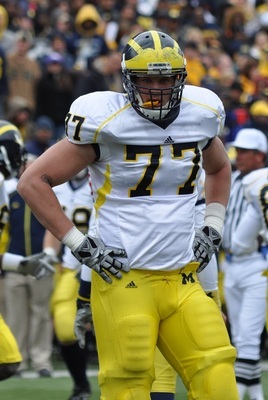 http://isportsweb.com/wp-content/uploads//2010/04/taylor_lewan77.jpg
OT Taylor Lewan, Michigan
Houston's offensive line could use some help, and Taylor Lewan has the ability to be an immediate contributor.
Lewan is 6'7" and an absolute monster on the line. Bringing him to Houston would help the running game and give Matt Schaub time to make plays.
26. Denver Broncos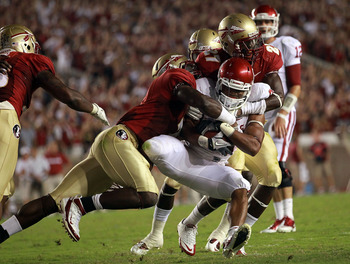 Ronald Martinez/Getty Images
CB Xavier Rhodes, Florida State
Champ Bailey is getting older, and Xavier Rhodes would be a great player to fill his spot.
Rhodes has terrific speed and is a great tackler, which are two highly sought-after skills in the NFL.
27. New Orleans Saints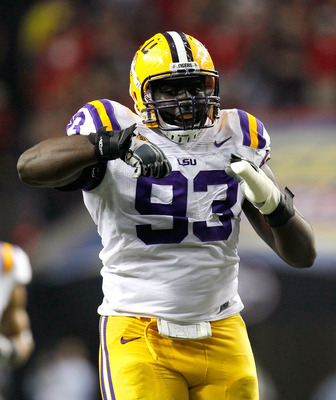 Kevin C. Cox/Getty Images
DT Bennie Logan, LSU
New Orleans needs help all over their defense, but they have to start somewhere.
Bennie Logan is a big, strong tackle who is just one of the many future NFL starters on LSU's defense.
28. Philadelphia Eagles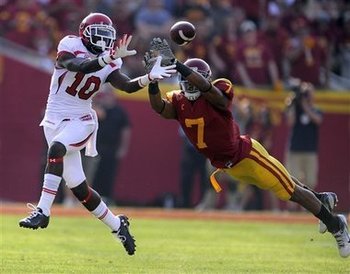 http://media.syracuse.com/axeman/photo/10006159-large.jpg
S TJ McDonald, USC
The Eagles addressed many of their holes in the offseason, but they still need help at safety.
TJ McDonald is an experienced, playmaking safety who would greatly improve the Eagles secondary. His speed gives him the ability to cover ground and prevent completions all over the field.
29. Baltimore Ravens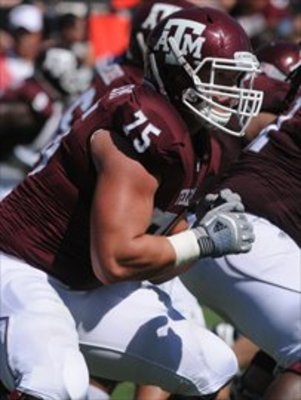 http://media3.texags.com/0002020-wfci-203x270.jpg
OT Jake Matthews, Texas A&M
This is a deep draft at offensive line, and Jake Matthews is yet another first-round talent.
Baltimore could use some depth at offensive tackle, and Matthews will be able to step in and contribute when needed until it's his turn to be the starter for the Ravens.
30. San Francisco 49ers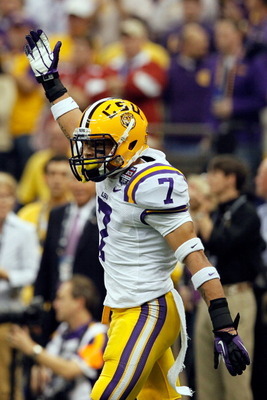 Kevin C. Cox/Getty Images
CB Tyrann Mathieu, LSU
There aren't many holes in this San Francisco team, but cornerback could be the biggest one.
Tyrann Mathieu is small, but he is an electric playmaker, which earned him a spot as a Heisman finalist last year.
Mathieu is also a dynamic return man, and he can pair up with LaMichael James to form the best return tandem in the NFL.
31. Green Bay Packers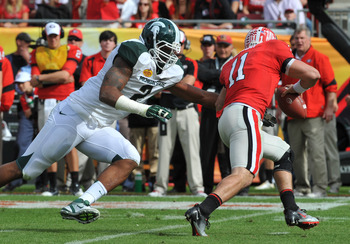 Al Messerschmidt/Getty Images
DE William Gholston, Michigan State
Green Bay doesn't need offensive help; they need to work on their defense.
William Gholston would be a great fit in Green Bay. At 6'6", Gholston is a freakish athlete who can create havoc for opposing quarterbacks and start to turn the Packers defense from a liability, to a young, talented unit.
32. New England Patriots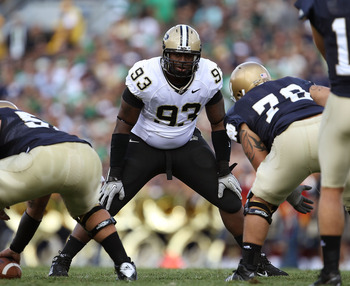 Jonathan Daniel/Getty Images
DT Kawann Short, Purdue
New England's defensive line is their biggest concern, and they can address that in the draft.
Kawann Short has terrific strength and would be a huge asset to the Patriots.
Round 2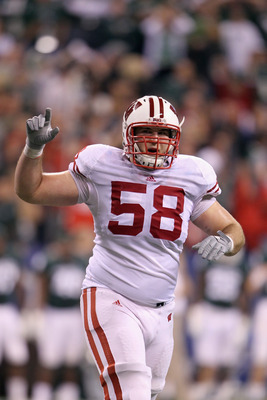 Andy Lyons/Getty Images
1. STL- Ricky Wagner, OT- Wisconsin
2. JAX- Jonathan Cooper, OG- North Carolina
3. CLE- Marquess Wilson, WR- Washington State
4. IND- John Simon, DE- Ohio State
5. MIN- Dee Milliner, CB- Alabama
6. TB- Sean Porter, OLB- Texas A&M
7. WAS- Shayne Skov, ILB- Stanford
8. MIA- Michael Buchanan, DE- Illinois
9. ARI- Brandon Jenkins, OLB- Florida State
10. CIN (from OAK)- Terrance Williams, WR- Baylor
11. SEA- Travis Frederick, OG- Wisconsin
12. TEN- Wes Horton, DE- USC
13. CAR- Jesse Williams, DT- Alabama
14. NYJ- Montee Ball, RB- Wisconsin
15. KC- Cyril Richardson, OT- Baylor
16. CIN- Chance Warmack, OG- Alabama
17. NYG- Oday Aboushi, OT- Virginia
18. SD- Johnny Adams, CB- Michigan State
19. DAL- Khaled Holmes, C- USC
20. ATL- Devin Taylor, DE- South Carolina
21. DET- Kevin Reddick, ILB- North Carolina
22. BUF- Aaron Mellette, WR- Elon
23. PIT- Arthur Brown, ILB- Kansas State
24. CHI- Carrington Byndom, CB- Texas
25. HOU- Da'Rick Rogers, WR- Tennessee
26. DEN- Ray Ray Armstrong, S- Miami (Fla.)
27. NO- Gerald Hodges, OLB- Penn State
28. PHI- Bjoern Werner, DE- Florida State
29. BAL- Corey Lemonier, DE- Auburn
30. SF- Landry Jones, QB- Oklahoma
31. GB- Robert Lester, S- Alabama
32. NE- Knile Davis, RB- Arkansas
Keep Reading