MLB All-Star Roster: Biggest Snubs and Surprises
December 11, 2014
Hunter Martin/Getty Images
MLB fans finally have the All-Star Game lineups ready to go and it will clearly be as competitive a contest as any.
Unfortunately, this All-Star Game undoubtedly has players who were wrongfully left off the starting list and also those who surprised the voters.
Yet with stars like SS Derek Jeter, OF Melky Cabrera and 1B Prince Fielder in this year's contest, there is no question there will be a plethora of hits, runs and exciting fielding on display.
These are the noteworthy snubs and significant surprises of the selections for this year's All-Star Game.
Snubs
Carlos Ruiz, Philadelphia Phillies
Ruiz has had an outright better year at the plate than San Francisco Giants C Buster Posey and that was not enough to get this talent into the 2012 MLB All-Star Game.
While Posey has batted .296 and knocked in 10 home runs and 40 RBI, Ruiz has racked up 11 homers and 43 RBI. Not to mention, Ruiz's batting averages has been significantly better at .357 this season.
Considering these numbers and the fact that Ruiz has 11 hits and eight runs in his last 24 at bats, it is hard to fathom just why he was left off the starting lineup.
David Wright, New York Mets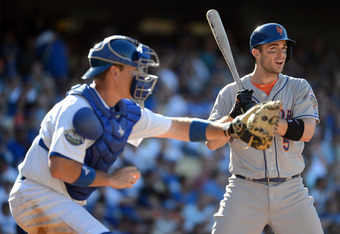 Harry How/Getty Images
To his credit, Pablo Sandoval is a wonderful player. His talent at the position is always a job to watch.
Yet, there is no question Wright got snubbed by not being a starter in this game.
Sandoval has missed some of the season with a broken hand, and Wright has been just short of spectacular this season with his production. He's hitting a solid .355 and has a whopping nine home runs and 50 RBI. Not to mention the 3B play on the field has also been especially impressive.
These numbers are more than enough to get him in the starting lineup, so he's certainly a snub here.
Biggest Surprise: Robinson Cano, New York Yankees
His production at the plate has been there, as has his impressive fielding, yet Ian Kinsler somehow seemed to be duking it out with Cano for the spot on the AL team.
Cano posted 14 home runs and 44 RBI this season, significantly more than Kinsler and right on pace with last season.
Given Cano was on the team last season and has put up remarkable numbers this season, it was surprising just to see that there was competition there. Kinsler will be going to the All-Star Game, as he deserves to, even though he will not start. It was certainly surprising simply because one would think fans would lean toward a guy that is not necessarily given the credit he deserves, versus a sometimes over-hyped Cano.