Kevin Youkilis: For This Red Sox Fan, Youk's Departure Hurts on Several Levels
July 1, 2012

Winslow Townson/Getty Images
Even with the Red Sox playing better and making their long-awaited push toward the top of the AL East, my next trip to Fenway for the upcoming Yankees series will feel somewhat empty. No matter how well the team does the rest of the summer, there will be a big void in my lungs and my heart.
That's what no more YOOOOOOOUK will do to a guy.
I knew it was coming, of course, but hearing about the trade that sent Kevin Youkilis to the White Sox last Sunday afternoon still left me shocked. I had just returned from New York City, of all places, and had given up my tickets for that day's home game against the Braves.
Hearing details about the contest, in which Youkilis hustled his way to an infield single and an RBI triple, and sparkled afield, I ached to have missed it. It was the quintessential Youk game, complete with a dirty uniform at the end.
I was happy that word about his pending trade had already broken beforehand, so that fans could acknowledge his last game for Boston with several standing ovations. Mine came from afar, and it was far from my first.
Everything Youkilis did on the field was indicative of his passion for the game. The clutch hits and terrific defense at third and first base through the years were his most important attributes, but his habit of running out every ground ball and playing hurt as often as possible further endured him to fans.
Dirty uniforms were a Youk calling card, along with post-strikeout scowls. J.D. Drew probably cared a lot if he grounded out with the bases loaded or hit a grand slam, but you never knew it. In Youk's case, you knew.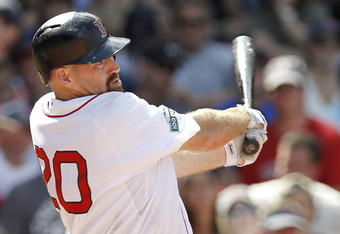 Winslow Townson/Getty Images
As a dad of two young kids, I wasn't a huge fan of Youkilis' habit of throwing helmets in the dugout after poor at-bats, but I loved using his hustle and heads-up play as an example for Jason and Rachel. "Watch Youk, he plays the game right," I'd tell them, and invariably he would do something to back this up.
His off-the-field activities were also befitting a true hero. Rather than just lending his name to causes, he started up "Kevin Youkilis Hits for Kids" to partner with children's charities and organizations focused on pediatric cancer research, therapeutic horseback riding and more.
Teaming up with our family's favorite bookstore, the New England Mobile Book Fair, he championed "Youk's Kids Reading Group" to further the importance of literacy among young people.
He was even a perfect anecdote for anti-Semitism. As a kid and an adult, I've grown accustomed to defending the athletic legacy of fellow Jews in response to obnoxious quips about a supposed deficiency in this area.
Youk was one of several Jewish players to emerge on the Red Sox in recent years—and one of the grittiest, most popular players on the club to boot. In my eyes, every "Youuuuuk" that rattled through Fenway and other ballparks was a slam against stereotypes (even if the fans doing the yelling knew nothing of his religion).
The chant held special meaning to me for another reason. It was infectious and fun, and it brought me back to my childhood. One of my favorite players as a kid was Dwight Evans, whom fans had saluted for great feats afield or at the plate with yells of "Dewwwwwwwwey!" If I closed my eyes after a Youkilis homer, I could easily imagine myself back in 1981 when $8 was all I needed to get into Fenway.
Watching those last few disgruntled weeks, when the emergence of rookie Will Middlebrooks at third made Youk's departure a foregone conclusion, was difficult. Youkilis had returned from his latest DL stint without his quick and selective bat, and it was hard to watch him arguing with umpires and glaring his way through games. The trade was the best thing for him, and I find myself checking the boxscores  every night to watch his progress.
And when the White Sox come to Fenway in a couple weeks, you'd better believe my kids and I will be yelling for "Yooooouk," whether there in person or watching at home. The challenge will come if he does something to hurt the home team, but I imagine even then I'll give him his due. He's certainly earned it. 
Saul Wisnia lives less than seven miles from Fenway Park and works 300 yards from Yawkey Way. His latest book, Fenway Park: The Centennial, is available at amazon.com and his Red Sox reflections can be found at http://saulwisnia.blogspot.com/. You can reach him at saulwizz@gmail.com or @saulwizz.