Spain vs. Italy TV Coverage: Everything to Know About Euro 2012 Final
July 1, 2012

Handout/Getty Images
Spain and Italy have triumphed to the final of the 2012 European Championship in what will be a star-studded match that football fans cannot miss.
For those watching the game on TV, the game will broadcast on ESPN at 2:45 p.m. EDT. The UEFA Euro Report program will begin at 2:00 p.m. and official pregame coverage begins at 2:30 p.m. For those of you who miss out on the TV action, have no fear. The game can also be seen in HD quality on WatchESPN.com online as well. 
Will it be Spain continuing to assert its dominance on the sport? Or does Italy have enough powerful momentum in them to stop the world's best in its tracks?
Here is everything you need to know about the final of epic proportions between two of Europe's finest sides.
Where: Kiev Olympic Stadium in Ukraine
When: 2:45 p.m. EST
Watch: ESPN
Stream Online: ESPN3.com
Italy X-Factor: Mario Balotelli
Andrea Pirlo will be Andrea Pirlo, make no mistake about it. This match is not about whether or not he or Antonio Cassano will create goal-scoring chances—it is solely about whether or not Balotelli will finish at net. Granted he won't be the only one getting opportunities at goal, he is undoubtedly the best finisher this team has.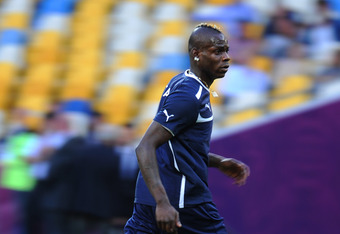 Jasper Juinen/Getty Images
When he gets the ball he is explosive, as his three goals are tied for the most this tournament. Prior to the 2-1 win over Germany, however, he had just one goal and was beginning to show signs of frustration.
It is important not to overreact to the slow start, but also equally important to take into account that he's had just one great performance so far. If Italy is to win this match, their 21-year-old star will have to cash in when possible.
Spain X-Factor: Iker Casillas
Quietly, this may well be the most integral player on the entire Spanish team. He has kept his team in games throughout the tournament, and was crucial in the scoreless victory in penalty kicks against Germany.
If he can continue to make stops in net and master the position as a whole, Italy may not get the good looks they need to steal the win in this final.
Key to the Game: Jesus Navas vs. Antonio Cassano
In different ways, respectively, both of these players have a major impact on each team's scoring chances.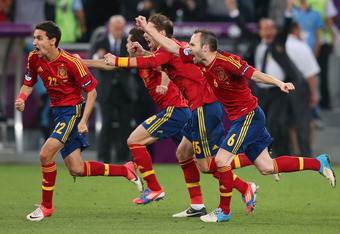 Alex Livesey/Getty Images
Spain's Jesus Navas is especially fast when he has the ball at his feet and in turn gives his team countless strikes at goal. During the Euros, when he has been put into the game as a sub, he has been able to do that with consistency and it has given Spain some wonderful opportunities to score.
Antonio Cassano does that in a different way for Italy. While Andrea Pirlo is notorious for his playmaking ability, Cassano delivers some tough crosses and has been great at getting Balotelli involved during the Cup.
Prediction: Italy 2, Spain 1
Italy's momentum coming into this game is undoubtedly enough to push this match in their favor. Spain is a team that will be anything but rattled to begin, but Italy know after watching Portugal attack well their chances will be there.
Pirlo, Cassano and Balotelli will be too much to handle up front, and will make the most of their chances at goal. Expect Spain to score in this one, but also expect a sure-fire win for Team Azzurri.