3 Most Overpaid and Underpaid Dallas Cowboys Currently on the Roster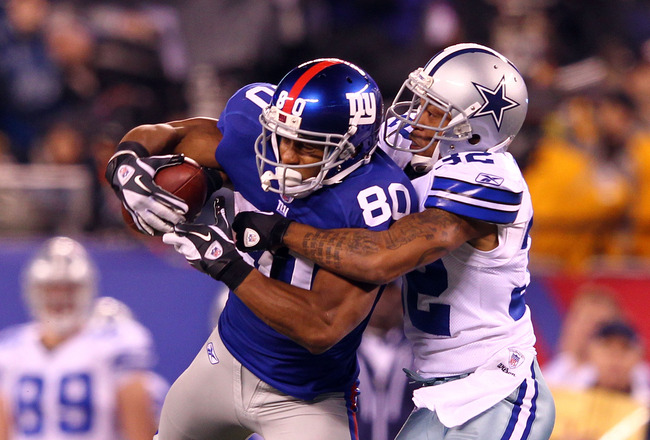 Al Bello/Getty Images
With every NFL team, there are some head-scratching contracts when you look down the line of whose being paid what. The Dallas Cowboys are no different.
Some big-time contributors are making chump change compared to what some less-than-stellar members of the Cowboys. Let's take a look at three of the most underpaid and overpaid players on Dallas' roster.
Note: All Dallas Cowboys player contract information was obtained from Spotrac.com
Overpaid: Doug Free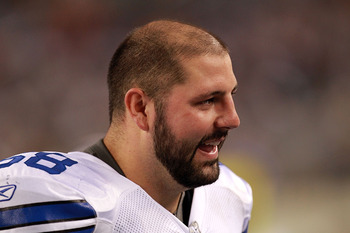 Ronald Martinez/Getty Images
Left tackle Doug Free earned the four-year, $32 million contract he was award in 2011 due to his breakout season the year prior, but 2012 saw a significant regression from the team's highest paid lineman.
Towards the end of October in 2011, Free was tied for the NFL lead in holding calls with four. A concerning statistic when factoring in his just nine total penalties in 2010.
He was also seen more than a few times during the year being overwhelmed by what opposing defenses were throwing his way.
Free is still one of the best offensive linemen on the roster, but that's not saying much considering Phil Costa is the team's starting center. The left tackle needs to regain that 2010 fire that he showed in order to truly earn his big paychecks.
Underpaid: Sean Lee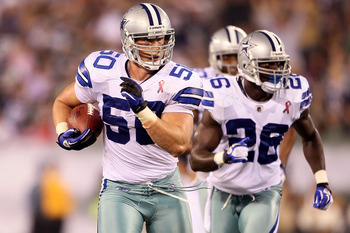 Elsa/Getty Images
Ask any Dallas Cowboys fan who was last year's breakout defensive player and there's a very high chance you get a unanimous answer of "Sean Lee."
The inside linebacker shined in defensive coordinator Rob Ryan's take on the Cowboys' 3-4 scheme. From his picture-perfect tackles to his clutch interceptions, there were few defensive players more crucial to the team's success than Lee.
The former Penn State Nittany Lion posted 105 tackles in 2011, 71 of which were solo and 39 that were recorded in just five games.
Oh, and then there's the picks. Lee posted four interceptions on the year, three of which were during the team's first five games. While two were recorded against Mark Sanchez and Rex Grossman, the other two were courtesy of Tom Brady and Eli Manning.
The man is currently in the second-to-last year of a four-year, $3.5 million contract. That means he's making just over half a million dollars this coming year.
Let me be the first of the 2012 season to say: Please pay this man, Jerry Jones.
Overpaid: Orlando Scandrick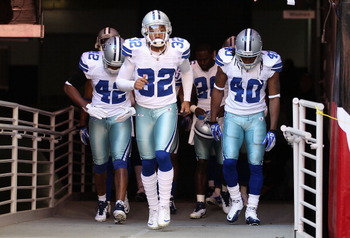 Christian Petersen/Getty Images
Based on the fact a linebacker posted four interceptions for the 'Boys in 2011, you must be sitting there thinking, "Boy, I bet that mean cornerback Orlando Scandrick had a ton!" Yeah, not so much.
The man who received a five-year, $27 million extension this time last year posted just one pick last season, coming against the mighty Washington Redskins.
While Scandrick has been a consistent cover-corner for the Cowboys, the money used to extend his contract should have gone to teammate Mike Jenkins.
Then the team could get the most out of No. 32 before letting him go on his way and keep the trio of Jenkins, Morris Claiborne and Brandon Carr on the roster for years to come.
Jenkins is the better corner, plain and simple. Which means Scandrick shouldn't be getting paid more than a former Pro Bowl selection who can help the Cowboys more than he can.
Underpaid: DeMarco Murray
Tom Pennington/Getty Images
I know it was one part of one season in the NFL, but boy did running back DeMarco Murray light up the field.
Most Cowboys fans are probably already in agreement on the headline of this slide, but let's just go over the nuts and bolts as to why that is.
In his first game starting at running back he broke the franchise record for most rushing yards in a single game with 253 against the St. Louis Rams. Remember back in 2009 when Tennessee Titans back Chris Johnson ran for 2,000 yards in a season? Yeah, CJ2K never reached the 250-yard mark in a game.
Murray's 2011 season was cut short due to injury and his success is a small sample size, but he's the closest any running back has felt to a true threat out of the backfield since Emmitt Smith.
Based on the fact he's making just under $3 million over four years of his current deal, maybe a little bump up in pay is in order for No. 29.
Overpaid: Marcus Spears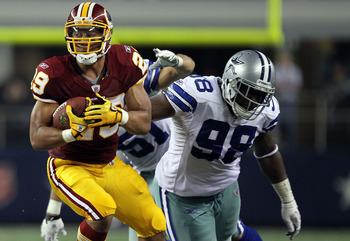 Ronald Martinez/Getty Images
Considering the fact that defensive end Marcus Spears was selected just nine picks after the Cowboys took DeMarcus Ware in the 2005 NFL draft, it's hard not to label him a disappointment.
While Ware has been racking up Pro Bowl appearances and flirting with Michael Strahan's single-season sack record, Spears has totaled just nine sacks in his six-year career.
For whatever reason, the former LSU man continuously fails to wrap up and sack the opposing quarterback or even tackle the running back. Spears had just one sack and 13 tackles through the entire 2011 season.
He's been a frustrating former first-rounder to watch, especially when you consider the fact he's making more money than Felix Jones, Dez Bryant and Sean Lee. Spears is currently in the middle of a four-year $19.2 million contract.
Underpaid: Felix Jones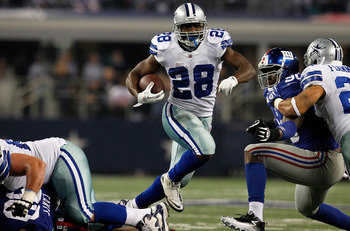 Tom Pennington/Getty Images
It's hard to not get enamored by DeMarco Murray's rookie season, but Felix Jones has been a solid source of yards in Dallas' running game for a few seasons now.
Jones came into the NFL back back in 2008 with the hope he would become the Cowboys' home-run type threat while Marion Barber played the role of the workhorse rusher.
Needless to say, things haven't gone as planned. But running back is a position where teams need depth, and quality depth at that. Dallas saw Jones, Murray and Phillip Tanner all go down with various injuries in 2011, forcing the team to sign veteran Sammy Morris during a crucial run for the playoffs.
While some have called for Jones to become Jerry Jones' latest trade bait, No. 28 is a vital part of this team considering how frequent injuries are at his position of choice.
Jones doesn't deserve crazy money, but he does deserve more than the just over $1 million he'll make in 2012. Oh, and maybe a new contract considering his current deal expires after the upcoming season concludes.
Call me a Jones apologist if you must, but in a game full of injuries week in and week out, the former Arkansas rusher is a valuable piece to the Cowboys' Super Bowl aspirations.
Keep Reading

Dallas Cowboys: Like this team?