Spain vs. Italy Predictions: Players Who Will Lead La Roja to Glory
July 1, 2012

Handout/Getty Images
Spain is in the final of another major tournament. What a shocker.
The world's finest side will look to mark its place in history with a victory in the final of the 2012 European Championships, in the process becoming the first side in history to win three major tournaments after taking home the 2010 World Cup and 2008 Euro titles.
But which players will need to step up for Spain to defeat a pesky Italian side? Which players will lead La Roja to glory on Sunday afternoon?
Let's find out.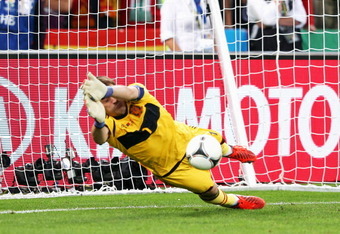 Alex Livesey/Getty Images
Spain has given up just one goal this entire tournament and hasn't conceded a goal in nine elimination games at major tournaments.
While a huge part of that is the team's ball-possession style and arguably the best defensive unit in the world, goalie Iker Casillas also deserves recognition as one of the game's finest keepers.
Italy will get its chances, and Casillas will be called upon to make at least one or two crucial saves in this one. If he does, Spain will win. If he allows an Italian goal or two—and it's hard to imagine this Spanish team giving up two goals, but crazy things can happen—this game could get very interesting.
Spain doesn't want interesting—they want a 1-0 win.
Sergio Ramos and Gerard Piqué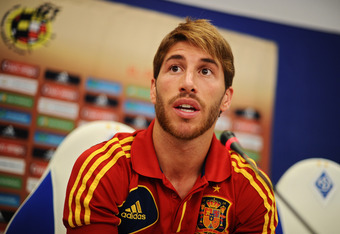 Jasper Juinen/Getty Images
The two central defenders will find themselves often tasked with a difficult assignment in this game: neutralize Mario Balotelli.
While Antonio Cassano has been excellent at the Euros, he often starts his attack from out wide. But Balotelli is dangerous in the box, and in his breakaway goal against Germany, he slipped past the napping German central defenders.
Ramos and Piqué are capable of handling the mercurial Manchester City striker. But they can't afford any lapses in concentration or allow Balotelli positioning on crosses. If they do, Italy's most dangerous athlete will burn them. 
Andres Iniesta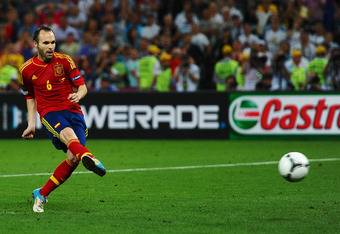 Laurence Griffiths/Getty Images
More so than any other member of Spain's devastating midfield, Iniesta has most consistently created chances and controlled the attack for the Spanish side. He'll be the key force for Spain in the attacking third once again.
If you were building the ideal midfielder from scratch, you would be well-served using Iniesta as the blueprint. HIs creativity, vision, work rate, pinpoint passing, ball control in the tightest of spaces and poised demeanor combine to form a player you'll rarely see offer a poor performance.
He is the rare player who combines control and a steadying presence with brilliant creativity. His game is music—both mathematical and inventive. Watch him carefully—his play will go a long way to dictating the result for Spain.
Hit me up on Twitter—my tweets want Dwight Howard to just get traded already too.