Spain vs. Italy Start Time: Complete Preview of Sunday's Euro 2012 Final
July 1, 2012

Michael Steele/Getty Images
When Spain squares off with Italy on Sunday in the final of the 2012 UEFA European Championships, there will be more than just a trophy on the line—there will be international glory.
The Spanish team may have the deeper roster, but the Italians have no lack of offensive and defensive powerhouses on their side.
If there is one team that matches up to the mighty Spain, it's Italy. This is the final the world wants to see.
Date: Sunday, July 1, 2012
Start Time: 2:45 p.m. ET
TV Coverage: ESPN
Live Stream: ESPN3.com
Keys to the Game
Spain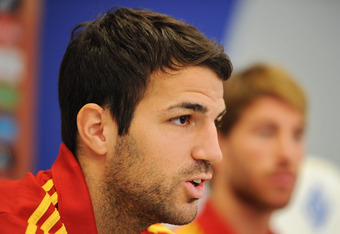 Jasper Juinen/Getty Images
While Spain is the most fundamentally sound of all the teams that entered this tournament, it is their depth that has given the opposition fits. When a team has stars like Cesc Fabregas or Fernando Torres coming off the bench, the team will bring pressure for all 90-plus minutes.
As much as casual fans hate it, that slow, defensive style of soccer is what put the Spanish past the better Portuguese team last round.
If Spain can withstand the inevitable Italian runs and manage the damage they cause, they will have the fresh legs late in the game to dominate the second half. The Italians will be coming straight at the Spanish, but they have to remain smart with their challenges and limit their mistakes.
Italy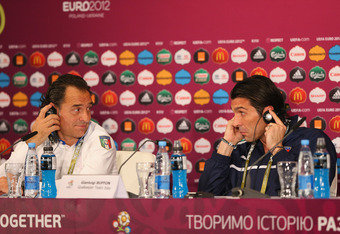 Handout/Getty Images
As it has been throughout the tournament, the key to an Italian win in the 2012 Euro is troubled striker Mario Balotelli. With as much controversy as talent, the skilled star will be the focus of both the Italian's offensive playmaking and the Spanish defensive schemes.
The success of Italy is hinged on Balotelli's ability to get away from his defender, just as he did against Germany when he scored both of the team's goals.
Most experts ranked the German defense higher than the Spanish side's defenders, which could mean trouble for the La Roja when they take the pitch with the speedy Italians.
Prediction: Italy 2, Spain 1
With neither team wanting to be the first to make a mistake that costs their nation a chance at international glory, this is sure to be a defensive struggle throughout.
Both the Italians and Spanish sides are strong through the middle and in the back end, so mounting an offensive attack for either team will be tough.
Eventually, though, someone will make a mistake.
When the window of opportunity opens, it's crucial that the strikers on the pitch make their shots count. That is not the time to over-strike the ball.
Watch for plenty of Mario Balotelli carving through the middle for the Italians. It will be those moves that eventually net the enigmatic striker the game-winner.
Check back for more on World Football as it comes, and don't miss Bleacher Report's Soccer page to get your fill of all things soccer.