NBA Draft Grades 2012: Cleveland Cavaliers and Teams That Ruined Their Draft
July 1, 2012

Mike Ehrmann/Getty Images
The NBA draft is a place to increase the talent level of your team, but to take people who won't play large amounts minutes in the first round is an illogical way to pick.
While most believe that the draft is about just building the most amount of talent for a team, the best philosophy is to take people who will contribute immediately. It doesn't have to be as a starter, but when there isn't more than one player in a draft who will see more than 10 minutes per game, it isn't a great draft.
Indiana Pacers
Who They Took: C Miles Plumlee, SF Orlando Johnson
It's unfortunate when the first-round pick is going to be a benchwarmer on a team that needed some starters. Roy Hibbert is an excellent center, and taking Plumlee in the first round just feels like a depth move in case either he or West gets hurt. 
Orlando Johnson is a backup small forward. While that doesn't seem like something bad to bring in initially, the fact is that Danny Granger will see 33-plus minutes per game. Johnson isn't the best candidate, however, for the other 15 minutes, and he should split time with Lance Stephenson.
Who They Took: SG Dion Waiters, C/PF Tyler Zeller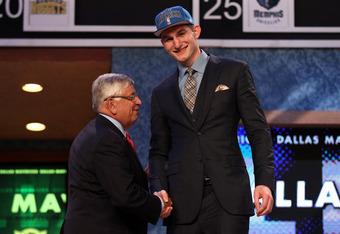 Elsa/Getty Images
It's always nice to see someone take a pair of starters in the first round. However, it's never good to see someone miss so poorly when it comes to value. They took a mid-first-round value player in Dion Waiters at No. 4 and traded for Zeller's rights.
Waiters should impact early, but it would have made much more sense for the Cavaliers to bring in Harrison Barnes with the No. 4. It also would have been a better fit to take Wroten at 17. That value alone would have helped propel the Cavs to a much better team in 2012-2013.
They needed as much talent as possible and brought in three first-rounders, but their two choices could have been spent in a much wiser manner.
Denver Nuggets
Who They Took: SG Evan Fournier, SF Quincy Miller, PF Izzet Turkyilmaz
The Nuggets have needed some talent for a while, but with their three picks they took two international players who should stay in Europe for at least another year to continue development. The players they took this year likely will not have much of an impact early on.
Unfortunately for the Nuggets, they will have to receive delayed gratification from a draft that will leave a lot of people scratching their heads the first year. The Nuggets had arguably the worst draft in the NBA this year and will have to truly squeeze blood from a turnip to get anything out of this class.